NEXT STORY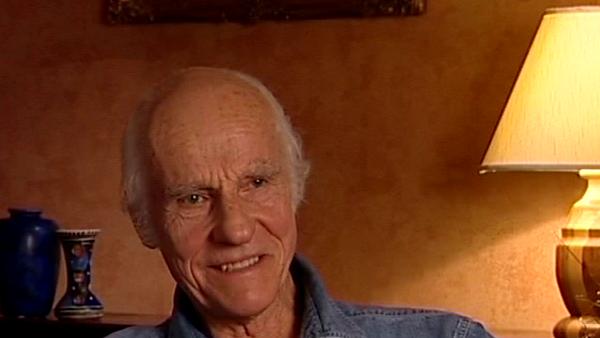 Elizabeth Taylor: The perfect professional
Joking with Elizabeth Taylor on the set of Zee and Co.
Billy Williams
Film-maker
1
...
5
6
7
8
9
...
18
In 1970 I was thrilled to be asked to photograph a film with Elizabeth Taylor and the English title was Zee and Co. and the American was XYZ, and it was a matrimonial drama — comedy drama — with Elizabeth Taylor, Michael Caine again and Susanna York, and it was largely shot at Shepperton Studios and I had the opportunity, of course, to do some tests on Elizabeth because, obviously they wanted her to look her most attractive. I think she was about 39 then, and I found her such a delightful person. She was so easy to work with and lovely sense of humour, spontaneous wit and she was kind of one of the crew. There was no nonsense with her at all. And the director was an ex-actor called Brian Hutton and he loved telling jokes, and Elizabeth would arrive at the studio of course probably seven o'clock in the morning and she would spend a long time in make-up, and she wouldn't come on the set until she was absolutely ready and although that... you'd hope that it would be 9:30 or 10, it might even be later. So we used to prepare the scene — the shot — the day before so that we could be finishing the lighting and so on with the stand-in, so that we would be all ready when Elizabeth was ready.
And sometimes if we finished what we had to do, this director, Brian Hutton, would start telling jokes and he was... he was a great storyteller, very, very funny and he'd be telling jokes and Elizabeth would come on the set, followed by the producer and the make-up people, and he'd carry on telling jokes you see, and Elizabeth would join us and these jokes would go on for five or 10 minutes you see, and they're all falling about laughing and the producer's looking at his watch you see. And it was just a way of keeping things relaxed, and then a... you know, this was a regular thing that... that she would be quite late coming on set and I remember one occasion, we... we'd been waiting quite a long time for her, she'd been... she was later than usual and Brian was telling his jokes and Elizabeth arrived and he stopped telling the jokes and he turned to her and he said, 'Wow, da dum', he said, 'Big movie, big star, big pain in the arse' and she fell about laughing and she... and we all did. She could take a joke — a big pain in the arse, yes — of course Richard was... was present during the... the early part of the shooting and the first couple of days he used to come to rushes.
Now I was getting into the softer light and with the help of Bill Chitty, the... who was my gaffer on the picture at Shepperton, we'd made these frames out of tracing paper — diffuser — and we'd extended them away from the lamp by about 2 or 3ft so that you got a much broader source of light, and whenever you moved the lamp, of course, the frame went with it. So I... it was the beginning of... of the soft light system of lighting, and I used this method on Elizabeth and a certain amount of diffusion. Of course she had very good make-up and hair and Richard used to come to the rushes of the first couple of days and he turned to me one day and he said: 'You know she's looking like a teeny-bopper', and I thought at first: is that a compliment or not, and then I thought: well perhaps it is because I... I've made her look younger, which is... which is what they all want.
Billy Williams, London-born cinematographer Billy Williams gained his first two Oscar nominations for the acclaimed "Women in Love" and "On Golden Pond". His third nomination, which was successful, was for the epic "Gandhi". He was President of the British Society of Cinematographers, and was awarded the Camera Image Festival's Lifetime Achievement Award in 2000.
Title: Joking with Elizabeth Taylor on the set of "Zee and Co."
Listeners: Neil Binney
Neil Binney began working as a 'clapper boy' in 1946 on spin-off films from steam radio such as "Dick Barton". Between 1948-1950 he served as a Royal Air Force photographer. From 1950 he was a Technicolor assistant technician working on films such as John Ford's "Mogambo" (photographed by Freddie Young), Hitchcock's "The Man Who Knew Too Much" (Bob Burke), and Visconti's "Senso" (G.R. Aldo/B. Cracker). As a camera assistant he worked on "Mind Benders", "Billy Liar" and "This Sporting Life". Niel Binney became a camera operator in 1963 and worked with, among others, Jack Cardiff, Fred Tammes and Billy Williams. He was elected associate member of the British Society of Cinematographers in 1981 and his most recent credits include "A Fish Called Wanda" and "Fierce Creatures".
Duration: 4 minutes, 14 seconds
Date story recorded: September 2003
Date story went live: 24 January 2008