NEXT STORY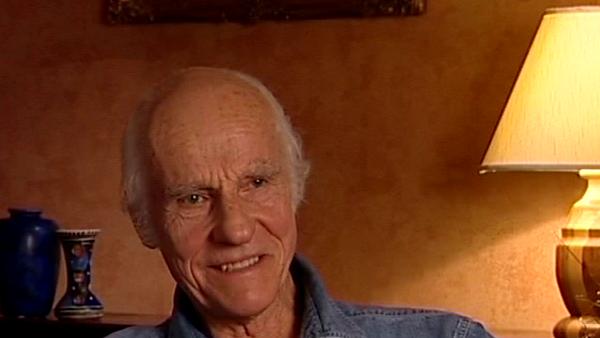 Pope Joan
The release prints of Sunday, Bloody Sunday were only 'half a loaf'
Billy Williams
Film-maker
1
...
6
7
8
9
10
...
18
It was a film, when we finished, that I was so pleased that I'd done because it was... it was about a very important issue, which needed... needed exposing, I think, in the modern cinema and... also it was a very good picture of contemporary London. I looked at it recently and... it was shot in 1971 and it really captured the... the atmosphere of the way of life and people's social habits and so on, and it's... it's a good movie. When we came to do the release prints we had to go through the same dye transfer process and we had difficulty getting what we wanted. Well, there's a final line in the picture from Peter Finch that... he was talking about his life, you know, and that he'd only got half of this... of the love of this young man because the other half was being shared with a woman, and his final line of the picture... well, you know: 'Half a loaf is better than nothing'. And when we came to grade the picture we finally had to settle for what the Technicolor could give... give us with the dye transfer process. Joe Janni said: 'Well, it's half a loaf'. So he wasn't really satisfied. But, of course, those prints that were made, using the dye transfer, have survived but unfortunately, there were an awful lot made afterwards. It must have been the change over from dye transfer to the abandonment of it by Technicolor, because I can't find a print now that... apart from one which the BBC had, which seems to have disappeared, I can't find one which is dye transfer print. Because I went to a film festival recently in Palm Springs, where I saw John Schlesinger who had suffered a terrible stroke — this is two years ago — and we had a screening of Women... of Sunday Bloody Sunday and the print was dreadful it was all pink, all the colour had gone; it was so sad. And sadly too John Schlesinger died a few... few weeks ago and I went to a memorial service for him about a couple of weeks ago, which was lovely, it was beautiful. He made a great contribution to British cinema. He made some lovely pictures.
Billy Williams, London-born cinematographer Billy Williams gained his first two Oscar nominations for the acclaimed "Women in Love" and "On Golden Pond". His third nomination, which was successful, was for the epic "Gandhi". He was President of the British Society of Cinematographers, and was awarded the Camera Image Festival's Lifetime Achievement Award in 2000.
Title: The release prints of "Sunday, Bloody Sunday" were only 'half a loaf'
Listeners: Neil Binney
Neil Binney began working as a 'clapper boy' in 1946 on spin-off films from steam radio such as "Dick Barton". Between 1948-1950 he served as a Royal Air Force photographer. From 1950 he was a Technicolor assistant technician working on films such as John Ford's "Mogambo" (photographed by Freddie Young), Hitchcock's "The Man Who Knew Too Much" (Bob Burke), and Visconti's "Senso" (G.R. Aldo/B. Cracker). As a camera assistant he worked on "Mind Benders", "Billy Liar" and "This Sporting Life". Niel Binney became a camera operator in 1963 and worked with, among others, Jack Cardiff, Fred Tammes and Billy Williams. He was elected associate member of the British Society of Cinematographers in 1981 and his most recent credits include "A Fish Called Wanda" and "Fierce Creatures".
Duration: 2 minutes, 44 seconds
Date story recorded: September 2003
Date story went live: 24 January 2008