NEXT STORY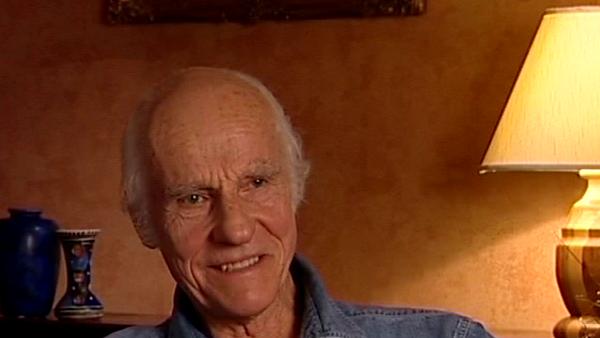 Flying away on an aerocycle
A Catholic church inside a Protestant church
Billy Williams
Film-maker
1
...
6
7
8
9
10
...
18
And the next film was something completely different. I was asked to do a Western called Kid Blue, and the script was very funny. It was a satirical Western, supposedly set in the... in the West but shot in Mexico, and it was a film for Twentieth Century Fox with Dennis Hopper in the lead, and also in the cast were Warren Oates, Peter Boyle, Ben Johnson, Janice Rule; it was a good cast and the director – I think it was his first movie – his name was James Frawley, a very nice guy. But Dennis Hopper had come from a huge success with Easy Rider, which he was, I think, the co-director as well as the actor, and then he'd gone on to direct a picture in South America, which had lasted a long time. So he'd kind of got used to holding the reins and he gave this director a pretty tough time and I felt really sorry for him at times because Hopper was... was just being... he was being a bit naughty. I mean, there were certain times when he would insist that we only did a scene in one shot without any coverage, so it couldn't possibly be altered. So the editor was faced with using the scene in its entirety or dropping it and I... I thought: well I'd never heard an actor wield that kind of power.
But we shot in Mexico in a small town called Chupaderos, which John Wayne sort of discovered a few years before, and it was small town with a... a kind of main street and a couple of streets coming off it, and what used to happen is that every... every movie that came into town would... would just change the frontages of the buildings to the particular look that they wanted, because behind these frontages lived all the local people, and... and most of them were peasants and they earned a living by working as... as labourers and so on whenever a movie came into town. So there were periods when they... you know, things were quite good for them. And I remember when... when I arrived, I didn't have an awful lot of preparation time and they were sort of finishing off building the set and on one corner of the street they were putting on... painting a kind of Baptist church with white cladding and so on, and I thought: oh I'll... I'll just go in and have a look inside this church. So I... I went through the door of the church and then there was a second door, and I went inside the second door and found myself in the real Catholic church. They'd built... they'd built a Protestant church on top of the Catholic church and it was... it was that sort of thing that they did; you know, they'd build the... the bar and the saloon and the hotel.
And we had a boarding house where we had a lot of dialogue scenes around a table and it was a nightmare because none of the walls would float. And we were working with the Panavision camera; they'd bought out by then a reflex camera called the PVSR — Panavision Silent Reflex — and that had really taken over from the BNC, the Mitchell camera, because the Mitchell hadn't got a mirrored shutter. And so Panavision had this... this new camera, which came out about... oh I think about 1969, 1970, and it was a good camera, and of course you could put a... your anamorphic lenses there... we were shooting anamorphic, which I've always loved. Excuse me. And... but shooting in this boarding room... house with about 12 or 14 people around a table with no walls that would float was really a... a headache.
Billy Williams, London-born cinematographer Billy Williams gained his first two Oscar nominations for the acclaimed "Women in Love" and "On Golden Pond". His third nomination, which was successful, was for the epic "Gandhi". He was President of the British Society of Cinematographers, and was awarded the Camera Image Festival's Lifetime Achievement Award in 2000.
Title: A Catholic church inside a Protestant church
Listeners: Neil Binney
Neil Binney began working as a 'clapper boy' in 1946 on spin-off films from steam radio such as "Dick Barton". Between 1948-1950 he served as a Royal Air Force photographer. From 1950 he was a Technicolor assistant technician working on films such as John Ford's "Mogambo" (photographed by Freddie Young), Hitchcock's "The Man Who Knew Too Much" (Bob Burke), and Visconti's "Senso" (G.R. Aldo/B. Cracker). As a camera assistant he worked on "Mind Benders", "Billy Liar" and "This Sporting Life". Niel Binney became a camera operator in 1963 and worked with, among others, Jack Cardiff, Fred Tammes and Billy Williams. He was elected associate member of the British Society of Cinematographers in 1981 and his most recent credits include "A Fish Called Wanda" and "Fierce Creatures".
Duration: 4 minutes, 15 seconds
Date story recorded: September 2003
Date story went live: 24 January 2008