NEXT STORY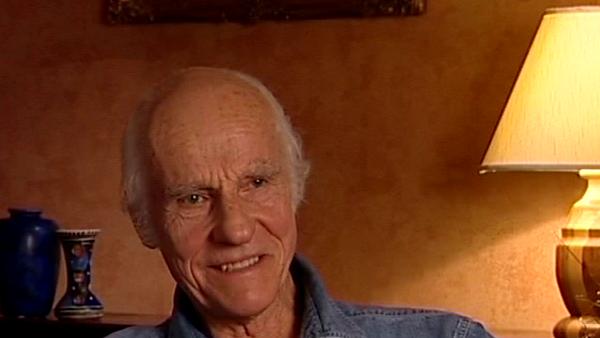 Finding a location in Iraq to shoot The Exorcist
Producing lightning on Night Watch
Billy Williams
Film-maker
1
...
6
7
8
9
10
...
18
I got a cable from Elizabeth Taylor inviting Ann and I to attend her 40th birthday party, which was going to be in Budapest, and it was in Budapest because Richard was there shooting a film called Blue Beard, and so a whole group of people, a terribly diverse group from... people like Emlyn Williams and Frankie Howerd, Princess Grace, Ringo Starr, Michael Caine and Susanna York, and myself and a make-up man and a hairdresser, and we were all invited to this party in Budapest and had a wonderful time. And out of that came the next picture I did, which Elizabeth was going to do in Elstree called Night Watch, which was the same director that did Zee and Co., Brian Hutton, and it was a thriller and we shot the studio work in Elstree with just a few London exteriors. And it involved a lot of lightning effect and with storms, and the way we used to do lightning then was to... for the electrician to take the negative and positive carbons from an arc lamp and form a... a scissor arrangement, so that you started off with the... with the live carbons apart and then as you brought them together on a kind of scissor mechanism, you'd get this splash of light, which was absolutely brilliant, and looked quite like lightning. But, of course, it was... it was quite dangerous because, you... you know, if you looked at it, it... it was really dazzling and also the poor electrician that was standing underneath these scissor arcs, because he used... he was usually up on platform holding it up high and whenever he brought the arc... the arcs together, the carbons together, there'd be a big splash and sparks flying everywhere. So the poor chap used to have a difficult time; he had to wear gloves and goggles, and all that sort of thing. But it was... it was quite an effective way of... of doing lightening and continued for a while until somebody developed a system with a lighting box with a... with a xenon, which gave you... you know, a... a similar effect but was much safer to use. So that's how we produced lightning then. Later on I was to do a picture called The Manhattan Project, in which I'll tell you of... of how it was done further along the line. So it was another picture with Elizabeth Taylor, which was great fun.
Billy Williams, London-born cinematographer Billy Williams gained his first two Oscar nominations for the acclaimed "Women in Love" and "On Golden Pond". His third nomination, which was successful, was for the epic "Gandhi". He was President of the British Society of Cinematographers, and was awarded the Camera Image Festival's Lifetime Achievement Award in 2000.
Title: Producing lightning on "Night Watch"
Listeners: Neil Binney
Neil Binney began working as a 'clapper boy' in 1946 on spin-off films from steam radio such as "Dick Barton". Between 1948-1950 he served as a Royal Air Force photographer. From 1950 he was a Technicolor assistant technician working on films such as John Ford's "Mogambo" (photographed by Freddie Young), Hitchcock's "The Man Who Knew Too Much" (Bob Burke), and Visconti's "Senso" (G.R. Aldo/B. Cracker). As a camera assistant he worked on "Mind Benders", "Billy Liar" and "This Sporting Life". Niel Binney became a camera operator in 1963 and worked with, among others, Jack Cardiff, Fred Tammes and Billy Williams. He was elected associate member of the British Society of Cinematographers in 1981 and his most recent credits include "A Fish Called Wanda" and "Fierce Creatures".
Duration: 2 minutes, 54 seconds
Date story recorded: September 2003
Date story went live: 24 January 2008