NEXT STORY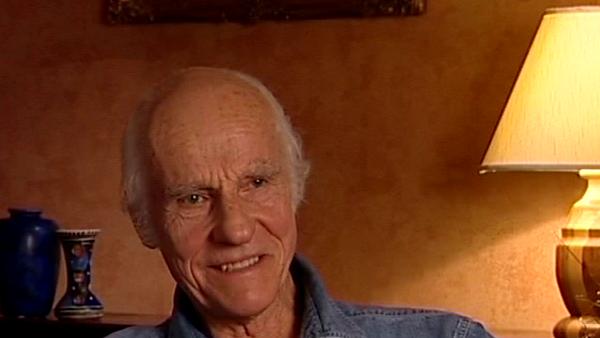 Eagle's Wing
Actors' demands on the set of Voyage of the Damned
Billy Williams
Film-maker
1
...
7
8
9
10
11
...
18
Now, we had another artist on the... on the movie called Lee Grant and she had previously said to me, 'You know, I've got to have lots of fill light, you've got to give me lots of fill light because these lines are beginning to come rather pronounced'. Well I'd got Faye Dunaway to look after, who... who, you know, was the leading lady in the picture and was getting constant attention with makeup and... and I was, you know, lighting the picture in a certain way but, you know, taking as good care of the ladies as I could, but obviously Lee... Lee Grant felt that she ought to do a bit on her own and so... after we'd started — and she was in quite a number of scenes — she started coming on with white lines painted in here. And I again, I called the makeup and I said, 'What... what's happened with Lee's makeup? They said, 'Oh, she's done that herself'. It's funny isn't it? Anyway, the cast list... I say I'd never seen anything like it. Now, as you probably know, when you have the, you know, influential actors and actors above a certain category on a picture, in their contract they get a trailer or a caravan or a Winnebago —whatever you like to call it — for themselves to go and relax in and change and so on. And I remember when we were in Barcelona, we were using Barcelona to double for Havana and there was this long line of trailers, all for the actors. And I counted them, there were 34. There were 34 star actors in that film, each one with a trailer. It cost a fortune. All the same length? Hmm? All the same length? Yes, yeah all identical.
But we had some wonder... there were some wonderful scenes, a very moving picture. It's a tragic film, a very sad film, and I think it's weakness is it doesn't have enough humour and it's very even paced, and I've seen it on television; I think it works better on television than it did in the cinema, but it was a marvellous story, and we had wonderful sets. At Elstree we had a production designer called Wilfred Shingleton, and he built the whole of the bridge area on stage. Now, in Barcelona we'd already shot scenes on the ship, both at day, at night under steam, but now we'd got these lengthy dialogue scenes on the bridge and on the wings of the bridge, which had to be done in the studio. And when we got out onto the wing of the bridge, which is exposed, I said to the director, 'Well, you know, we've got to have some wind on this because the ship's under sail and we're cutting with material where we've seen wind blowing and all that'. He said, 'Oh no, no', he said, 'We can't have wind; I've got to get direct sound'. So I said, 'Well look I... let me try the smallest wind machine' which was a Mole Richardson, small job. And I said 'Let... let me try that' and I put that on and he'd got the headphones there and he said, 'No, no. No, I can hear it. No'. So we shot all these scenes without wind. And when you see it, it's obvious that the ship's not moving! And, you know, it was such a disappointment, I thought, you know, you can easily take out a bit of wind noise, there's no problem in the mix, I'm sure, to do that. But no. No wind.
Billy Williams, London-born cinematographer Billy Williams gained his first two Oscar nominations for the acclaimed "Women in Love" and "On Golden Pond". His third nomination, which was successful, was for the epic "Gandhi". He was President of the British Society of Cinematographers, and was awarded the Camera Image Festival's Lifetime Achievement Award in 2000.
Title: Actors' demands on the set of "Voyage of the Damned"
Listeners: Neil Binney
Neil Binney began working as a 'clapper boy' in 1946 on spin-off films from steam radio such as "Dick Barton". Between 1948-1950 he served as a Royal Air Force photographer. From 1950 he was a Technicolor assistant technician working on films such as John Ford's "Mogambo" (photographed by Freddie Young), Hitchcock's "The Man Who Knew Too Much" (Bob Burke), and Visconti's "Senso" (G.R. Aldo/B. Cracker). As a camera assistant he worked on "Mind Benders", "Billy Liar" and "This Sporting Life". Niel Binney became a camera operator in 1963 and worked with, among others, Jack Cardiff, Fred Tammes and Billy Williams. He was elected associate member of the British Society of Cinematographers in 1981 and his most recent credits include "A Fish Called Wanda" and "Fierce Creatures".
Duration: 4 minutes, 1 second
Date story recorded: September 2003
Date story went live: 24 January 2008