NEXT STORY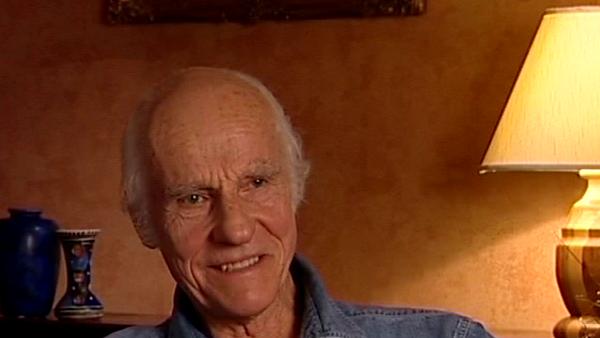 The British Society of Cinematographers
Eagle's Wing
Billy Williams
Film-maker
1
...
7
8
9
10
11
...
18
Eagles Wing was another Western to be shot in Mexico again. The director... Anthony Harvey, with Martin Sheen, Sam Waterston, Harvey Keitel and Stéphane Audran. And... it's another story of a culture clash between the white man and Red Indian. Martin Sheen played the white man and Sam Waterston played a Kiowa Indian who speaks no English throughout the film, only his native tongue. And Harvey Keitel is in the picture for a brief period as a kind of senior partner with Martin Sheen, who are trading furs with the Indians for alcohol. And they have an assignation with a certain Indian tribe to, you know, trade some furs, and this particular group of Indians get involved in a battle with some other Indians, and the chief amongst one of these two tribes has the most magnificent white horse. The Indian played by Sam Waterston sees this horse and thinks what a marvellous animal it is. And, in the course of the battle, the owner of this horse gets killed. Now, the ritual was, that if... if a man got killed you also destroyed his horse. Well, Martin Sheen who we've already established as wanting to trade with this same group of Indians that get involved in the battle, comes across a strange ceremony, a ritual ceremony where they're going to kill the horse. Rather than see the... the horse killed, he makes an attempt to rescue it, which he does. But in rescuing the horse, a local shaman who is performing this strange ritual, gets killed. So the white man has got this wonderful horse but an Indian has been killed in the process. And so, he is then pursued by a group of Indians seeking revenge. He's also being pursued by the Sam Waterston character who also wants to own this horse, so it... the picture is a running duel between these two characters for the possession of this horse. And during the course of the movie they both own it. The same group of Indians that... that Waterston belongs to ambush a stagecoach. And there are wealthy Spaniards on board this stagecoach, which is carrying a lot of money. And he takes all of their money and jewellery and also an Irish girl who's part of the group on the stagecoach, he kidnaps her. So the Sam Waterston character makes off with the white woman and all of these... all of this treasure that he's looted, so he has this burden to carry.
As the film progresses, the ownership of the white horse changes from one to the other and the Red Indian who has now got the white horse, in order to make his escape, decides to keep... to abandon all this treasure he is carrying because it is slowing him down. So he starts to dispose of all the treasure, and eventually disposes of the girl. And, the group that are pursuing him to recover the girl then start picking up the treasure that he has left behind and, again, in Mexico, like it was in Iraq, the wind was getting up in the afternoons, and so I brought in the wind machine again and agitated the dust and gave a lot of these sequences a lot more energy. I also had a Chapman crane which proved to be the most marvellous tool in putting the camera exactly where you want it in the shortest possible time, whether it was 25ft up in the air or 3ft down on the ground. And because it was six-wheeled drive it could go anywhere, and so I could get all these high angled shots that I wanted of rapid lifts up and drop down and swinging the boom, lots of things to make the... the picture more exciting. And, you know, I really... I'd... I'd already used the Chapman on Voyage of the Damned and... yes, Voyage of the Damned and Wind and the Lion, and so, it was the most valuable tool. Wonderful landscapes in Mexico and wonderful skies, particularly as it starts to get dark so... it was a really exciting picture visually. The other thing which attracted me was, apart from the beginning of the film when Harvey Keitel is partnering Martin Sheen, there's no more dialogue and no subtitles. The Spanish speak Spanish; the Indians speak Kiowa and Martin Sheen talks to the horse, talks to himself. So we had to tell the picture visually, and that was a... that was a lovely challenge. And it was a... an exciting picture, it was hailed as the first British Western, because it was a British producer, the crew were British except for our Mexican assistant, and the money was British, it... it was financed by Rank. And it was... it was a very enjoyable picture.
Billy Williams, London-born cinematographer Billy Williams gained his first two Oscar nominations for the acclaimed "Women in Love" and "On Golden Pond". His third nomination, which was successful, was for the epic "Gandhi". He was President of the British Society of Cinematographers, and was awarded the Camera Image Festival's Lifetime Achievement Award in 2000.
Title: "Eagle's Wing"
Listeners: Neil Binney
Neil Binney began working as a 'clapper boy' in 1946 on spin-off films from steam radio such as "Dick Barton". Between 1948-1950 he served as a Royal Air Force photographer. From 1950 he was a Technicolor assistant technician working on films such as John Ford's "Mogambo" (photographed by Freddie Young), Hitchcock's "The Man Who Knew Too Much" (Bob Burke), and Visconti's "Senso" (G.R. Aldo/B. Cracker). As a camera assistant he worked on "Mind Benders", "Billy Liar" and "This Sporting Life". Niel Binney became a camera operator in 1963 and worked with, among others, Jack Cardiff, Fred Tammes and Billy Williams. He was elected associate member of the British Society of Cinematographers in 1981 and his most recent credits include "A Fish Called Wanda" and "Fierce Creatures".
Duration: 6 minutes, 11 seconds
Date story recorded: September 2003
Date story went live: 24 January 2008