NEXT STORY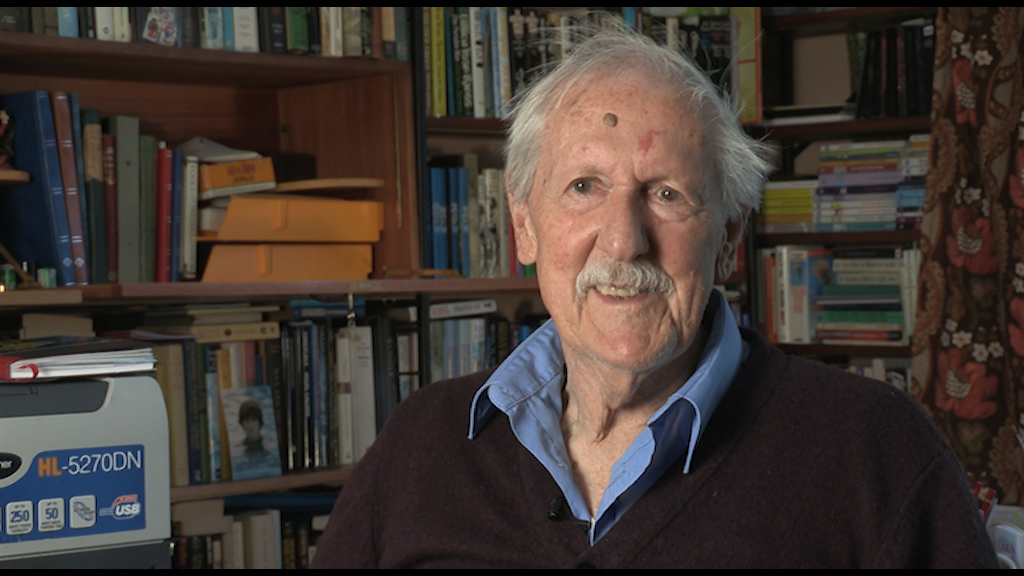 Dining on poached eggs on toast
1
2
3
4
5
...
8
We got down the Suez Canal and we sailed, whatever the sea might be and when we got in sight of Bombay, the Otranto had to stop again because obviously there were other ships there, and they had to wait for a while. And so, paddling at feverish pace, all kinds of little boats came out to see us, to sell us things. And, of course, we were enchanted by this, well, some of us were. And yes, you looked down from the rail, and there were these guys, 'Sir, you want to buy a wallet?' etc., etc.
And yes, and so I said, 'How much for a wallet?' 'Oh sir, for you sir, only four rupee'. 'Alright.' I hadn't learnt to haggle then, so... did I have four rupees? It must have been four quid, I guess, four pounds. And so, I sent it down on a string and he sent up a wallet. I had no use for that wallet, I've never had any use for that wallet, but it is right here in my study, in one of these drawers. A virgin wallet from those times.
So then, eventually, the ship went in very, very slowly, very cautiously and moored up against one of the docks. And so, we disembarked. And how long had we taken? I believe it was a month on that ship. It was extraordinary, with pretty rotten grub, etc. And there we were in India.
And we went to the railway station. And what happened there? Yes, it had a large waiting area, but to me it was meat and drink, you know, I was in India. Jesus, India! Think of it! And so there was a big stationers, a book store, and I went and looked at that and it had... it was selling a magazine called something like India Cinema with lots of guys and girls on the cover and I thought this would be fun, and I bought it. I've actually still got that, somewhere; I always treasured it. And I found that criticism in there was much harsher than any criticism you'd find in the English equivalent. For instance, they would say, 'Oh, Mr Das Gupta, this is a silly man – he's bald! Who wants him as a hero?' So, I treasured all this, and read it as we got on the train. And the train took us to Mau, which was where Royal Signals trained and I don't know who else.
And so, yes, there was the British barracks, designed and built on the British format. One of the things that we'd be doing in India, and it was okay. It was very good as regards airiness, and of course, you had a mosquito net. Yes, all that was very interesting – on the whole, I think I liked it. Yes, I think I liked it.
Brian Aldiss (1925-2017) was an English writer and anthologies editor, best known for his science fiction novels and short stories. He was educated at Framlingham College, Suffolk, and West Buckland School, Devon, and served in the Royal Signals between 1943-1947. After leaving the army, Aldiss worked as a bookseller in Oxford, an experience which provided the setting for his first book, 'The Brightfount Diaries' (1955). His first science fiction novel, 'Non-Stop', was published in 1958 while he was working as literary editor of the 'Oxford Mail'. His many prize-winning science fiction titles include 'Hothouse' (1962), which won the Hugo Award, 'The Saliva Tree' (1966), which was awarded the Nebula, and 'Helliconia Spring' (1982), which won both the British Science Fiction Association Award and the John W Campbell Memorial Award. Several of his books have been adapted for the cinema. His story, 'Supertoys Last All Summer Long', was adapted and released as the film 'AI' in 2001. His book 'Jocasta' (2005), is a reworking of Sophocles' classic Theban plays, 'Oedipus Rex' and 'Antigone'.
Title: Destination: India
Listeners: Christopher Sykes
Christopher Sykes is an independent documentary producer who has made a number of films about science and scientists for BBC TV, Channel Four, and PBS.
Tags: Suez Canal
Duration: 4 minutes, 33 seconds
Date story recorded: September 2014
Date story went live: 17 August 2015