NEXT STORY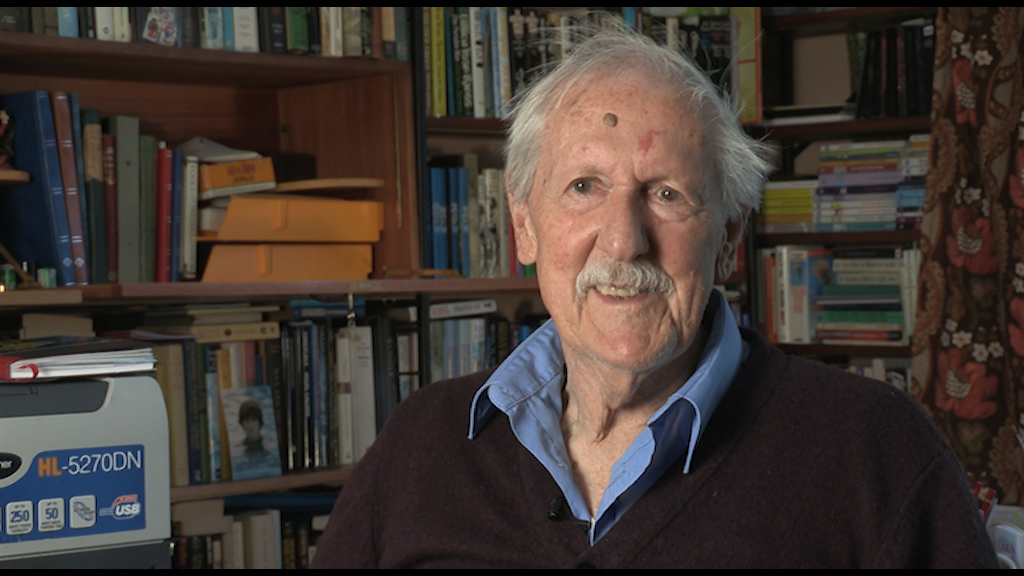 Love is not a straightforward business
1
...
4
5
6
7
8
Let me give you an example of the durability of love, which I've always felt. My ex-wife, Olive, living in the Isle of Wight, became ill. She was quite old, she was lying in bed and she was being cared for by my son Clive's wife, a Greek lady whose name was Youla. And Youla noticed that Olive had, on her right hand, on one of her fingers, she had a silver ring, and Youla thought it might be cutting into her flesh, and so she said, 'Would you like me to take this ring off?' And Olive said, 'Oh no, that never comes off. Brian gave it to me. I still love him'.
That was a very durable kind of love, and well, you know, it was our first marriage. And indeed, it did work very well. It was... always the shadow of her mother was there. But there we are...
So that was a good example of the durability of love.
What can I talk about love, in general? Well, I don't know. I suppose... yes, round here, I see old couples who clearly love each other out of habit, but habit's not a bad thing, either.
I don't know what I can say about it. It's a mysterious force, isn't it? I mean, my mother... certainly to begin with... didn't love me. I was born in a shower of tears, but gradually, she saw sense, particularly when she and my father left Dereham. She became a happier person, and she did love me. It evolved slowly, but I was always grateful for that.
But then, I was loved, and I loved my grandfather's second wife. Grandfather had died, and Dorothy, Dorothy Aldiss, born Dorothy Royou lived here in Oxford. I saw a lot of her and I loved that woman. And so that didn't have any particular connotation of sex. It was just loving another person because it seemed to me they were such a good... she was such a good and valuable person. And so those are things that promote love. Had she been wicked or sly or any number of off-putting things, it would have been different. I think of her quite frequently... it's funny that that should be my grandfather's surviving second wife. And when she died, we all jumped into my car and drove to Dereham because she wanted to be buried next to him. She obviously still carried love for HH Aldiss.
Brian Aldiss (1925-2017) was an English writer and anthologies editor, best known for his science fiction novels and short stories. He was educated at Framlingham College, Suffolk, and West Buckland School, Devon, and served in the Royal Signals between 1943-1947. After leaving the army, Aldiss worked as a bookseller in Oxford, an experience which provided the setting for his first book, 'The Brightfount Diaries' (1955). His first science fiction novel, 'Non-Stop', was published in 1958 while he was working as literary editor of the 'Oxford Mail'. His many prize-winning science fiction titles include 'Hothouse' (1962), which won the Hugo Award, 'The Saliva Tree' (1966), which was awarded the Nebula, and 'Helliconia Spring' (1982), which won both the British Science Fiction Association Award and the John W Campbell Memorial Award. Several of his books have been adapted for the cinema. His story, 'Supertoys Last All Summer Long', was adapted and released as the film 'AI' in 2001. His book 'Jocasta' (2005), is a reworking of Sophocles' classic Theban plays, 'Oedipus Rex' and 'Antigone'.
Title: The durability of love
Listeners: Christopher Sykes
Christopher Sykes is an independent documentary producer who has made a number of films about science and scientists for BBC TV, Channel Four, and PBS.
Tags: love, ex-wife, marriage, ring, mother, grandmother
Duration: 4 minutes, 23 seconds
Date story recorded: September 2014
Date story went live: 17 August 2015