NEXT STORY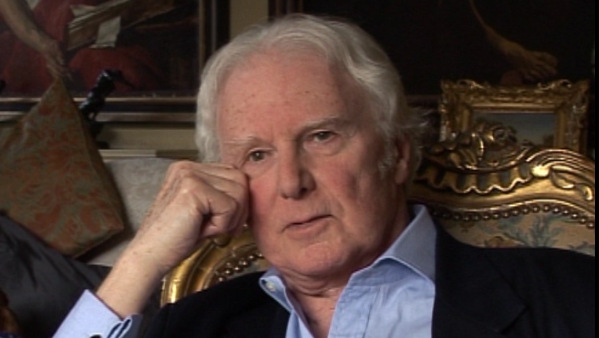 'Most of my school friendships were based on sex'
Unhappy schooldays and frustration with the education system
1
2
3
4
5
...
9
[Q] So what should we understand about your school days? Happy or unhappy?
On balance, I think a great deal unhappier than happy. There was a period in the middle of them, or rather just, sort... past halfway, when I got put into 'remove', which meant that you wasted the year but… when you were 15, you were regarded as ineducable and would go at 16.
The authorities, as it were, were determined that I would not get through school certificate, which was the equivalent of O-levels. And if it hadn't been for a couple of schoolmasters, to whom I'm deeply indebted… One was called Lewin and the other called Locke. One taught English and the other History. If it hadn't been for their saying, well, he may not be any good at Science or Arithmetic, but he's very good at these two things, you know, we ought to somehow make allowances.
But it was very difficult, because there were compulsory subjects. I get very angry now when I hear educationalists on both sides of the House talking about essential subjects and how Maths is still an essential subject. I must have wasted a year of my education, in terms of time, I must have wasted a year trying to learn Maths. And it… I don't know why, but it is completely beyond me, and there was nothing to do in a Maths lesson, except count seconds. I can count a minute, now, with perfect accuracy. And that's a skill I learned in school, letting double periods, 90 minutes of Maths go by, perfecting the accuracy of my count of seconds. That's as far as it went. And you had to get through in Maths if you wanted to go for a higher school certificate, matriculation. And I think that, in the end… I think that I was extraordinarily tough, and I'm very angry that it was ever necessary. But I did… my year in the remove, sit school certificate at the end of it, and failed.
I got distinctions in History and English and English Literature, and I'm perfectly adequate in French and Geography and things like that, but I could not get passed in Maths. You had to pass in a modern foreign language, English grammar and Maths. Grammar was absolutely not a problem. French was not a problem. Maths was just a total block.
Well, with three distinctions, which was not bad, it was decided that I should go into the lower sixth and sit the exam externally. This was in June. You could sit it again in December, externally. Slightly different syllabus. So you start learning the higher school certificate, which is two years hence, and the adjustments to the syllabus for matriculation. And you go on struggling with Maths. And you sit, in December, and you fail. You sail through everything else, but you fail Maths. You've failed it twice. So you sit it again the following June and the following December. And in the end, I was, as it were, still sitting that bloody exam at the same time as I was sitting higher school certificate. And then I got a piece of paper from the university, a little slip of brown wartime paper, no bigger than that, just saying that the university authorities have decided to give you a subsidiary pass in Arithmetic, not Maths, not Algebra, not Geometry, Arithmetic. Simple Arithmetic. You may now proceed to further university examinations.
And I think of that every time I hear politicians talk of mandatory subjects in exams, it's all wrong. Children… for whatever reason, children will have a block in something, and they cannot do it, and it doesn't matter who teaches them or for how long, it will remain a block. That has to be recognised. And the aptitudes of children have to be recognised, and not denied.
Though there they are… that's the story of my school days, apart from the sex, of course.
Born in England, Brian Sewell (1931-2015) was considered to be one of Britain's most prominent and outspoken art critics. He was educated at the Courtauld Institute of Art and subsequently became an art critic for the London Evening Standard; he received numerous awards for his work in journalism. Sewell also presented several television documentaries, including an arts travelogue called The Naked Pilgrim in 2003. He talked candidly about the prejudice he endured because of his sexuality.
Title: Unhappy schooldays and frustration with the education system
Listeners: Christopher Sykes
Christopher Sykes is an independent documentary producer who has made a number of films about science and scientists for BBC TV, Channel Four, and PBS.
Tags: school certificate, higher school certificate, matriculation
Duration: 6 minutes, 29 seconds
Date story recorded: 2008
Date story went live: 28 June 2012