NEXT STORY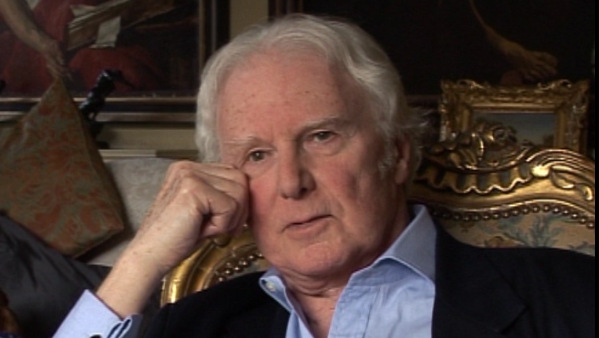 Studying at The Courtauld Institute of Art in London
Refusing female love interest
1
2
3
4
5
...
9
The second one was a couple of years behind me, and when I graduated, she really needed to know whether this warm friendship had any chance of continuing. And the friendship could, but nothing else. And a year after I'd left, I'd gone to work for Christie's, and Christie's had said, why don't you go to Rome for us? And there are other things you can do on the way... people who want to show pictures and so on. And so I thought it would be fun to take Helen as a companion, and did. And even then, she thought that, you know, we were… there was a possibility. By then she knew that I was queer, but she had that foolish idea that all you have to do is get into bed with a girl and you're immediately converted. And it ain't true.
So, you know, but that's pretty well the extent of it. There was an unfortunate moment with an older woman, a much older woman, in Paris. My last… at the end of my second year at The Courtauld, I got a job as a guide to a party of American tourists who were running around England and France, and we were in Paris. And the group had really begun to fall to pieces a bit. It was at cross-purposes with itself. And in Paris, the women all wanted to go shopping and not look at anything.
And so on. So I found myself saying to them, 'Well, tomorrow, we are supposed to go to Malmaison, and we are leaving at nine and it's a long day, and if you're not there, we shall leave. We can't delay'. And I went down, and nobody turned up. Not a single person wanted to go to Malmaison. So I went on my own, and I had a lovely day, really memorably beautiful day at Malmaison. I came back to the… to Paris. On my way to the hotel, past… went down a narrow street with lovely things in the windows, like custard pies and salamis and whatnot... snails. And I thought, I really… I don't want to have dinner with these people. I will have dinner in my room. And so I bought myself a picnic. And I had a tiny room at the very top of the hotel. All the travellers had rather grander accommodation. And I'd set... tiny table... I'd set it with everything I was going to have, by the window. Great view. Bottle of wine.
And there was a knock on the door, and it was one of… it was… her name was Mrs Heller, Peg Heller. And she came in and said, 'I'm old enough to be your grandmother, but I'm going to bed with you'. And I said something feeble, like I don't do that sort of thing, or whatever. And before I knew what had happened, she'd got my trousers undone and my cock in her mouth. And she hadn't taken her glasses off, and they were big, sort of, diamanté frames with wings to them. And they kept on catching in my pubic hair as she moved backwards and… and you know, when you're twenty-something, you have an erection whether you want to or not. And oh God… anyway, that was… that really was the most physical thing that ever happened to me with a woman. So…
[Q] It's terribly funny...
Peg… when… she kept on writing. She lived in South Carolina, in Charleston. And for several years afterwards, she would send me boxes of Carolina cookies or Charleston chocolates or whatever, with letters of such filthy imaginings that I did not know that human beings could do this sort of thing together, certainly not women well into their sixties. And so I thought… very instructive, though, eventually. When you get around to it yourself.
Born in England, Brian Sewell (1931-2015) was considered to be one of Britain's most prominent and outspoken art critics. He was educated at the Courtauld Institute of Art and subsequently became an art critic for the London Evening Standard; he received numerous awards for his work in journalism. Sewell also presented several television documentaries, including an arts travelogue called The Naked Pilgrim in 2003. He talked candidly about the prejudice he endured because of his sexuality.
Title: Refusing female love interest
Listeners: Christopher Sykes
Christopher Sykes is an independent documentary producer who has made a number of films about science and scientists for BBC TV, Channel Four, and PBS.
Tags: Christie's, Rome, Courtauld Institute of Art, Paris, Château de Malmaison, South Carolina, Charleston
Duration: 6 minutes
Date story recorded: 2008
Date story went live: 28 June 2012