NEXT STORY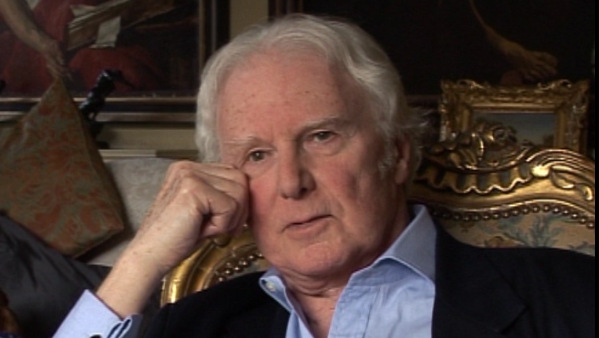 Anthony Blunt and Johannes Wilde
Modern transport robs the traveller of the joy of discovery
1
...
4
5
6
7
8
9
[Q] So you came back from that trip knowing a hell of a lot, really.
I think it was the most intense educational experience, and… because we had seen things from, sort of, Gothic architecture in northern France to Baroque and Renaissance architecture in Italy. And we had also, I think, had the actual experience of approaching Florence, and indeed other places, sufficiently slowly to take it in. You get on an aeroplane, you go [plane sound] and you're down. Whereas if you're tootling along at, sort of, twice bicycle speed, you come from off the old road to Bologna, and you go up a slight crest, and suddenly, over that crest, there is Florence in a sort of shallow bowl down below you. And it's a revelation. It's extraordinary. It's heart-stopping, it's so beautiful.
And again, it's something that, if you see it in the morning, then the light is coming from over there, and if you see it in the evening, the light's from here, and it's entirely different.
And then you go around the other side of the bowl, to San Miniato, ostensibly to look at San Miniato al Monte the church there... Alberti church. And you get the light coming in a different direction, and you are looking in a different direction, anyway, because you're looking north, and the whole thing has changed, and it's magic. It's magic to drive into Mantua from the south, through the lakes that lie to the south of the city, and gradually become aware, through the clouds of mosquitos, of the beautiful city on the other side of the water. Well, that's… Orvieto. You're approaching Orvieto, and there's this wonderful thing up there on a hill, and you have to do a sort of corkscrew around the hill in order to… that kind of a… it gives you an insight into the siting of things, and how people must have felt when going to market in Orvieto in 1350. It felt, still, something like this.
But autostradas and motorways have really rather destroyed that. The aeroplane has completely done away with it, because there you are, you're in a city, or you're at the airport. You get in a coach and then you're in the city. It's not the same. And I wonder if it can ever be the same. The last time I was in Italy, I did deliberately take the old road from Bologna to Florence, just to go through that experience, but the old road is now so decayed, it's not even signposted. You really have to look for it, otherwise you find yourself on the motorway and you're there in half an hour, which is not the point. The point is to take your time. And I think that is one of the great losses that we now have to suffer, almost without realising it. You get to places too quickly.
Born in England, Brian Sewell (1931-2015) was considered to be one of Britain's most prominent and outspoken art critics. He was educated at the Courtauld Institute of Art and subsequently became an art critic for the London Evening Standard; he received numerous awards for his work in journalism. Sewell also presented several television documentaries, including an arts travelogue called The Naked Pilgrim in 2003. He talked candidly about the prejudice he endured because of his sexuality.
Title: Modern transport robs the traveller of the joy of discovery
Listeners: Christopher Sykes
Christopher Sykes is an independent documentary producer who has made a number of films about science and scientists for BBC TV, Channel Four, and PBS.
Tags: Florence, Orvieto, Gothic architecture, France, Baroque architecture, Renaissance architecture, Italy, Bologna, Mantua, Benedetto degli Alberti, San Miniato al Monte, Alberti church, San Miniato, Jill Spencer Rigden, Jill Spencer Allibone
Duration: 4 minutes, 14 seconds
Date story recorded: April 2013
Date story went live: 04 July 2013