NEXT STORY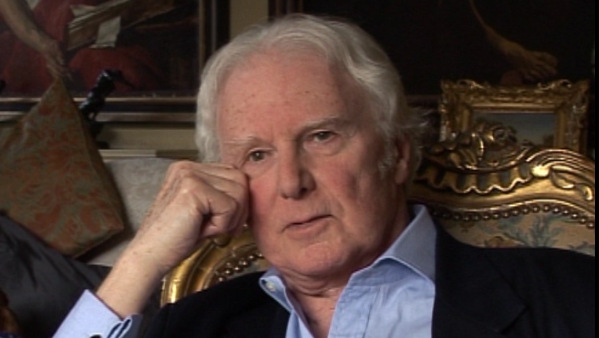 Salvador Dalí's eccentricities
1
...
5
6
7
8
9
Well, I suppose we plunged straight into something in that on the very first evening, we were up on the terrace at the top of the house, where there were three enormous concrete eggs which looked as though they'd been eaten by a giant and broken roughly off, so they had serrated edges like that. And they had little dog-kennel entrances, that you had to go onto your hands and knees and duck through, and then you popped up, sat on a little bench, and peered over the serrated edge at the three… you know, perfectly silly. Gala was really too tiny to do this. She was also stone deaf, so that if she couldn't see your lips, she didn't know what was going on. She didn't even know if anything was going on. And it was very difficult for me, because I was put in the middle one, with Dalí here and Gala there. And so if I spoke to Dalí, she was off on a trip of her own. Anyway, it was bearable. And then, as it was getting dark-ish, Dalí said, 'Let me show you my Christ'.
And, 'Yes'. I thought he was going to take me into the studio to show me another of these wonderfully glutinous late paintings. But no. We trudged further up and away, because the house kind of grew out of a hillside and a cliffside, so where the terrace was and where the Christ was, was all part of a quite long garden. And there was this enormous figure. You would not… no, you couldn't get it in this room. It was constructed entirely of bricolage, of rubbish, of broken tiles and motorcar tyres. The hands, the outstretched hands, the fingers on them were made of quarter motorcar tyres, which will give you an idea of the general scale of the thing. You're talking in many metres, not feet. Metres.
And there it was. And the ribcage was an old boat, from which most of the timbers had fallen away, so you got literally the ribcage for the boat. It was ingenious and surreal and all the rest.
And then he said… I didn't see him pick up the camera, but somehow or other, he had a camera in his hand. And he said, 'Let me photograph you, let me…' I hate being photographed, but you can't refuse in such a situation. And he said, 'I want you in the left armpit. Curl up in the…' you know, sort of… just… so I, sort of, adopted a foetal position in the left armpit. So he then, sort of… 'and it would be better if you took your clothes off'. So, alright. Shit. And you find yourself lying on bits of broken tile and half bricks and stones and God knows what, all pressing into your flesh, you know. So it's quite different if you're wearing trousers and a shirt of some kind, the pain of lying on these things is not nearly so acute. Once you don't have that flimsy bit of material between you and it, it cuts into your flesh and so on. Exceedingly uncomfortable. More photographs. And then, 'Straighten out', and sort of, 'Adopt the same position'. You know, 'Be Christ within the armpit'. And you do that. And then came the command: 'And now masturbate'.
And there flash through your minds all the obligations of hospitality and so on, and what you can refuse and what you can't. Only, it's a bit like refusing to eat the sheep's eyeball when you're having dinner with a sheik. So there you are, sort of idly teasing yourself to erection, and it's click, click, click, click, click all the time. And then you get urged on: 'More, more, more'. And so eventually you complete the whole thing with an ejaculation and at that point, you begin to wonder whether, in fact, he's just focusing the camera on you while you do this, but as a kind of total exclusion of all else. And whether he's actually taking photographs or not, you know. Because my feeling is that there ought to be, in the Dalí archive, some hundreds of photographs of me over a period of four years. But I… I'm told there is nothing.
Born in England, Brian Sewell (1931-2015) was considered to be one of Britain's most prominent and outspoken art critics. He was educated at the Courtauld Institute of Art and subsequently became an art critic for the London Evening Standard; he received numerous awards for his work in journalism. Sewell also presented several television documentaries, including an arts travelogue called The Naked Pilgrim in 2003. He talked candidly about the prejudice he endured because of his sexuality.
Title: Dinner with the Dalís
Listeners: Christopher Sykes
Christopher Sykes is an independent documentary producer who has made a number of films about science and scientists for BBC TV, Channel Four, and PBS.
Tags: El Crist de les deixalles, photography, Salvador Dalí, Gala Dalí, Salvador Domingo Felipe Jacinto Dalí i Domènech
Duration: 5 minutes, 49 seconds
Date story recorded: April 2013
Date story went live: 04 July 2013