NEXT STORY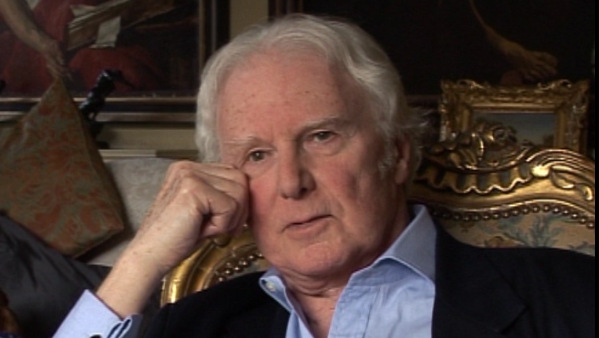 A religious upbringing and my longing to be a priest
AIDS has changed everything
1
...
5
6
7
8
9
AIDS has changed everything, and I am very lucky, because if you're sort of counting the number of stray liaisons I've had, that I never picked up anything more than a sort of non-specific urethritis, and that only once in my life. And so many of my contemporaries died of AIDS because they were caught by it before we knew.
But I was lucky, for one reason and one reason only, and that was that in the summer of 1972, I had had a Spanish lover called Angel. Who was really very beautiful, far more beautiful than I deserved. And he was a waiter, inevitably, and what he wanted to be, inevitably, was a model. And I had a close friend called John Vere Brown, who was a professional photographer, and largely people of the theatre, but occasionally he did work for a modelling agency called Nevs in King's Road in Chelsea. And I spoke to him about Angelo, and he said, 'Oh, bring him over and I'll take some photographs and send them to Nevs, and we'll see what happens'. And so off Angelo went and did all the things that you're supposed to do with a model, wearing this and wearing that and so on, and then John persuaded him to take everything off except for a vest, which came down just not covering his buttocks, and photographed that. It was both erotic and beautiful and said everything you needed to know about Angelo as a figure.
And in no time at all, he was off to Bali, advertising some kind of chocolate. You know, plunging into pools and… Galaxy? Or was it? Something, anyway. And he went from that to other very… then, of course, he got swept off to New York and I lost him. And sometime… I think it was in 1982, but it may have been a year later. But I think it was '82... I had a telephone call from New York and it was Angelo, and Angelo said, 'I'm flying to London tomorrow. Are you going to be in?' 'Yes, do you want to come and stay?' 'No, no, I am just coming to New York, I have to see several people, then I have to fly back again'. And he said I reached Heathrow whenever it is, and I can be with you at two o'clock. So the taxi arrived at two, and out got Angelo, and the taxi stayed there, and I said, 'You haven't got rid of the taxi'. He said, 'No, no, I can only stay ten minutes and I'm going on in it'. And he said, 'Something appalling is happening in New York. My friends are dying. There is a disease of some kind. We don't know what it is. Totally identified. Stop having casual sex. Only have sex with people you know and you trust, and be very, very careful'. And then he said goodbye, and he was going off to tell another old lover.
And I thought, that's extraordinary. He's going to do the rounds. He's going to tell everybody he's ever slept with in London that this is the case and then go back. And I thought that was an extraordinarily generous and responsible and decent thing to do, because that is exactly what he did. He didn't stop for a meal, didn't stop for anything more than to say, you know, be warned. And he's still alive and so am I, because the high seriousness with which he dealt with the matter was enough to impress on me that this really is something to worry about. And of course, within a couple of years, by 1984, all sorts of people I knew had died of this dreadful, mysterious, wasting disease. And we were beginning to understand something of what AIDS was about.
So that's why I'm still here. And yet again, I find myself saying I'm glad I'm as old as I am, because as far as casual sex is concerned, I've had the best of it. It's actually rather an important part of one's life. You know, the idea that one should be restricted to one sexual partner in a lifetime, that is a penance. I mean, how many marriages end up with, you know, thinking the last person in the world I want to have sex with is my wife or my husband? That must be the case over and over and over again. So you end up with a sexless relationship, which is compelled on you by the church and the law. That's no way to live a sexual life.
Born in England, Brian Sewell (1931-2015) was considered to be one of Britain's most prominent and outspoken art critics. He was educated at the Courtauld Institute of Art and subsequently became an art critic for the London Evening Standard; he received numerous awards for his work in journalism. Sewell also presented several television documentaries, including an arts travelogue called The Naked Pilgrim in 2003. He talked candidly about the prejudice he endured because of his sexuality.
Title: AIDS has changed everything
Listeners: Christopher Sykes
Christopher Sykes is an independent documentary producer who has made a number of films about science and scientists for BBC TV, Channel Four, and PBS.
Tags: AIDS, Nevs, King's Road, Chelsea, Angelo, John Vere Brown
Duration: 6 minutes, 13 seconds
Date story recorded: April 2013
Date story went live: 04 July 2013