NEXT STORY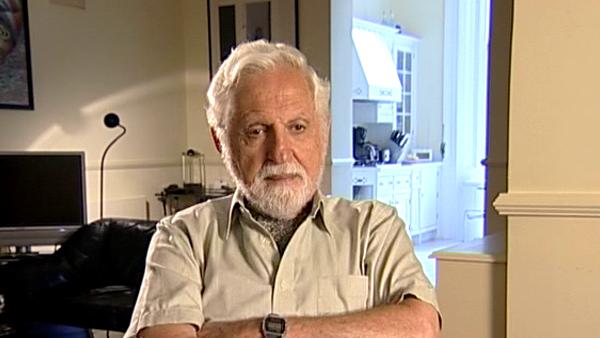 We donated the Picasso
Picasso sculpture unveils problems in my marriage
1
...
8
9
10
11
12
There was a great Picasso show... a Picasso sculpture show, here in... London, in 1962, or 3. And the reason why I'm thinking about this, and again make one of these side steps, is that is probably where I realised that my marriage was going to pot, and that was a least a dozen years, if not more before I ever got divorced... 15 years. We were... we flew... we were on our way to Africa, to Uganda to the game parks, and... Kenya, but particularly Uganda I remember, at that time, and we stopped over in London for a couple of days, with my wife, my two children, and it was in July, and at the time of her birthday, which I think was July 2nd, if I'm not mistaken. And there was this great show, this Picasso sculpture show, and all four of us went, and were enormously impressed by the range of things that he did. And I remember my wife talking very... my second wife talking very movingly about this, and my daughter already had, sort of, indicated her real interest... she was the one who really... eventually a professional artist, a practicing artist in our family, in this, and we stood there at a small vitrine that had a series of Picasso bronzes from the post-war period, around 45 or so, which all were only about this size, and they were female figures, and there was one particularly that I liked, because you saw his thumb imprint obviously on the... wax, this was now the bronze cast. And most of these bronze casts were, sort of, an edition of five or something like that. And my wife was really taking about, look at this one, and so on, and suddenly I thought, her birthday will be in a few days, while we are in Uganda. What can you give someone in Uganda, and... I thought, gee, I wonder... I had no idea what Picasso's cost, Picasso sculptures, and I looked and I saw in the catalogue that one said Gallery Berggruen, in other words it belonged to Berggruen. Most of them either belonged to museums, private collections, or maybe Picasso, but this said, Gallery Berggruen, and not Hans Berggruen... his private collection. I didn't know him, but I had, sort of, heard of about the Berggruen Gallery, and eventually I got to know him quite well. So I went back to the hotel and managed to get his phone number in Paris, he is a Paris dealer. I called him the same day, out of the blue sky. He, of course, he didn't know me from Adam, and I said: my name is Carl Djerassi. I just saw the Picasso exhibition, I saw that Picasso there, and it belongs to you. Is that for sale? And he said, 'Yes'. And I said, 'How much is that?', and he said... so, which was a manageable sum, or manageable for me, not that I had that much money with me there but I said I'd like to buy it, so would you reserve it for me? So he... he basically... he was very charming, but as I say, you know, basically, who are you, how do I know this is serious, and furthermore he said... and I told him I'd want to buy it for my wife's birthday, and he said: well, you can't obviously have it now, this in the... exhibition, and the Tate was going to run until... for another month or so, and then that entire thing was moving to the United States, to a museum, but at that point he would then... I could get it... after that.
So eventually, I forget how we left it, I would send him a cheque for $500, or $1,000, which I could there with the chequebook I had with me, which indicated he had nothing to lose by this, because he was not giving me the Picasso, but he knew that I was obviously serious. And then when I came to... when we came to Uganda, I still remember the Murchison Falls, it was my wife's birthday and I gave her a card. I told it to my children, but not my... wife, I would surprise her, and I said, 'Happy birthday', or something like that, 'what every woman needs for her birthday is a Picasso sculpture'. And it was, I guess, a postcard or something that had that sculpture. And instead of, I don't know, kissing me, or saying... or at least saying thank you, she looked at me and she said, 'You bought this for yourself'.
Austrian-American Carl Djerassi (1923-2015) was best known for his work on the synthesis of the steroid cortisone and then of a progesterone derivative that was the basis of the first contraceptive pill. He wrote a number of books, plays and poems, in the process inventing a new genre, 'science-in-fiction', illustrated by the novel 'Cantor's Dilemma' which explores ethics in science.
Title: Picasso sculpture unveils problems in my marriage
Listeners: Tamara Tracz
Tamara Tracz is a writer and filmmaker based in London.
Tags: Uganda, Murchison Falls, Gallery Berggruen, Pablo Ruiz Picasso, Heinz Berggruen, Norma Lundholm Djerassi
Duration: 5 minutes, 2 seconds
Date story recorded: September 2005
Date story went live: 24 January 2008