NEXT STORY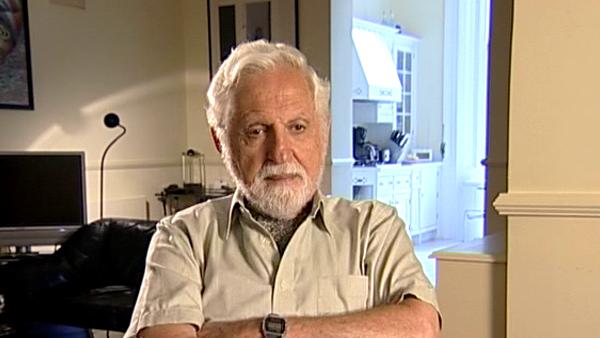 What does it mean to be Jewish?
1
...
8
9
10
11
12
In fact it is so good that I'll show it to you. Because here is the... here is a book of my Klee collection, from an exhibition that went to Europe, and... and the one that they stole was one of the... one of the great... great ones that hardly anyone would recognise as a Klee. It's ridiculous; it's the usual business, you, you go... I thought it was 1927, but it is... well, maybe it was 1922? Ah, here it is, 19... 1924. You'd never recognise it as a Klee, but it's a really superb one, and that illustrates more than anything else why I'm so enamoured by Klee, because Klee also numbered... he dated and numbered each work. So if it's 1924, you know it was there, and then he says, 1924, 218, which means that's the 218th work he did that year. Now, if you look at this. I'm sorry, that can't be... that's a mistake, I think it is... well, maybe it's 218.
Here are two works, and they are 255 and 256, which means he did them within a couple of months of this. Who would ever believe this, which is an oil transfer drawing, and is therefore black and white, and it's not colour, so this is not a black and white reproduction, that's what it really looks like, and this is this technique that he developed, which is very different? Who would have thought that this, let's say, oriental girl, or this one, which is an old man, which is this wonderful juxtaposition, was painted within a few weeks of this, that the same person would do that, and that to me is really just... Well, I'll show you another illustration, because these are... these are really my... my real favourites. Here's one, and here would be the... this is a portrait; one of the few portraits where you can actually recognise the person and this is Josephine Baker, in 1927. And look at this, who would think that this is a Klee? And then you, you know, you look at another portrait. This is a self-portrait here, so it's... I mean the difference is just extraordinary. I mean you... this you would perhaps recognise, so no wonder this is my... Even that one I like so much, because this is a skier, and you know, skiing was both my nemesis and my pleasure, since I still do it, with a stiff leg now, so this looks more like a stiff legged skier here, not doing very well, but you know, it's...
Austrian-American Carl Djerassi (1923-2015) was best known for his work on the synthesis of the steroid cortisone and then of a progesterone derivative that was the basis of the first contraceptive pill. He wrote a number of books, plays and poems, in the process inventing a new genre, 'science-in-fiction', illustrated by the novel 'Cantor's Dilemma' which explores ethics in science.
Title: My Klee collection
Listeners: Tamara Tracz
Tamara Tracz is a writer and filmmaker based in London.
Tags: Paul Klee
Duration: 3 minutes, 45 seconds
Date story recorded: September 2005
Date story went live: 24 January 2008