NEXT STORY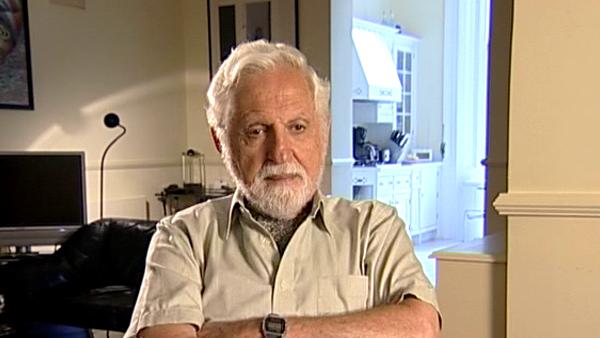 The compulsive drive for recognition
The German title of the novel is Ego
1
2
3
4
5
...
12
So here's a novel, Marx, Deceased. Even the word deceased in red, in blood red, is really very meaningful in this case here. And that image of that Magritte is a very important one. Magritte is an artist that I like very much and you'll find him in the cover of another novel of mine. But the more interesting is on the reverse, which is a photo taken by Michael Birt, a well-known British photographer, whose brother was a former head of BBC. It was done for a women's magazine, and you see the resemblance between that photograph and this one. Now, this came first and it was this photographer who saw this, and of course made it up, because these are ceramic hands and I had a sculpture of this, while these are real hands. And if you look at this... and I don't know how well you can see that here, but if you look at that image, and you see the hands are on my cheeks which I am holding, these were a young woman's hands and I think you can see that if you really look at it. And that was his assistant, and he had that idea and he had her crouch behind me... and he just suddenly had that idea and asked me to do it. And he caught an expression on my face that my wife does not like, and I think it's probably the best photograph that has been taken of me because it's a very complex expression. You know, it's not affectionate, it is not totally arrogant, which are two features of me, for instance, but I think the real ambiguity to me was, it's not clear what I do with her hands. Am I trying to rip them off my face, or am I trying to hold them there? And that is a very important mixed message in there, and it's a very important one also in respect to relationship with a person, whether you want to reject complete, or a release from complete intimacy, or whether you want to maintain it where she wants to go away from it.
Anyway, reading for the moment, the introduction to it will tell you all about why it is so important to me, this novel. But here is the German version and you see suddenly I was able to change the title, because the republished one in Germany originally was also called Marx... Marx, Verschieden, but that long ago went out of preference with the new publisher, and here I renamed the novel, Ego, and what is much more important, you also have a play at the end, because I've written a play. So this is a novel and a play. The novel was written ten years before the play. How the same theme was addressed in a theatrical and in a prose manner in very different plots, but the theme is an extremely important one to me and the German introduction to this one here, is a very... unfortunately, I don't have it in English here and I want to read you something else, but the German introduction simply starts and says... I'll translate it from the German: Ego is in English as well as in German a very complicated word. If you look it up in the Oxford English Dictionary or in the Duden and then compare it with another important three letter word, namely sex, you will find how much more complicated ego is as compared to sex. And then, of course, I go through the Freudian analogy and so on.
And I should have called the novel originally Ego but it's a short preface, the novel, and I will read that to you because just like with that poem there before, it tells you more in that form than I would in a long speech, and every once in a while something that's written in reasonable English sounds better than in this... a talkish outpouring that you get from me just now.
Austrian-American Carl Djerassi (1923-2015) was best known for his work on the synthesis of the steroid cortisone and then of a progesterone derivative that was the basis of the first contraceptive pill. He wrote a number of books, plays and poems, in the process inventing a new genre, 'science-in-fiction', illustrated by the novel 'Cantor's Dilemma' which explores ethics in science.
Title: The German title of the novel is "Ego"
Listeners: Tamara Tracz
Tamara Tracz is a writer and filmmaker based in London.
Tags: Oxford English Dictionary, Duden, Ego, Marx, Deceased, René François Ghislain Magritte, Michael Birt
Duration: 4 minutes, 33 seconds
Date story recorded: September 2005
Date story went live: 24 January 2008