NEXT STORY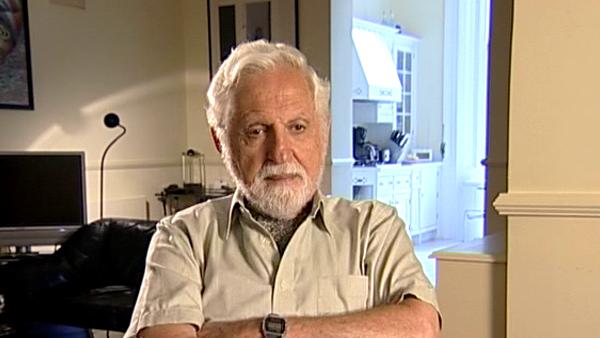 My family and my childhood in Vienna
My parents and my early childhood
1
2
3
4
5
6
...
12
There are two women left that I do have to address and these I can talk about in... They have nothing to do with shame, or embarrassment, or for that matter discretion because they're dead. That is my mother and my daughter and because each in their own way played an important role in my life. My mother, the historical role in that almost any mother, except I guess a mother who would abandon her child in early life, and that's certainly not the case with me. If anything it was the other way around. My problem with my mother was that she was in the end unbelievably possessive and could not really give up her son, which led to a total break-up between us when I was in my 20s.
I was basically brought up by a single mother, and I mean this not in a sad way or anything like that. In fact, a rather positive way and it probably made me without my knowing it already very early on a male feminist in that I always accepted the fact that a woman could be... play many roles. That she did not have to be sentenced to the typical German... in Germany it's called the three K's: kirche, küche und kinder. Church, kitchen and children because, of course, she worked. My mother and father met in medical school. They both got MDs in Vienna, and she's Viennese Jewish from a Jewish family. My father Bulgarian. So, they married in Vienna and, of course, the language that they spoke was German. My father spoke fluent German but his mother... other language was Bulgarian and Ladino, a language that really is not spoken anymore hardly except by the older generation and it's, in a way it's an interesting pity. A language that clearly is going to disappear and has not much of a written record as some, but it's a language that... It's a rather beautiful one. That may be one of the reasons why when my daughter died at her scattering of her ashes the music that played, and it had to be on a battery-operated radio because it was out in the woods, were some Sephardic 16th century songs.
But we return to my mother because I was... People always ask me when they hear my accent, where are you from? And then I always... since I get sort of pissed off by this persistent question because sometimes it's irritating I just say San Francisco, and then of course they don't mean that, we know that, and then some of the persistent ones, you know, just... some of the ones just sort of look puzzling but let it go at that, or they understand that I don't want to pursue it, and others keep asking. Then I said, well do you want to know where I was conceived, where I was born, where I was raised, and so on? And each of them is a different one. But you really want to know what sort of accent I have and it's a melange. It's a total mixture reflecting where I learned English and where I then spoke it and where I now live. So, I was undoubtedly conceived, not that I was told that, but I have figured it out, was in Bulgaria. And that after the... when my parents got married it was, that was probably around 1921 or something like that, '20, '21. Then went to Bulgaria. That was expected place for the wife to follow the husband. In fact it was much more brutal than that. You automatically lost your citizenship and had to accept that of your husband, whether you liked it or not. So my mother overnight became a Bulgarian and I'll tell you the end of that story in just a moment. She never learned Bulgarian. She had a typical attitude towards Bulgaria like any central European, particularly of that time and particularly Viennese of that time who thought this was the centre of the cultural universe even though it had pretty well passed already. It sort of had a Jugendstil 100 year earlier view of this but nevertheless not perhaps totally unjustified. And to them Bulgaria was the pits of the Europe. Somewhere in the right lower-hand corner not too far from Albania, which was probably sort of the other place, and had that attitude. And my mother wasn't any different from most of the central Europeans who felt that way about the Balkans... tried to practice there and it really didn't work very well because... I mean practice. She then became a dentist, but practised medicine, dentistry because of her language... refusal basically to learn Bulgarian. But when she was then pregnant and felt a child can only be born in a Viennese hospital and not in Bulgaria... she must have been seven months pregnant, something like that, went back to Vienna to have me born in Vienna. So I'm born in Vienna in a Viennese hospital, and then when I was a couple of months old – I was born in October – in December and in one of the apparently bitterest colds that ever hit Sofia we returned there and the pipes froze and stuff like this. And then a year later it was one of the huge earthquakes and... of which there are plenty in the Balkans and in Turkey... and they had to rush out and spend the night in the garden. The house... something that she never, sort of, forgave the Bulgarians.
Austrian-American Carl Djerassi (1923-2015) was best known for his work on the synthesis of the steroid cortisone and then of a progesterone derivative that was the basis of the first contraceptive pill. He wrote a number of books, plays and poems, in the process inventing a new genre, 'science-in-fiction', illustrated by the novel 'Cantor's Dilemma' which explores ethics in science.
Title: My parents and my early childhood
Listeners: Tamara Tracz
Tamara Tracz is a writer and filmmaker based in London.
Tags: Vienna, Bulgaria, Judaeo-Spanish, Ladino, Jugendstil, Samuel Djerassi, Alice Friedman, Pamela Djerassi
Duration: 6 minutes, 23 seconds
Date story recorded: September 2005
Date story went live: 24 January 2008