NEXT STORY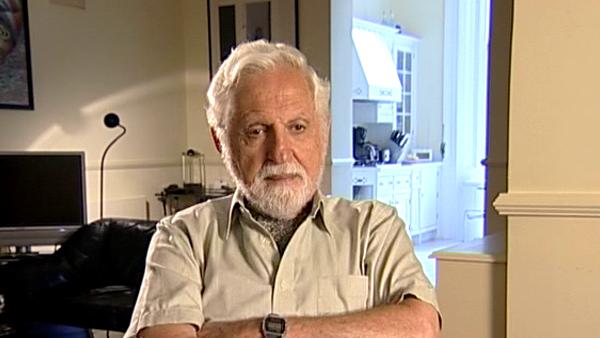 Elias Canetti
An Austrian stamp in my honour
1
2
3
4
5
6
...
12
But then they put out a stamp of me and that is here. Now, I thought you had to be dead to appear on a stamp but the reason I'm showing you this stamp is an important... two nuances. It's a very big stamp and it is... this actually is life-size so it doesn't fit on a postcard. It would fit on an envelope and of course mostly stamp collectors have been buying because they only... I remember the... I went to the vernisage of this at the post office and they only printed 400,000 copies, which is little for a stamp for collectors. So, if it's too big you can tear it out here perforated because the actual franking, the Euro value is given on that part of the stamp. But I want to show you something. Here you see a steroid structure. So you see the first and maybe the only chemical structure you'll see in this interview. Even though I think originally you thought this entire interview would focus on my scientific work, which of course is literally all concentrated on this since the oral contraceptives are also based on this chemical structure. What is interesting... and according to the post office the first stamp in the history of stamp manufacture and that's saying something because obviously, I don't know, if not millions of stamps, then certainly hundreds of thousands would have been made... is that my face, there... sort of subtle background face of mine is made up out of thousands, perhaps ten thousand of small steroid structures. And if you have a magnifying glass you'll see that these are all steroids. Now, which is already ironic because I'm a steroid chemist who synthesised a lot of steroids, and now in my mature years find my face synthesised out of steroids. Why did they do that? Because it again turns out to be that the head of the printing operation of the Austrian post office, an industrialist, was at one time an organic chemist. And he'd read some of my papers and he was so tickled when he discovered that they're making a stamp of... of a chemist that he came up with this idea, and of course asked me whether it was okay with me. And I said, of course it's okay with me.
The other thing that pleased me was that it identified me here not just as a chemist but it says, Chemiker/Romancier. In other words, chemist and novelist, and I like that part. And then they had an interesting three dates here where the centre one shows a degree of honesty, which I didn't expect and I liked. Then it said 1923 born in Vienna. So birth date and the last one 2003, which was my 80th birthday, said reconciled. But in between it said 1938. Instead of saying exiled, which I thought it would say, it said driven away and that is a much more honest way of putting it, vertrieben. So, they have these three dates here, but this is a long story to this picture here. Here you see my real photograph of me and what you're seeing is a view of Vienna, which in a way is identical to the view that I showed you in the postcard. Namely it's the section where I was born, and my hand rests exactly on the spot where this building is now and where the other building is there. But when they first showed me design of this picture it had some mountains there and I said, 'Why did you put mountains behind me?' They said, 'Well we read your autobiography and discovered that you did a lot a skiing when you were a child in Vienna and these are the two mountains you mention, Rax and Schneeberg'. I said, 'Well okay, but that's an element of geographic esoterica that no one will ever catch and not even I unless you would write it down, and it is of no interest to anyone except maybe to me and the person who designed this. Let me make a suggestion. There's a very famous drawing of 1901 or 1902 by one of the greatest Austrian architects, steel architect Otto Wagner and that is his design of the rebuilding of the... of the quay and the bridge, which was never consummated. But his design worked. Why not use that?' And that, actually, is a famous drawing. So they used that and they were very pleased because they also knew that this company would build it on there and they would be tickled, and in fact they made a lot of... there's no other reason why they would have put all this in if it weren't for this.
Austrian-American Carl Djerassi (1923-2015) was best known for his work on the synthesis of the steroid cortisone and then of a progesterone derivative that was the basis of the first contraceptive pill. He wrote a number of books, plays and poems, in the process inventing a new genre, 'science-in-fiction', illustrated by the novel 'Cantor's Dilemma' which explores ethics in science.
Title: An Austrian stamp in my honour
Listeners: Tamara Tracz
Tamara Tracz is a writer and filmmaker based in London.
Tags: stamps, Rax-Schneeberg Group, UNIQA tower, Otto Koloman Wagner
Duration: 4 minutes, 53 seconds
Date story recorded: September 2005
Date story went live: 24 January 2008