NEXT STORY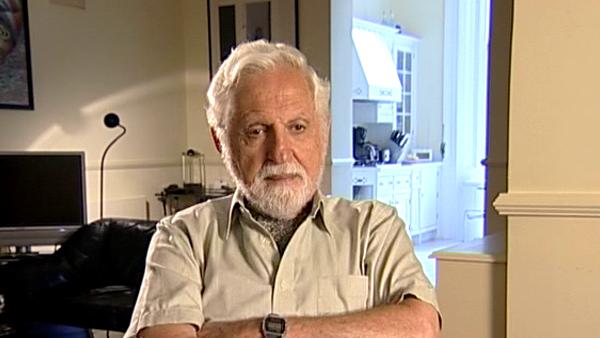 Escaping the Nazis and learning English in Bulgaria
Becoming an Austrian citizen
1
2
3
4
5
6
...
12
My mother, after the divorce... I learned that only much, much later, but... asked back for her Austrian citizenship, which she lost when she married my father, and during the divorce procedure asked for it. That now she's not a Bulgarian anymore she wants to have her own citizenship back and got it back. And what I did not know and the Austrian government only informed me of this a few years ago when they then offered me Austrian citizenship is that she asked that I also become an Austrian citizen, and that was refused on the simple argument that there was no legal ground to do that because at that time the children had the citizenship of the father. It did not go by birthplace, but my mother had been an Austrian before so that was legitimate enough. She had broken off her relationship with a man. In my case he is still my father and, you know, there was joint custody and so on. Yeah. So, he's a Bulgarian so why should we give him Austrian citizenship? So I never was an Austrian.
I didn't know that until three or four years ago and then the Austrian government decided to offer me Austrian citizenship, which I accepted after some consideration primarily because of my partial residency in England. I really ought to say that because it's an unadulterated pain in the neck to enter Heathrow and any other UK airport as an American where you stand in line. Sometimes in a very long line, in a very inefficient passport line, whereas people with a European passport breeze through this. And I've sometimes come from Frankfurt or... or Rome or Vienna just having gone for one or two days there and I arrive in London just after a plane from Nigeria had arrived. And there would be sort of 300 people from Africa and then the driblets of Americans behind them and you can spend more time in that slowly moving line when you have so many passengers from Africa who are really scrutinised very toughly here by the immigration people. Always have been. That you can spend more time and some time in that line than you can spend on the flight. And I thought, ha I will now break that. So, it was a very pragmatic reason for me to accept that, and it was even funnier that then at the same time the Austrians asked, does your wife want to become an Austrian? My wife wasn't even there with me. I said, 'I have no idea. I'd have to ask her. She doesn't speak a word of German'. They said, 'Oh she's your wife'. That's like the same reason my... my mother became a Bulgarian. So I asked her and she said, 'Why not?. So my wife is an Austrian now born in Pocatello, Idaho. There's not enough room on the passport to spell Pocatello, Idaho and there's probably no other Austrian born in Pocatello, but that's our Austrian connection.
Austrian-American Carl Djerassi (1923-2015) was best known for his work on the synthesis of the steroid cortisone and then of a progesterone derivative that was the basis of the first contraceptive pill. He wrote a number of books, plays and poems, in the process inventing a new genre, 'science-in-fiction', illustrated by the novel 'Cantor's Dilemma' which explores ethics in science.
Title: Becoming an Austrian citizen
Listeners: Tamara Tracz
Tamara Tracz is a writer and filmmaker based in London.
Tags: Austria, England, America, Diane Helen Wood Middlebrook, Samuel Djerassi, Alice Friedman
Duration: 2 minutes, 53 seconds
Date story recorded: September 2005
Date story went live: 24 January 2008