NEXT STORY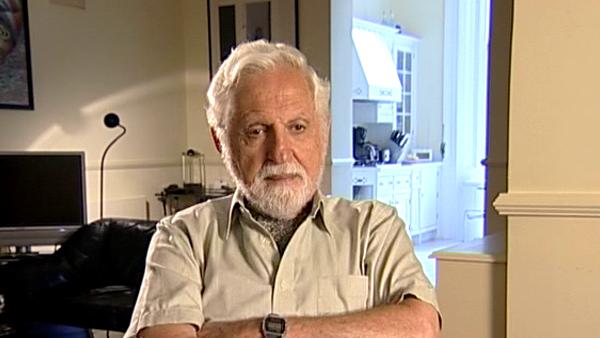 Writing fiction as auto-psychoanalysis
Revising my Who's Who entry
1
2
3
4
5
...
12
'Filling the gaps in an autobiography serves no more purpose than filling the holes in Swiss cheese. My memory, my sense of shame, and whatever residual discretion is left me,' and I say residual discretion because any autobiographer has lost a certain element of discretion, or else it wouldn't be an autobiography, it would so dull that no-one would want to read it. So '...whatever residual discretion is left me guarantees that the fillers I provide are false. To paraphrase a line of Anne Sexton's,' a well-known American poet... and I picked her because my wife has written a brilliant autobiography of her that actually was one of the very few... in fact the only autobiography of a poet, any poet, that became a New York Times bestseller. That is certainly very unusual. And my wife's name is Diane Middlebrook and not Diane Djerassi... and now I'll digress right away. And I'm her third husband and she is my third wife. And I always say that that's statistically significant with three you're already really sure you have made a selection. If you have been married four times, it's longer than your Playboy, but three I think is significant, particularly if it's spread over many years. And then I learned... and I've been married to her now for 20 years, this is literally our twentieth year. And then I learnt something very surprising that shows again what sort of autobiographical details that you'd think you would know from an intimate person you suddenly discover years later... and you'll find this recurring in my story or autobiography. One day she actually said, it was this year or maybe last year, that you know you are really my first husband. I said... 'Come on!' And she said, because my first two marriages were annulled. Now I knew a bit about the annulment of her second marriage... though it was a quasi-annulment, legally it was annulled. But twice? How many people get twice annulled? I mean, that would think there's either something very peculiar about it... I would be suspicious of getting involved with someone who already had two relationships legally annulled. It's bad enough if you get divorced twice, but legally. Well, she was and it's actually an amusing story, and nothing sinister about it. And I won't tell you about it because you'd have to interview her for her to volunteer this. But that's rather amusing and I therefore said, 'Well, would you do me a favour?' And instead of saying, yes, she said, 'It depends,' because she knew it's a tricky question. I said, 'Would you put this into the next time you revise your Who's Who entry?' Because, you know, you are asked every year to revise this, and usually it says... you know, if you look at mine, it says, Carl Djerassi, married, Virginia Jeremiah (d), divorced. Next one, Norma Lundholm... married, divorced, and then married Diane Middlebrook. So put in parentheses, instead of divorced, put down, annulled for the first one, and the second one, annulled... it sounds really terrific. People usually are not that interested in reading juicy things in a Who's Who statement, so that would be an amusing one. And I think she did part of it already. She annulled already one marriage. I don't know... remember yet, whether she already annulled the second one as well.
And that brings me right away to another digression because the entire presentation will be one really series of digressions which eventually will lead back to historical antecedents in my life, and move back, rather than forward to talk about the present. If you looked at Who's Who entries of mine over the years... and I have done this for other people. Very few people do this and look at early issues of Who's Who which you can, of course, get in any library, although they usually just have the last one on the shelf. The changes in a person... and not the changes that deal with always new entries which, of course, is natural. This is one reason... the only reason, why Who's Who ask you to essentially bring them up to date. But when people start changing earlier things... and that's a form of Stalinist Who's Who, a form of Stalinist history, where you erase certain things, or the more unusual things which I will confess to, revisionist ones in which you add things to your past history which you were reluctant to disclose before. These of course are filling certain holes, gaps... filling a Swiss cheese hole here and there. And that refers to my first wife. And that is a digression that I think I will start with.
But I will just finish this sentence here... because I talked about Anne Sexton, and that started reminding me of this here... 'To paraphrase a line of Anne Sexton's, I am likely to construct a tree out of used furniture'. That, I think, is a damn good metaphor, incidentally, even though I reversed what she said. 'The gaps, large though they may be, are thus more honest, a truer reflection of my nature. Freud's...' Sigmund Freud's '... insight applies with full force. The unconscious speaks through the gaps in ordinary language. Readers...' or in this case listeners or viewers, '... will gather from my prose intelligence about me of which I remain unaware.' Well, I wrote that in 1990... or 1989, the year in which my first novel, Cantor's Dilemma, was published. And I realise I was going to talk about my first wife, but I'm going to put it aside for a moment, because this is an even more important digression.
Austrian-American Carl Djerassi (1923-2015) was best known for his work on the synthesis of the steroid cortisone and then of a progesterone derivative that was the basis of the first contraceptive pill. He wrote a number of books, plays and poems, in the process inventing a new genre, 'science-in-fiction', illustrated by the novel 'Cantor's Dilemma' which explores ethics in science.
Title: Revising my "Who's Who" entry
Listeners: Tamara Tracz
Tamara Tracz is a writer and filmmaker based in London.
Tags: New York Times, Who's Who, Cantor's Dilemma, Diane Middlebrook, Virginia Jeremiah, Norma Lundholm, Anne Sexton, Sigmund Freud
Duration: 6 minutes, 44 seconds
Date story recorded: September 2005
Date story went live: 24 January 2008