NEXT STORY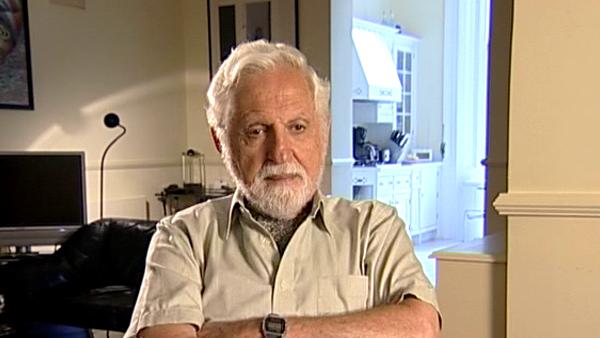 Living with the Meiers
Getting into Newark Junior College
1
...
3
4
5
6
7
...
12
When I arrived as a penniless refugee in the United States, I really was penniless because I remember we had $20 and were sort of robbed... robbed only in the... in the... not in the literary, but figurative way... by a cabdriver who charged us an enormous amount of money, the trip from the ship to the only relative there at that time in New York. We spent the first night there. I immediately went to school and that itself is an amusing story. I said I learned English in an American school in Sofia, which was called the American College. Of course, college in the United States clearly means the first four years of university. College in other areas can mean anything from... from, you know, a form of high school to a boarding school and so on, and that's what it meant in... in Sofia. I had just begun my junior year of college. I was 16 so I.. well, let's say in high school. So, I would've, according to the American or for that matter the European system, needed two more years of high school education.
One of my American teachers at the American College in Sofia, and I was a very good student during that last year in contrast to a somewhat mediocre one in Vienna where I had other priorities, sports and so on... but by the time I was in Sofia it was clear to me that grades would count a lot and I really exerted myself and did very well... said I'll give you an address of a friend of mine in New York who can advise you where to go to high school since obviously there would be quite a number of choices in... in New York and I knew nothing really about the American education system. And that man taught at New York University. At that time to me he looked like a Herr Professor. In fact, he was probably nothing but an instructor, or a young Assistant Professor, but it doesn't make any difference. I called him and asked whether I could make an appointment. He was very nice and said, 'Come'. As I said he was a friend of a teacher of mine in Sofia and I had my certificate with me, which I carried. And said, 'I want to ask you for advice in... about schooling'.
Now, I arrived in December, so this was in very early January right after Christmas, which of course was the middle of the school year. And he looked at that and he said, 'You know unfortunately we can't take you here because we admit people only in the fall'. Well, the moment he said that I realised he thought I was applying for New York University whereas I was looking for advice where to go to high school, which would've been a very different proposition where, of course, they would have to take you whenever you show up. I didn't let on. That already showed how shamelessly entrepreneurial I was and said, 'Gee that's too bad but maybe... when could I do it the next time?' or something like that. Because I saw, instantaneously, I might gain two years. This is not something to be sneezed at and he said, 'I'll tell you. I have a friend who teaches at Newark Junior College in Newark, New Jersey across the river and maybe they'll accept you for the... for the second semester', which started in January. And he called them right then and there and he said, 'Look at this'. Well, he had looked at my grades, which were all As and so on. And if you think about it the subjects that were taken at that time in a... in a Central European gymnasium was really much more impressive than an American high school. I remember I had, in other words just in terms of languages, I had Latin and Bulgarian and German and French. Four languages and then, you know, everything else. The math was more advanced than it was in an American high school, etc.
And so I went to Newark, New Jersey a few days later across the... across the Hudson. A city which in some respects is the pits but it wasn't quite that way. And all one has to do is read Philip Roth who comes from Newark, New Jersey particularly Portnoy's Complaint which is all about a Newark, New Jersey story. So, anyone can see the interesting flavours about this place. And they accepted me. So, lo and behold I instantaneously gained two years.
Austrian-American Carl Djerassi (1923-2015) was best known for his work on the synthesis of the steroid cortisone and then of a progesterone derivative that was the basis of the first contraceptive pill. He wrote a number of books, plays and poems, in the process inventing a new genre, 'science-in-fiction', illustrated by the novel 'Cantor's Dilemma' which explores ethics in science.
Title: Getting into Newark Junior College
Listeners: Tamara Tracz
Tamara Tracz is a writer and filmmaker based in London.
Tags: American College of Sofia, Portnoy's Complaint, Philip Roth
Duration: 5 minutes, 5 seconds
Date story recorded: September 2005
Date story went live: 24 January 2008