NEXT STORY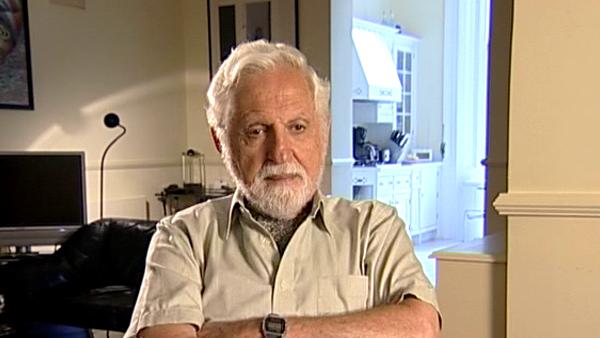 Taking up a full scholarship at Tarkio College
Failing the draft and a letter to Mrs Roosevelt
1
...
4
5
6
7
8
...
12
The United States was soon entering the war itself and the draft was instituted. And, of course, I registered and in fact, in way I say I was looking forward to also going to military service, as most Americans at that time. This was no Vietnam or Iraq. This was a very, totally different thing. Particularly let's say for Jewish refugees from Europe. But my knee injury, which has since led to a fused knee, was from a skiing accident in Bulgaria and it already was in sufficiently bad shape that the physical exam that I... the military exam I was declared 4F, which was disqualified for a physical reason.
And that is a consistent theme in my life that misfortunes invariably led to something quite positive, and the first misfortune... misfortune is a very sanitised word for becoming a refugee from Nazi Europe or Nazi Austria... Germany. But that led me into a profession that I would not have had. There's no question. I would have been a standard practising GP or something like that in... in Vienna if I had remained there. The second one was my knee... the knee injury. I mean this was in some respects catastrophic for a young person who always liked to ski and play football and so on, and yet that made it possible for me to (A) survive the war when contemporaries of mine either were killed or at the very least lost... if you want to call it that... three or four years of schooling and perhaps even normal life in the army. And to compound it during the war the American educational system... universities became very expedited in that, for obvious reasons because people wanted to finish school faster before they got drafted. Many schools operated on a three-semester level. In other words also in the summer, which is something that of course we don't do as a regular curriculum.
In any event so I was.. after my first year at the Newark Junior College I was thinking about transferring because, of course, you'd be finished in two years and then you'd have to go to another place for another two years. And I looked around for places that you could get into, but at the same time I had written a letter to Mrs Roosevelt who to me was, sort of, the queen of America. Rather naïvely I'd written that actually a little bit before I just... I just, when I entered, I think Newark Junior College and basically said, Dear Mrs Roosevelt I need a room, board and tuition scholarship. That's pathetic and naïve and very charming and I think it's charming the context... charming with respect to telling you something of the humanity of that woman, or perhaps even the society at that time compared to let's say with the President Bush... the entire culture during the Bush regime in the United States, which tells you how I feel about Bush, and I think I want to put this on record just so if people see it later they still remember it. Actually, digressing about... about political credentials, I was on the Nixon White House enemies list, Watergate fame, which I think by now is sort of a distinction. At that time, it wasn't considered that, but I want to put that on the record as well. To return to the non-political issues, a few months later I got a postcard from Mrs Roosevelt saying, you have... obviously not signed by her but from her office... saying, you have received a room, board and tuition scholarship in Tarkio College, Tarkio, Missouri.
Austrian-American Carl Djerassi (1923-2015) was best known for his work on the synthesis of the steroid cortisone and then of a progesterone derivative that was the basis of the first contraceptive pill. He wrote a number of books, plays and poems, in the process inventing a new genre, 'science-in-fiction', illustrated by the novel 'Cantor's Dilemma' which explores ethics in science.
Title: Failing the draft and a letter to Mrs Roosevelt
Listeners: Tamara Tracz
Tamara Tracz is a writer and filmmaker based in London.
Tags: Newark Junior College, Tarkio College, Nazi, Watergate, Anna Eleanor Roosevelt, Richard Milhous Nixon
Duration: 4 minutes, 13 seconds
Date story recorded: September 2005
Date story went live: 24 January 2008