NEXT STORY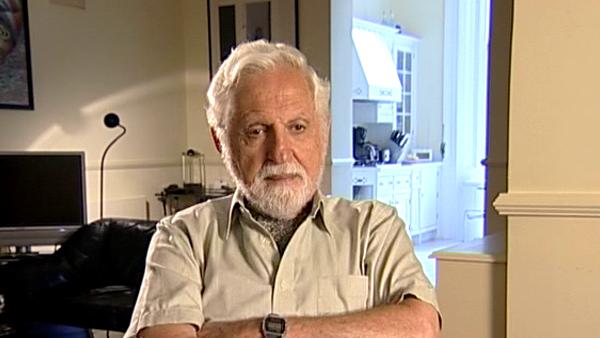 Transferring to Kenyon College, Ohio
Paying to hear myself speak
1
...
4
5
6
7
8
...
12
I became pretty blasé about this and since I was totally non-religious... but I had to always attend the service before. I always was the event after that. I used to sit among the congregation. And, of course everyone had their bible in their hand and I also was given a bible. And, so, if the bible is this size I wanted to have my reading, which always had to be smaller. So, it was like this. So, I always put that in there and I held the bible. This is, in fact, what I was reading when I was reading. And one thing that I read at that time sounds very primitive, but it was a Reader's Digest, which was really at that time an interesting American cultural phenomenon and you picked up some good things. But it was about this size. In fact, even a little bit smaller. So, I usually used to read a Reader's Digest in the bible in church on Sundays. My reading, yeah, until the collection plate went around. Now, that of course I usually didn't do anything about. But that time I remember. It was still I remember the Methodist church, the first or second Methodist church in Shenandoah, Iowa. Things like this you remember a century, or half a century later... more than half a century later. It came by and I said, my god I'm going to get all this, and I had a 50 cent piece. Now, a 50 cent piece is the largest coin... American coin, and sort of dropped it in. On the spur of the moment we even made some noise. I figured maybe some other people see a 50 cent piece and think, ah I'd better put that in too, because most of the others were just nickels and dimes and the occasional quarter. So there... and I sort of... after all I was going to get this back an hour later. That was the only time when I did not get paid. When in fact at the end the minister just shook my hand and some farmer drove me back from Iowa... Shenandoah, Iowa to Tarkio, Missouri. So, it served me right. But I've never forgotten that. That here I had to go and pay to listen to myself speak.
Austrian-American Carl Djerassi (1923-2015) was best known for his work on the synthesis of the steroid cortisone and then of a progesterone derivative that was the basis of the first contraceptive pill. He wrote a number of books, plays and poems, in the process inventing a new genre, 'science-in-fiction', illustrated by the novel 'Cantor's Dilemma' which explores ethics in science.
Title: Paying to hear myself speak
Listeners: Tamara Tracz
Tamara Tracz is a writer and filmmaker based in London.
Tags: Reader's Digest, Shenandoah, Iowa
Duration: 2 minutes, 4 seconds
Date story recorded: September 2005
Date story went live: 24 January 2008