NEXT STORY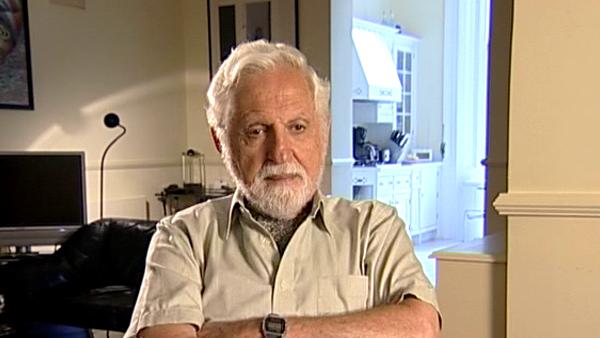 I was married at an ungodly age
Writing fiction as auto-psychoanalysis
1
2
3
4
5
...
12
The name Cantor's Dilemma, I had not realised until the book already came out in Penguin paperback... and the book has now been reprinted some seventeen or eighteen times, that the initials of the book are my initials. I literally did not know this. All kinds of people think that that was why I picked it... CD, Carl Djerassi. I did not, yet unconsciously it clearly means something. If CD means anything to me, these initials, they mean circular dichroism and this is one of the scientific areas in which I did an awful lot, so there are lots of people who would associate my name with circular dichroism, and that is a CD... and the abbreviation in science is CD, not because of Carl Djerassi but because of circular dichroism. So, I was unaware of that. But then I wrote another four novels. I've written altogether five. And already by the time I got to the second one, The Bourbaki Gambit, which also happens to be my favourite of the novels that I've written, I realized that that is why I am writing two autobiographies in my fiction, because that fiction is a form of auto-psychoanalysis, and I think that's what it probably is for most intellectual fiction writers... although some of them would not admit it or don't recognize it, but there are others... and I've forgot who said it, some famous writer said, every novelist is an autobiographer wearing a mask. In my case, there's no question that that is the case and that is why I eventually continue writing fiction, and why I am writing plays now. They are really my ongoing auto-psychoanalysis. Now, most psychoanalysts will tell you that's impossible. You need an analyst and an analysand, but I can only say these psychoanalysts have never written fiction or plays, or they wouldn't say that. Or maybe it's their naïveté of Carl Djerassi who's never been in therapy, so therefore this is my view of therapy. But I would say it is an extremely interesting process because I learn a hell of a lot about myself, and in the process, correct my Who's Who even though it's not the real Who's Who... I mean the limited Who's Who and the compendium, but the Who's Who, the ongoing... because Who's Who is just a record of a person's life, in a completely reduced, abstracted, staccato fashion, but nevertheless that's what it is, and usually you don't correct that. I correct it all the time, because I learn more about it. And I've also corrected, therefore, my own Who's Who entry.
Austrian-American Carl Djerassi (1923-2015) was best known for his work on the synthesis of the steroid cortisone and then of a progesterone derivative that was the basis of the first contraceptive pill. He wrote a number of books, plays and poems, in the process inventing a new genre, 'science-in-fiction', illustrated by the novel 'Cantor's Dilemma' which explores ethics in science.
Title: Writing fiction as auto-psychoanalysis
Listeners: Tamara Tracz
Tamara Tracz is a writer and filmmaker based in London.
Tags: Cantor's Dilemma, The Bourbaki Gambit, Who's Who
Duration: 3 minutes, 12 seconds
Date story recorded: September 2005
Date story went live: 24 January 2008