NEXT STORY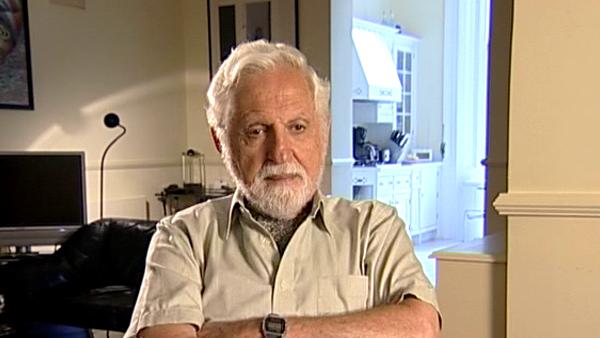 Refusing to work at night in Wisconsin
Cultural and scientific life in Wisconsin
1
...
5
6
7
8
9
...
12
I did something, which in retrospect sounds extraordinary but of course understandable because I was married. And I was as a... culturally imprinted as a European in a sense that most of my colleagues were not in terms of both my reading was a much more sophisticated one, my knowledge really also. Music exposure, you know, I'd been to the opera and so on in... in Vienna and to theatre... big theatre. These are things that, you know, Midwestern kids hardly were exposed to. Even, I think, Chicago probably didn't have an opera at that time. You had to be in New York to be... at the Metropolitan, I think the Lyric Opera came later. But even if it didn't, certainly Madison, Wisconsin was... which is otherwise a... you know, it's a real university town but opera was not their cup of tea. Although interestingly enough the theatre was. They had a great theatre, always a great theatre department... great theatre. And there were people like Uta Hagen who... one of the great American actresses who came from there. And I remember when... I personally have seen hundreds and hundreds of plays in my life, still remember... I went a great deal to the theatre in Wisconsin. In part because my wife... my first wife was an amateur actress and did this until age 80 or so I learned. In other words she never was a professional actress, but really enjoyed that. So, we went to the theatre a lot and I remember one of the greatest performances of my life to this day was Othello at, at the University of Wisconsin theatre with Paul Robeson as Othello and Uta Hagen in the... in the female role. So that was... that was a great place.
I was again in an enormous hurry and I still remember... Of course, I was a more sophisticated graduate student because first of all, (A) I knew some chemistry... much more than others because I'd worked for a year and I'd worked with techniques that even they had not worked at like chromatography. I basically brought chromatography, I would say, into the lab at Wisconsin and have been the first one to use it because that was really pushed primarily in Switzerland. So, at Ciba it was already part of the research tradition. Not at all yet, at that time, in the States. And secondly, I'd read quite a bit about steroid chemistry. Read, although I didn't do it at Ciba, because I knew that people in Switzerland had done so much on it. So, it interested me. So, I wanted to get my PhD in steroid chemistry, and there were two young professors at Wisconsin working in the steroid field. A man named Wilds, a man named Johnson, and I picked Wilds. He was a very nice and, in some respects, quite tragic figure also. It was interesting both Johnson and Wilds were both colleagues and competitors, which is so typical of science. It's the most collegial enterprise and also the most brutally competitive. They were hired the same time as assistant professors. They both had... did superb work as graduate students, Johnson at Harvard, Wilds at Michigan. Wilds was the co-author of the first total synthesis of the steroid, of equilenin, which was really a sensational invention... discovery at that time. And they were on this tenure track and, in fact, got promoted always at the same time. But Johnson was clearly the more successful one because he was more outgoing. He published more rapidly. Wilds was a total perfectionist, which was good for me but not for him, and what no one knew at that time actually, in fact, was a manic depressive. He really suffered from that at a time when it had not yet been diagnosed. Later on, he really basically survived on lithium for the rest of his life, but never quite made it even though he became a full professor, was a superb teacher, but he had that block. It took him forever to publish papers and so on whereas Johnson was a very different way.
Austrian-American Carl Djerassi (1923-2015) was best known for his work on the synthesis of the steroid cortisone and then of a progesterone derivative that was the basis of the first contraceptive pill. He wrote a number of books, plays and poems, in the process inventing a new genre, 'science-in-fiction', illustrated by the novel 'Cantor's Dilemma' which explores ethics in science.
Title: Cultural and scientific life in Wisconsin
Listeners: Tamara Tracz
Tamara Tracz is a writer and filmmaker based in London.
Tags: Othello, University of Wisconsin, Chromatography, Equilenin, Uta Thyra Hagen, Paul Leroy Robeson, Alfred Lawrence Wilds, William Summer Johnson, Virginia Jeremiah
Duration: 4 minutes, 41 seconds
Date story recorded: September 2005
Date story went live: 24 January 2008