NEXT STORY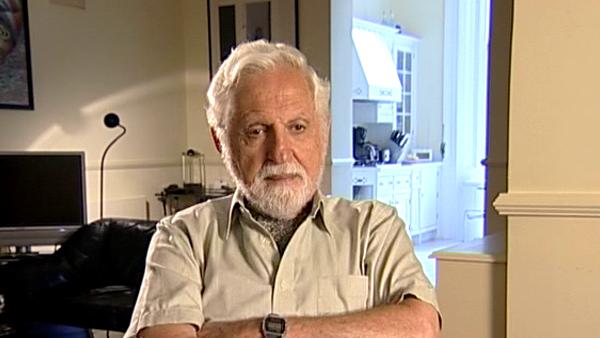 The race to synthesise cortisone
Deciding to move to Syntex in Mexico
1
...
5
6
7
8
9
...
12
Syntex approached me and said whether I would come to Syntex as associate director of chemical research. And I remember I was at that time 27... 26, 27... 26. But I hadn't been an industrial chemist for four years, but I was a chemist at one lab in Ciba with two assistants. And Syntex offered me the associate director of their establishment with a dozen or more people in the lab. Now, you ought to get an idea of the primitive nature of a lab, however, of which I actually have a picture somewhere. Yes, right here. So, you see this was my lab at Syntex. You see it's a primitive lab. Of course, labs were primitive, but you see how many people there were there. It's pretty crowded. They all worked for... worked for me... with me and I myself, I'm standing right here, was also working in the lab. But so, you see that was a very important step and we... well, I'm jumping a little ahead because that was Syntex. They'd offered me a job. I'd never been to Mexico. I mentioned it to friends of mine. They said, you are out of your mind because, (A), not only can one not do really anything in Mexico. Typical Yankee arrogance, you know. Anything south of the Rio Grande didn't exist scientifically. And secondly if you want to do hot research you've got to do it in the hot places, not there. Well, that made sense. I mean I realised this myself, but I'd never been to Mexico and they invited me to come there just for an interview trip, and I really felt... sure. I'll have a vacation trip to Mexico. In fact, I did do that and then returned by way of Havana. So, it was my first visit to Cuba and you must remember these were days when... this was not a short trip from New York to Mexico, changing planes in Texas. I remember going to Havana on a DC3 from Mexico to... to Cuba on Cubana and so on, but it was a marvellous trip. But, and that was the amazing thing, I was absolutely charmed by the place. Mexico City was a beautiful place compared to what it is now. Very clear, fantastic setting, and I realised, why not go there for a couple of years and learn another language? You know, at 26 years you're prepared to do all kinds of things. I'd recently been... you know, I was married and George Rosenkranz just charmed me. It was, you know, another European. His wife was also a refugee from Vienna, made me the most marvellous Viennese dessert. That was bribery of exactly the way I can be bribed very easily. And so they offered me the job and I accepted.
The people... the people at Ciba were flabbergasted. Not only considered it, sort of, indecent of me so to speak to leave, but then were willing to raise my salary to match the... the one in Mexico. But I didn't accept as I never did before. Whenever someone raises your salary to meet ae competition, that's not the way to do it. I mean if they really valued me, they should have offered me that before and not in response in the way they deal with football players and so on. But secondly, the reason really was science. I wanted to work on cortisone. I didn't want to... it wasn't just a question of money, and I felt that here I had a much larger... more pairs of hands. They really were just pairs of hands because they were really all assistants. They were really not... they were mostly women technicians who had been trained on the job with very little... no higher education whatsoever. Most of them not even high school graduates, but who had been trained well in the lab there in the manufacture of steroids. And there were a few Mexican chemists who had been trained abroad and who otherwise really were very capable chemists. And I really immediately adapted to that.
Austrian-American Carl Djerassi (1923-2015) was best known for his work on the synthesis of the steroid cortisone and then of a progesterone derivative that was the basis of the first contraceptive pill. He wrote a number of books, plays and poems, in the process inventing a new genre, 'science-in-fiction', illustrated by the novel 'Cantor's Dilemma' which explores ethics in science.
Title: Deciding to move to Syntex in Mexico
Listeners: Tamara Tracz
Tamara Tracz is a writer and filmmaker based in London.
Tags: Syntex, Ciba, Havana, Mexico, George Rosenkranz, Edith Rosenkranz
Duration: 4 minutes, 21 seconds
Date story recorded: September 2005
Date story went live: 24 January 2008