NEXT STORY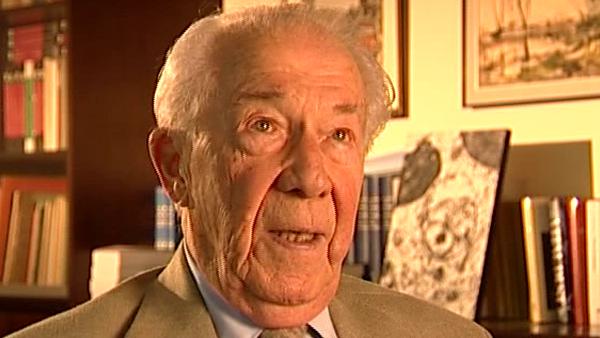 Studying chemistry and getting married
'De Duve, chemistry and medicine, that's the science of the future'
Christian de Duve
Scientist
1
2
3
4
5
...
11
So I went to see the Cancer Professor, who was something of a maverick... very strange personality. He... he was a highly successful cancer specialist and made pots of money treating all the important, wealthy people in Belgium and elsewhere. He was also an expert in... in pathology and he was a great traveller; every year... remember this is in... in the '30s – every year he would go to the United States for a visit of the main centres, and come back. So he really was aware of what was going on. He was in touch with... with the main centres in the United States and elsewhere; he was a very unusual man for this provincial university that we had in Louvain. He also did research and that's what made him a little... not very sympathetic to me. The kind of research he did was, in fact, what is being done today. It was epidemiology: the kind of epidemiological research that you could do in the lab. So the Cancer Institute was a big institute, with many patients; it had been built specially for this man called Maisin, m-a-i-s-i-n, with all the money that he was able to raise, but the basement... the whole basement of that institute was occupied by rats and mice, which, I can tell you, was not particularly... particularly pleasant for the patients, because rats and mice tend to... to, I mean, smell. And air conditioning in those days was not what it is today. But, anyway, he had thousands of rats and mice put into different groups and they would all be given a carcinogenic treatment; this was the early days of chemical carcinogens. Some would be fed what was called butter yellow, which caused liver cancer, and others were painted with carcinogens on their skin which caused skin cancer, and then he would divide his animals into many groups and they would be given different diets, for example, or they would be given injection of some vitamin or metals or whatever. Whatever came to his head, he would do and then he would simply follow the incidents of cancer in the various groups, trying to find out whether a diet rich in lipids would increase or decrease the incidence of cancer. Now today, this would have been a very modern approach but it has never appealed to me very much. I don't like this kind of approach – I like a more rational approach; and so I wasn't impressed with his science, but okay, I needed a job and so I went to see him, and explained to him what I wanted – and he said, 'Fine.' And I said, 'But I should tell you that I plan to study chemistry at the same time.' He looked at me and he said, 'De Duve, chemistry and medicine, that's the science of the future; you have the job.' Amazing man. He'd worked at the Rockefeller Institute, actually, with Murphy in those days. He'd also worked with a Nobel Laureate – Fibiger, a Danish laureate who actually... whose prize has been very much discussed since.
Belgian biochemist Christian de Duve (1917-2013) was best known for his work on understanding and categorising subcellular organelles. He won the Nobel Prize in Physiology or Medicine in 1974 for his joint discovery of lysosomes, the subcellular organelles that digest macromolecules and deal with ingested bacteria.
Title: 'De Duve, chemistry and medicine, that's the science of the future'
Listeners: Peter Newmark
Peter Newmark has recently retired as Editorial Director of BioMed Central Ltd, the Open Access journal publisher. He obtained a D. Phil. from Oxford University and was originally a research biochemist at St Bartholomew's Hospital Medical School in London, but left research to become Biology Editor and then Deputy Editor of the journal Nature. He then became Managing Director of Current Biology Ltd, where he started a series of Current Opinion journals, and was founding Editor of the journal Current Biology. Subsequently he was Editorial Director for Elsevier Science London, before joining BioMed Central Ltd.
Tags: University of Louvain, Cancer Institute, Joseph Maisin, James Murphy, Johannes Fibiger
Duration: 4 minutes, 21 seconds
Date story recorded: September 2005
Date story went live: 24 January 2008