NEXT STORY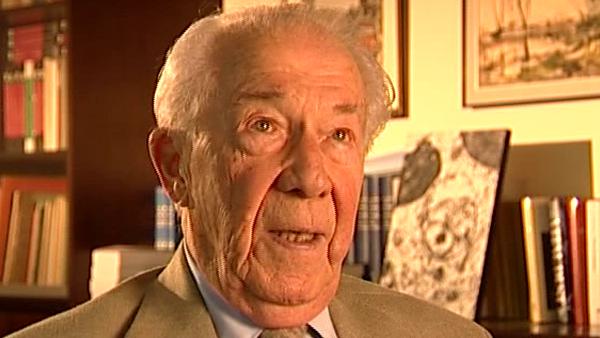 Birth in Thames Ditton during bombing in World War I
Family background: Napoleonic beginnings
Christian de Duve
Scientist
1
2
3
4
5
...
11
I think, probably the... the most unusual thing about me is my family background. And so, if you don't mind, I'll just start with that, and the story actually starts..., well, it starts, of course, with the... the first cell, but that's the near… the story starts not far from Brussels, exactly on June 18, 1815 on the fields near a little village in the outskirts of Brussels, called Waterloo. And... June 18, 1815 is the day Napoleon was defeated by the Coalition. And on the battlefield there were many wounded, and amongst the wounded was a young Hanoverian officer who came from a family that, at some time in the 17th century, was rather well known in Hanover... if you go there you will still see a street, a chapel, a fountain, biscuits, even a house, which was destroyed by Allied bombing during the last war, but still exists as a replica in the... in the town hall. Anyway, this young man's name was Herman Timoléon von Duve. He was wounded and sent to Antwerp, he was evacuated to a hospital in Antwerp where he was taken care of by a physician named Jean-Baptiste Sassenus. The Sassenus family came from the city of Leuven, Louvain, Louvain and it had Latinised its name was really Van Zassen. Between the Renaissance they had changed the name to Sassenus and that family was associated with the University of Louvain ever since its foundation in 1415. And first, as a printers, the first Jean-Baptiste Sassenus was actually the first printer of the university and since then the family remained associated with the university, and there was even a man called André Dominique Sassenus who died in 1756, if I remember rightly, and who was actually Professor of Biological Chemistry, in the Medical Faculty. And so the physician who took care of my great-grandfather, Herman Timoléon was the great-grandson of this André Dominique Sassenus. Well, it turns out that Herman Timoléon von Duve married the daughter of Jean-Baptiste Sassenus and settled in Antwerp, which his family in Hanover resented very much. But anyway, he became integrated in Antwerp's society; the name was changed from von Duve to de Duve. They... I think he ended up being the chief of police of the city and one of his sons, my grandfather, became what is called a notaire, a lawyer. And my father, who was the youngest son of Antoine de Duve, was supposed to study to become a notaire himself, a notary... a lawyer, I suppose you would say, but his father died before he could succeed and so he could not do that. The succession went to a brother-in-law of his and so he did the next best thing and started a real estate business.
Belgian biochemist Christian de Duve (1917-2013) was best known for his work on understanding and categorising subcellular organelles. He won the Nobel Prize in Physiology or Medicine in 1974 for his joint discovery of lysosomes, the subcellular organelles that digest macromolecules and deal with ingested bacteria.
Title: Family background: Napoleonic beginnings
Listeners: Peter Newmark
Peter Newmark has recently retired as Editorial Director of BioMed Central Ltd, the Open Access journal publisher. He obtained a D. Phil. from Oxford University and was originally a research biochemist at St Bartholomew's Hospital Medical School in London, but left research to become Biology Editor and then Deputy Editor of the journal Nature. He then became Managing Director of Current Biology Ltd, where he started a series of Current Opinion journals, and was founding Editor of the journal Current Biology. Subsequently he was Editorial Director for Elsevier Science London, before joining BioMed Central Ltd.
Tags: 18th June 1815, Waterloo, Hanover, 1756, Antwerp, Napoleon Bonaparte, Herman Timoléon von Duve, Jean-Baptiste Sassenus, André Dominique Sassenus, Antoine de Duve
Duration: 4 minutes, 36 seconds
Date story recorded: September 2005
Date story went live: 24 January 2008