NEXT STORY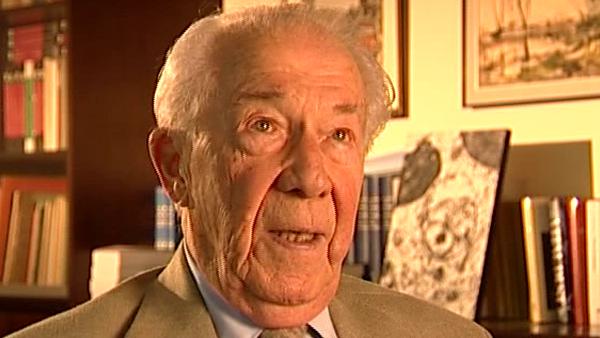 Using centrifugal fractionation to locate enzymes
Centrifugal fractionation
Christian de Duve
Scientist
1
2
3
4
5
...
11
Well, amazingly, he was accepted and went to work with Murphy, and in the course of his attempts to purify the virus he discovered what he called microsomes – that is, one of the techniques that he used to purify the virus was centrifugation at high speed; the particles would come down, and so, being a good scientist, he had done some control experiments and used... this was chicken virus, so he used chicken tissues that had not been contaminated with the virus, subjected them to the same centrifugal procedure, and found exactly the same kind of chemical precipitates. So he found that cells did contain material that would come down the centrifuge, just like the virus did, and so he called those the microsomes. And one thing leading to another, he developed the technique of centrifugal fractionation. This was a technique whereby cells – mostly liver cells at that time – would be ground in a rather careful way so that the cells would be disrupted but the intercellular components would not be injured too much, and then, from this so-called... homogenous extract, as he called it... he would separate four fractions by centrifugation at increasing velocities and the heaviest fraction would contain most of the nuclei. Then would come the large granules which contained mostly mitochondria; then would come the small granules which were the microsomes that he'd called, leaving a final supernatant. That was a technique that he had developed at that time and he had begun with Roland Hotchkiss at the university... sorry, Rockefeller Institute, to analyse these fractions for enzymes.
Belgian biochemist Christian de Duve (1917-2013) was best known for his work on understanding and categorising subcellular organelles. He won the Nobel Prize in Physiology or Medicine in 1974 for his joint discovery of lysosomes, the subcellular organelles that digest macromolecules and deal with ingested bacteria.
Title: Centrifugal fractionation
Listeners: Peter Newmark
Peter Newmark has recently retired as Editorial Director of BioMed Central Ltd, the Open Access journal publisher. He obtained a D. Phil. from Oxford University and was originally a research biochemist at St Bartholomew's Hospital Medical School in London, but left research to become Biology Editor and then Deputy Editor of the journal Nature. He then became Managing Director of Current Biology Ltd, where he started a series of Current Opinion journals, and was founding Editor of the journal Current Biology. Subsequently he was Editorial Director for Elsevier Science London, before joining BioMed Central Ltd.
Tags: Albert Claude, Roland Hotchkiss
Duration: 2 minutes, 12 seconds
Date story recorded: September 2005
Date story went live: 24 January 2008