NEXT STORY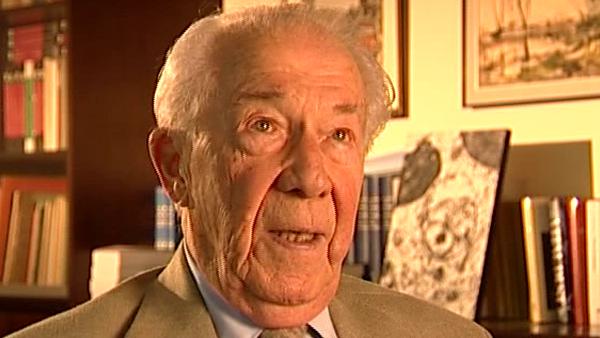 A multicultural upbringing
Birth in Thames Ditton during bombing in World War I
Christian de Duve
Scientist
1
2
3
4
5
...
11
I think my family, because of the Hanoverian background, remained very much in contact with... with Germans. Antwerp was, of course and still is, a thriving city, a harbour... a very important harbour, and it had, in those days, attracted many German merchants who settled in Antwerp and there was quite a... sort of whole German colony there and I guess my family did navigated in those circles, so that it turns out that my father married the daughter of a German... a wealthy German merchant in Antwerp and another of my aunts married a German soldier... we had... there was a German connection. And my parents, I think, had a lovely time, they married in 1906, had three children – four actually, but my eldest sister was killed in a motor car accident in... on the Belgium coast in 1913... you know, it's amazing that you could be killed in a motor car accident at that time, but that happened. Anyway, and so they... they had a wonderful life until, until the First World War broke out, which was, of course, a tragedy for that family. And my father was, I think, too old or maybe had too many children to be drafted in the army, and he took his wife and three children to England, where he arrived – with many other Belgians – as a refugee, a war refugee. I don't know exactly how he survived, I think he did some business there and... Anyway, they lived in a small house in Thames Ditton on the river Thames, not far from Hampton Court. And they made friends among their neighbours there, and so finally we come to October 2nd 1917, which is almost 88 years from now, when I was born while London was being bombed by Zeppelins, German Zeppelins.
Belgian biochemist Christian de Duve (1917-2013) was best known for his work on understanding and categorising subcellular organelles. He won the Nobel Prize in Physiology or Medicine in 1974 for his joint discovery of lysosomes, the subcellular organelles that digest macromolecules and deal with ingested bacteria.
Title: Birth in Thames Ditton during bombing in World War I
Listeners: Peter Newmark
Peter Newmark has recently retired as Editorial Director of BioMed Central Ltd, the Open Access journal publisher. He obtained a D. Phil. from Oxford University and was originally a research biochemist at St Bartholomew's Hospital Medical School in London, but left research to become Biology Editor and then Deputy Editor of the journal Nature. He then became Managing Director of Current Biology Ltd, where he started a series of Current Opinion journals, and was founding Editor of the journal Current Biology. Subsequently he was Editorial Director for Elsevier Science London, before joining BioMed Central Ltd.
Tags: Antwerp, 1906, Germany, 1913, Thames Ditton, 2nd October 1917
Duration: 2 minutes, 44 seconds
Date story recorded: September 2005
Date story went live: 24 January 2008