NEXT STORY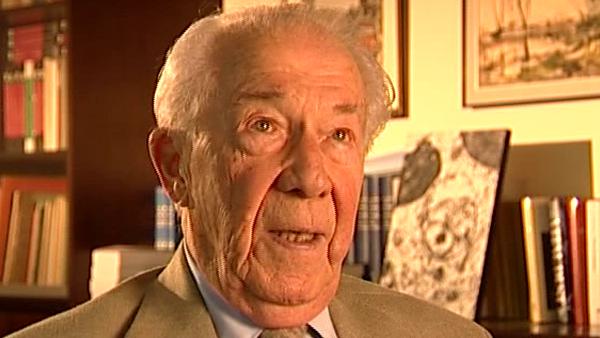 Uptake and digestion in lysosomes
A passion for bioenergetics
Christian de Duve
Scientist
1
...
3
4
5
6
7
...
11
Immediately, of course, the idea came to us that lysosomes were in fact the cell's stomach – that they were a digestive... a digestive organelle – and that substances were digested in the lysosomes. Where they came from is a different story, and I should say that, at the time we made that discovery, I was amazingly ignorant of cell biology. All I knew was a little biochemistry and the field that really interested me was bioenergetics. I've mentioned Lipmann as one of my heroes and the early work on mitochondria was absolutely fascinating to me, and to understand the mechanism of oxidative phosphorylation, forgetting about insulin for a moment, was to me extraordinarily exciting, and I knew all these people who had worked on this field – Britton Chance and Henry Lardy and Albert Lehninger and Lars Ernster in Sweden, Bill Slater from Australia but working in Holland... I mean, all the people working in this field I was really fascinated with, and in a way a frustration for me was that, whenever I was trying to work on mitochondria, I turned out to be working on something else – first the lysosomes and then the peroxisomes; that we will be talking about later. But, anyway, except for bioenergetics, which is really biochemistry, I was tremendously ignorant of... of cell biology, and so I was very poorly placed, at that time, to try and guess what the function of lysosomes could be. And I remember riding... well, driving my own car but carrying with me a Belgian biochemist from the University of Liège, Marcel Florkin, who was a great expert in the history of biochemistry and in comparative biochemistry, and so when I was driving I was telling him this story and he said, 'Well, maybe your lysosomes,' I'm not sure that I'd named them at that time, 'are vestigial remnants of the digestive vacuoles of protozoa.' And so it comes that I became interested in unicellular protozoa.
Belgian biochemist Christian de Duve (1917-2013) was best known for his work on understanding and categorising subcellular organelles. He won the Nobel Prize in Physiology or Medicine in 1974 for his joint discovery of lysosomes, the subcellular organelles that digest macromolecules and deal with ingested bacteria.
Title: A passion for bioenergetics
Listeners: Peter Newmark
Peter Newmark has recently retired as Editorial Director of BioMed Central Ltd, the Open Access journal publisher. He obtained a D. Phil. from Oxford University and was originally a research biochemist at St Bartholomew's Hospital Medical School in London, but left research to become Biology Editor and then Deputy Editor of the journal Nature. He then became Managing Director of Current Biology Ltd, where he started a series of Current Opinion journals, and was founding Editor of the journal Current Biology. Subsequently he was Editorial Director for Elsevier Science London, before joining BioMed Central Ltd.
Tags: Fritz Lipmann, Britton Chance, Henry Lardy, Albert Lehninger, Lars Ernster, Bill Slater, Marcel Florkin
Duration: 3 minutes, 6 seconds
Date story recorded: September 2005
Date story went live: 24 January 2008