NEXT STORY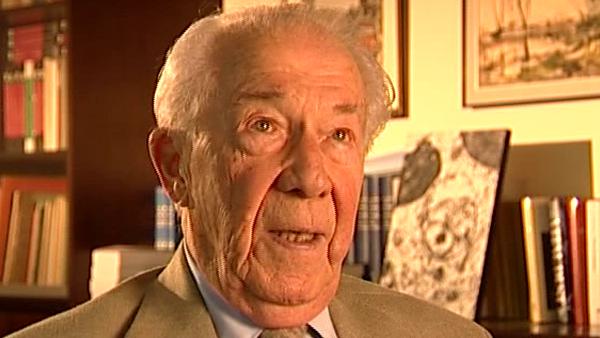 How I came to be multilingual
A multicultural upbringing
Christian de Duve
Scientist
1
2
3
4
5
...
11
The first years of my life... were spent, as a baby... in Thames Ditton until my family came back to Belgium. Probably 1819 [sic], 1918 or 1919, I forget exactly, and settled back in Antwerp. But we kept quite a number of connections with England, my elder brothers, who'd started schooling in England, went on to boarding school in... some school called St George's College in Weybridge, and my father continued, I think, to... have some business connections with England. I remember him, when I was a child, he would take the boat... the night boat from Antwerp to Harwich and spend a week or a few days in London. Anyway, so that's the start of the family until I was born, but then when the family came back to to Belgium something rather unfortunate had occurred. My German grandfather had... had, well a poor idea, it was very patriotic on his part, but he supported the Germans and bought German war bonds during the occupation, and as a result of this rather... well, poor idea, he... his... possessions were taken over by the Belgian government. So, he had to go back to Germany and settle in a small house on the banks of the river Rhine in Miehlen not far from a place called Godersberg where Hitler used to go, Bad Godersberg. And, well they got some support from the German government so they weren't really poor, they could survive, but for as far my father and mother were concerned, this changed their situation very much, but for a few years my father's business went all right, it was after the war, until, until the crash of 1929, which started the Depression. My father wasn't a very good businessman and so the family fortunes changed very much. And I was just 13 at that time, so it was not a very pleasant experience for me. Anyway, so that's the background, and this background included connections, not only with Antwerp, with Belgium, the Flemish and the French-speaking part of Belgium, but also connections with Germany where I had a number of relatives, my grandparents and also uncles, cousins and so on. And so I used to spend holidays in Germany, almost every year. At the same time, we'd kept our connections with England and so I did spend almost every summer holiday from 1930 onwards with friends of my family, friends that they had made... in... in England. And so a very young boy, I did grow up in a sort of multicultural atmosphere. Going back, English had in fact been my first... the first language I spoke as a baby, it wasn't much, not many words, but anyway, somehow this must have left some traces in my brain because when I went back to England with friends of my family, somehow English was not a foreign language for me to learn, it sort of came back, somehow those sounds had left some traces.
Belgian biochemist Christian de Duve (1917-2013) was best known for his work on understanding and categorising subcellular organelles. He won the Nobel Prize in Physiology or Medicine in 1974 for his joint discovery of lysosomes, the subcellular organelles that digest macromolecules and deal with ingested bacteria.
Title: A multicultural upbringing
Listeners: Peter Newmark
Peter Newmark has recently retired as Editorial Director of BioMed Central Ltd, the Open Access journal publisher. He obtained a D. Phil. from Oxford University and was originally a research biochemist at St Bartholomew's Hospital Medical School in London, but left research to become Biology Editor and then Deputy Editor of the journal Nature. He then became Managing Director of Current Biology Ltd, where he started a series of Current Opinion journals, and was founding Editor of the journal Current Biology. Subsequently he was Editorial Director for Elsevier Science London, before joining BioMed Central Ltd.
Tags: Thames Ditton, Antwerp, Belgium, England, Bad Godersberg, Germany, 1929
Duration: 4 minutes, 57 seconds
Date story recorded: September 2005
Date story went live: 24 January 2008