NEXT STORY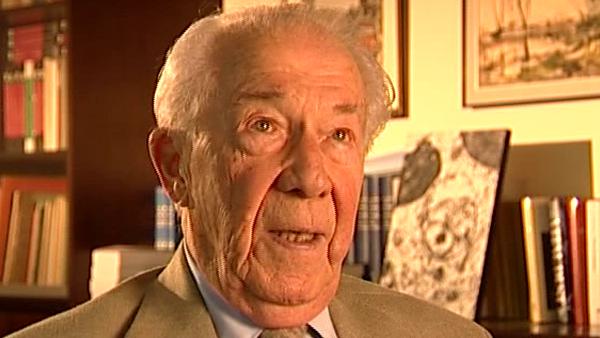 Uricase: Not a typical enzyme
Christian de Duve
Scientist
1
...
4
5
6
7
8
...
11
Alex Novikoff was an American biologist whom I got to know at a very early stage. He had an interesting story; he was... he started as a biochemist at the University of Vermont where he did some of the early cell fractionations, including work in which he studied acid phosphatase and uricase, and... just the way we did, and other enzymes. And Alex Novikoff happened to be also a rather militant Communist, very leftist, and that was the McCarthy era in the United States, and he was accused... he was indicted because he wouldn't betray his Communist friends, and he was actually sacked from the University of Vermont. He was... and when I knew him he... I got to know him because he'd published his fractionation work in which he'd found results rather similar to... to mine, with acid phosphatase and uricase, and so we got together. I remember one day when we were sitting in Central Park in New York and were discussing these problems, and Alex, at that time, was living a very precarious... making a very precarious living in some small private research institute on Long Island. But, anyway, we had had at the beginning a disagreement on the interpretation, having obtained about similar results; with respect to the distribution of acid phosphatase as compared to mitochondrial enzymes, we had different views or different interpretations. I must say that Alex, although trained as a biochemist, was essentially a visual man. I mean, the microscope finished by... and the electron microscope, by being his instrument, whereas mine was test tubes and reagents. And so we used to joke because we said... he's... he's... believes in the saying that seeing is believing, and sometimes in his case, seeing was searching a long time until he found something that could... that would support his belief. He was a great man; very nice, but he was a rather opinionated morphologist. Whereas my motto was: there is more in nature than meets the eye. So we really were very, very different, but excellent friends and so he... when we had this discussion, he very generously said, 'Well, your interpretation is correct and I was wrong.' And then he went on to develop... or to use a cytochemical technique for acid phosphatase which was designed, devised by a man called Gomori and it is a test that can be used on microscopic slides of living tissue – not living tissue but at least not completely destroyed, fixated – and in which you can reveal the presence of a given enzyme by special techniques. We won't go into the details. And he used this test for acid phosphatase to study lysosomes morphologically. And so he made many, many contributions to the field – wrote the chapters on lysosomes; he was there, of course, in London when we had our meeting at the Ciba Foundation; he was very much involved in the whole field. And we sort of complimented each other because he did much of the morphological work whereas I did much of the biochemical work. And just to finish the story of Alex Novikoff, who died already a few years ago now, some time... oh, it must have been in the late '80s perhaps, the University of Vermont awarded him an honorary degree and officially apologised for the way they had treated him in the '50s for his leftist beliefs. So that was... I'm glad you asked this because I had not forgotten about him, but, in the course of the story, neglected to mention his contribution that was really quite important.
Belgian biochemist Christian de Duve (1917-2013) was best known for his work on understanding and categorising subcellular organelles. He won the Nobel Prize in Physiology or Medicine in 1974 for his joint discovery of lysosomes, the subcellular organelles that digest macromolecules and deal with ingested bacteria.
Title: Alex Novikoff
Listeners: Peter Newmark
Peter Newmark has recently retired as Editorial Director of BioMed Central Ltd, the Open Access journal publisher. He obtained a D. Phil. from Oxford University and was originally a research biochemist at St Bartholomew's Hospital Medical School in London, but left research to become Biology Editor and then Deputy Editor of the journal Nature. He then became Managing Director of Current Biology Ltd, where he started a series of Current Opinion journals, and was founding Editor of the journal Current Biology. Subsequently he was Editorial Director for Elsevier Science London, before joining BioMed Central Ltd.
Tags: Ciba Foundation, Alex Novikoff, George Gomori
Duration: 5 minutes, 25 seconds
Date story recorded: September 2005
Date story went live: 24 January 2008