NEXT STORY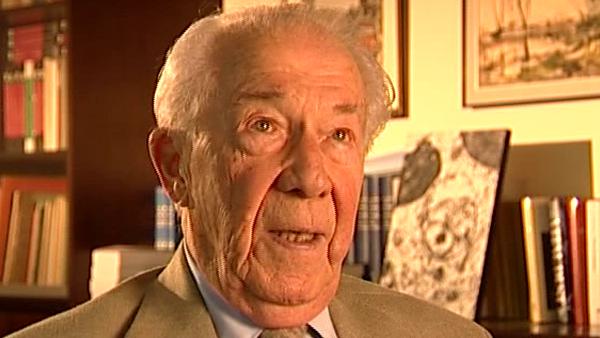 A feeling of mystery
The different facets of Ultimate Reality
Christian de Duve
Scientist
1
...
7
8
9
10
11
Ultimate Reality, the way I see it, has several facets. One facet is the intelligible facet; it's what we human beings can approach by means of our intellect, and that facet has been understood to a fairly large extent already by the physicists... come up with gravitation, with quantum mechanics or relativity and so on and so on. The biological aspect is very well understood today and so on. So that part that can be approached by the intellect – has become now explored to a fairly large extent – but there are other facets; there is, for instance, a facet that is approached with emotions, and that we approach by way of artistic manifestations. An artist who paints a painting, or sculpts a statue, and so on, or even a writer who writes a poem, a poet who writes a poem, or a musician who composes a concerto or a symphony or whatever, I mean, they... I think they are moved by a sort of personal contact that they are better achieved than others, a personal contact with that other facet, that emotion, I would say. Aesthetic facet... beauty, if you like, part of reality. Science approaches truth but the artist approaches beauty and he expresses... he or she expresses their... their reaction to this approach... to this contact with that facet of reality, through their works – the music or the paintings or the statues, the writings, the poems. And we... we are sort of induced to share something of that emotion. We are brought into contact with that facet of Ultimate Reality thanks to the work of the artists and the musicians and so on who had the ability to sort of express what it is ineffable, what is inexpressible, in words at least.
Belgian biochemist Christian de Duve (1917-2013) was best known for his work on understanding and categorising subcellular organelles. He won the Nobel Prize in Physiology or Medicine in 1974 for his joint discovery of lysosomes, the subcellular organelles that digest macromolecules and deal with ingested bacteria.
Title: The different facets of Ultimate Reality
Listeners: Peter Newmark
Peter Newmark has recently retired as Editorial Director of BioMed Central Ltd, the Open Access journal publisher. He obtained a D. Phil. from Oxford University and was originally a research biochemist at St Bartholomew's Hospital Medical School in London, but left research to become Biology Editor and then Deputy Editor of the journal Nature. He then became Managing Director of Current Biology Ltd, where he started a series of Current Opinion journals, and was founding Editor of the journal Current Biology. Subsequently he was Editorial Director for Elsevier Science London, before joining BioMed Central Ltd.
Tags: Ultimate Reality, intellect, emotions, art, beauty
Duration: 2 minutes, 54 seconds
Date story recorded: September 2005
Date story went live: 24 January 2008