NEXT STORY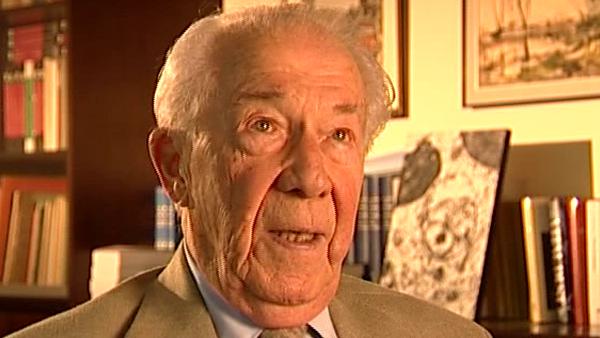 Studying at the Catholic University of Louvain
I discover and fall in love with science
Christian de Duve
Scientist
1
2
3
4
5
...
11
So, when I entered university, I was very young. I was just 17 and... so happens that in those days, the better students spent some of their free time in research labs... sort of a tradition at the university, there was a lot of free time in those days; there were only maybe 12 hours of lecturing a week... very few... very few... labs and so there was a lot of free time and the tradition was that the students, who wanted to, would join - or who were accepted - would join a research lab on a purely voluntary basis, of course; they weren't paid. And... I was attracted by that and by complete chance entered a physiology laboratory. Actually, I could have entered any, I wasn't attracted by any of the branches at that time, but it so happened that my digs were just in front of the physiology building so that's where I... and I had friends who worked there. And so, I entered the physiology laboratory which was a tremendous piece of luck for me, because the director of that laboratory, Professor Joseph Bouckaert, was about the only really good scientist in the whole medical faculty. He'd studied in England with a man called AV Hill. AV Hill is a very famous... he won a Nobel prize, specialist of muscle... muscle physiology and so Bouckaert was a really true... a true scientist. And suddenly, suddenly in his lab, after only a few months... it was a revelation... Suddenly I discovered science. I discovered what science was all about. I discovered the ways of science, how one... pursues the search for the truth by means of rigorous experimentation and reasoning, and so on. So the approach that I had learned from the Jesuits and had accepted, had adopted almost, which was the approach of philosophy and theology, that is starting with principles and deriving everything else from the principles, suddenly I realised that that was the wrong approach. It was top down approach, a dogmatic kind of approach, whereas science was the... provided the true... pathway toward the truth. And so I really, in... in just one year, fell in love with science. So much so that it was difficult for me to complete my medical studies. I decided I was going to be a scientist, I was going to be an investigator and therefore what did I need to learn about ear, nose and throat and eyes and obstetrics, and so on... I was never going to use any of those, but I felt that, perhaps, I should complete the studies anyway because of what the future held. I didn't know what the future held.
Belgian biochemist Christian de Duve (1917-2013) was best known for his work on understanding and categorising subcellular organelles. He won the Nobel Prize in Physiology or Medicine in 1974 for his joint discovery of lysosomes, the subcellular organelles that digest macromolecules and deal with ingested bacteria.
Title: I discover and fall in love with science
Listeners: Peter Newmark
Peter Newmark has recently retired as Editorial Director of BioMed Central Ltd, the Open Access journal publisher. He obtained a D. Phil. from Oxford University and was originally a research biochemist at St Bartholomew's Hospital Medical School in London, but left research to become Biology Editor and then Deputy Editor of the journal Nature. He then became Managing Director of Current Biology Ltd, where he started a series of Current Opinion journals, and was founding Editor of the journal Current Biology. Subsequently he was Editorial Director for Elsevier Science London, before joining BioMed Central Ltd.
Tags: Joseph Bouckaert, AV Hill
Duration: 4 minutes, 15 seconds
Date story recorded: September 2005
Date story went live: 24 January 2008