NEXT STORY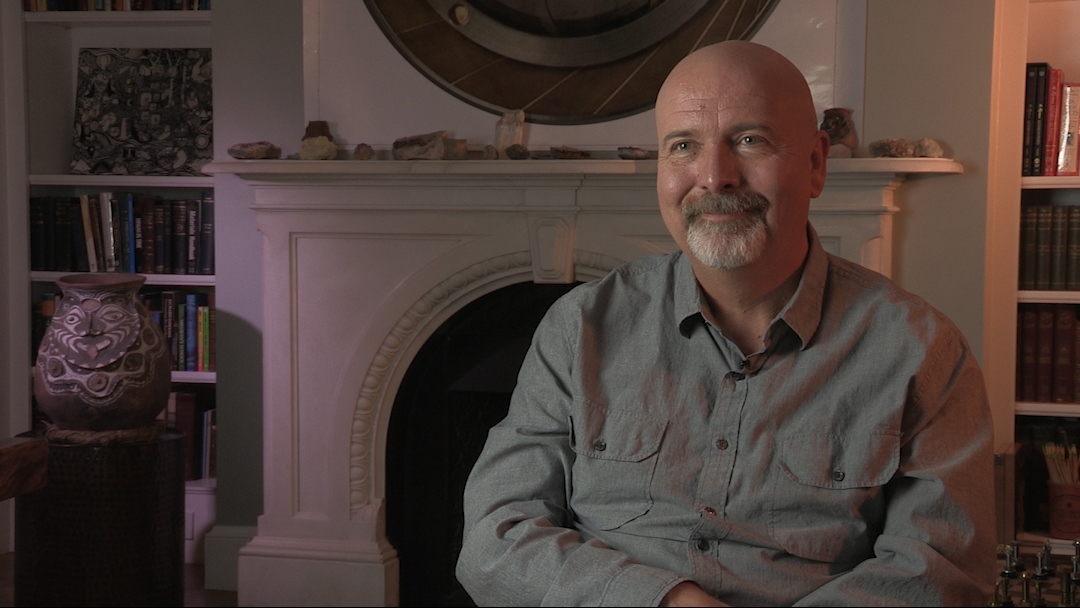 The ultimate spoon trick gone wrong
Rescued by the Navajo in the Canyon of Death
W Daniel Hillis
Scientist
1
...
15
16
17
18
19
...
25
Brian Eno and I became great friends over the clock. And one of the things that Brian and I would do is we'd just miss each other and say, hey, let's just do nothing for a while. And so Brian would fly out and we'd get into the Range Rover and we'd just go out into the desert and drive around. And once we did that, we were driving through the Southwest. And actually, Stewart Brand came with us that time. And we decided to drive to Canyon de Chelly, which is a beautiful canyon on an Indian reservation. So we drive up and the canyon is full with this river runs down it, and you can get them to take you in a boat or a four wheel drive vehicle. It's not a very deep river. But if you hire one of the Indian guides, you're allowed to drive down the river yourself. And so I had my Range Rover, so we hired the Indian guide. So we had the Indian guide and Brian and Stewart and me driving the Range Rover in the Canyon de Chelly through this water, which is very exciting. Because you couldn't really see the bottom, but the guide would steer us and say, 'Go to the right' and 'Go to the left.' So we went out there and went up into a side canyon and at some point, there were some rapids, and the guide said, 'Go that way.' I said, 'Are you sure? That doesn't...' And he's like, 'Yes, just go that way.' So I drove over and I basically drove over a waterfall and I hear this [crunching sound] and then I tried to back out and I'm completely stuck. And fortunately I have a winch in the car, but the car is really in water. It's still running, but it's in water. And we get the car up on the side and we realise what's happened is that the rock came down and hit and broke the tie rod and jammed it through the tyre, and it's actually skewered the wheel, so it's broken the tyre... it's popped the tyre by skewering the wheel from the inside. And, you know, I do have a spare wheel, but I don't have a spare tie rod and we're miles and miles back in the canyon by then. And so we're trying to figure out what to do.
And these Navajos come along, and they're out to feed their horses, and they look and they, like, 'Ooh, you're in big trouble.' I say, 'Yes, we are.' They're like, 'Oh, you're in bigger trouble than you think. I mean, do you know what the name of this canyon is?' I'm like, 'Well, this is Canyon de Chelly.' And he's like, 'No, no, you're in a side canyon. This is Canyon del Muerte.' He's like, 'Do you know what that means?' And I'm like, 'Canyon of Death?' And they're like, 'Yes, but do you know why it's called that?' I was like, 'No.' And they're like, 'This is where the white men slaughtered the Navajos.' And I'm like, 'Oh. So that explains why the Navajo guides guide the white men over the waterfall.' And they all laughed. And they're like, 'Tommy, did you tell them to go that way? You shouldn't have, you know better than that.' They started giving... and they're like, 'Okay, we'll try to help you fix this. We'll go feed our horses, we'll be back in a little bit. Why don't you jack it up?'
So we jack it up and there's this loose tie rod. It looks impossible. So they come back, but they come back with, like, all their families and they lay out baskets and picnics and it's like a whole village is there. And there's a big party and everybody's joking around and half the jokes are in Navajo and I'm pretty sure they're about us, and everybody's joking around about I have this Range Rover, it's like why couldn't you have gotten a Ford? It was fancy. And so they work out this way of bending the tie rod back into the hole by lowering it down, using the weight of the car down on jacks, with people pushing it. And they try it a few times and it pops out, but finally they get it just right and then they tie it together with wire. And it's all just about there, and by then, we're totally sunburned from being out in the canyon. And we've sort of made friends with them and so it's still up on jacks and they've tied it together and they say, 'Okay, well let's go now.' And we're like, 'Well, wait a minute. Where are you going? We've got to see if this works.' And they're like, 'Oh, well, you know there's not much we can do if it doesn't work.' And I'm like, 'Well, what are we supposed to do?' And the guy says, 'Well, look at yourself. You're a red man now.' I'm totally sunburned. And he says, 'And besides that, your car is tied together with wire, so I guess we can make you an honorary member of the tribe, so you can just stay.' And then they all laugh and then they leave.
So we're looking at each other and we jack down the car very gingerly and it seems to work. The tie rod stays in there. Because without the tie rod, the wheel just goes like this, and so we very, very carefully drove it out of the canyon and then it all seemed to be holding together. So then we very, very carefully and slowly drove it all the way to Albuquerque, where the nearest Range Rover dealer was, and we sat there in the parking lot until it opened in the morning. And then when we opened in the morning and they looked at what we had driven on, they were like, 'You drove on this?' It was tied together. And then they saw the tyre that had the tie rod jammed through it with the hole in it, and they're like, 'Can we keep this to put on our wall? Because this is like the best off-road example of a Range Rover we've ever seen.' So that was our adventure when we were rescued by the Navajo.
W Daniel Hillis (b. 1956) is an American inventor, scientist, author and engineer. While doing his doctoral work at MIT under artificial intelligence pioneer, Marvin Minsky, he invented the concept of parallel computers, that is now the basis for most supercomputers. He also co-founded the famous parallel computing company, Thinking Machines, in 1983 which marked a new era in computing. In 1996, Hillis left MIT for California, where he spent time leading Disney's Imagineers. He developed new technologies and business strategies for Disney's theme parks, television, motion pictures, Internet and consumer product businesses. More recently, Hillis co-founded an engineering and design company, Applied Minds, and several start-ups, among them Applied Proteomics in San Diego, MetaWeb Technologies (acquired by Google) in San Francisco, and his current passion, Applied Invention in Cambridge, MA, which 'partners with clients to create innovative products and services'. He holds over 100 US patents, covering parallel computers, disk arrays, forgery prevention methods, and various electronic and mechanical devices (including a 10,000-year mechanical clock), and has recently moved into working on problems in medicine. In recognition of his work Hillis has won many awards, including the Dan David Prize.
Title: Rescued by the Navajo in the Canyon of Death
Listeners: Christopher Sykes George Dyson
Christopher Sykes is an independent documentary producer who has made a number of films about science and scientists for BBC TV, Channel Four, and PBS.
Tags: Canyon of Death, Canyon de Chelly
Duration: 6 minutes, 24 seconds
Date story recorded: October 2016
Date story went live: 05 July 2017