NEXT STORY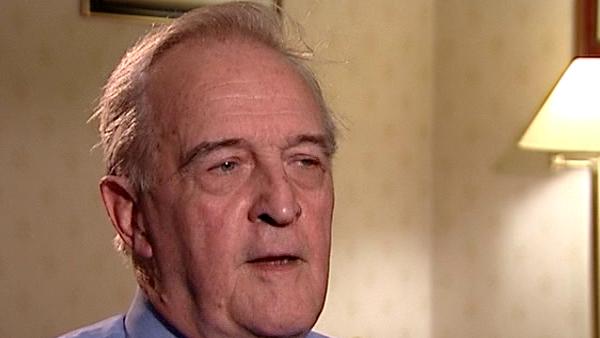 My father and mother and school
David Weatherall
Scientist
1
2
3
4
Yes, well I suppose to wrap it up, it's interesting to think back on what we did and did not achieve, and what if one was starting over again, how one would have made things different. I think one could argue that by putting the whole of one's research career with a few minor exceptions into one disease or one set of diseases, might sound like rather a kind of narrow view of the world, actually. I can make two excuses for that. One is that I think if you were going to take a broader kind of career, where you're going to try to continue to be a doctor of some kind, and perhaps a teacher of some kind, and then have to run something, I think your research has got to be very focused, otherwise you can get your foot into other camps, and encourage other people to do things, but I think if you, if you're, something that you're actually very passionate about, it does have to be focused. I suppose the problem with the thalassemia field was that, well, there were two problems, I mean, you could argue that it was all done in that exciting period in between '60 and the end of the '80s, we knew the molecular pathology, we, starting to relate phenotype to genotype, and what we, I suppose the big surprise, certainly to John and, John Clegg and I, at that time, was how quickly what was really totally curiosity-driven science, in trying to actually measure the way haemoglobin's made in the test tube was, gosh, I suppose even when they never had two or three years in the clinic for prenatal diagnosis, the same technology, and that, that was quite gratifying, and certainly did a useful job over the next ten years till DNA appeared, but I've always found it a bit unsatisfying that despite all this effort, I still can't look you in the eye, or even worse, a parent in the eye, and say with any degree of certainty for a large number of these diseases, what that child will end up as. And, with the newer technologies of, I think gene therapy, which of course has been around this wonderful corner for so many years, there's starting to be hints now that it's probably going to take off. Whether it will be able to take off for difficult monogenic diseases like thalassemia were, you do need to have a gene expression, which- very large amounts of product in a very accurate way, where you could do worse damage than, I think that's still quite a way off actually, but, so when that comes, and in that very difficult run up period in the experimental phase, I think not knowing with all that much precision in a large number of cases still, say in sickle cell disease, for example, the justification for doing experimental science is going to be quite difficult actually. And I think that's really why we've batted on and I'm afraid still are battering on, trying to understand heterogeneity. And really, trying to, I suppose look at some of these things which we, I suppose badly neglected many years ago, particularly the effect of the environment. But I find this, when I look at other monogenic diseases, I never forget, it was not long ago when somebody found a, managed to make a cystic fibrotic mouse, and of course, you do these wonderful out breeding experiments, phenotype changes, wow, we've a modifier on chromosome six. And then this, banner headlines in the "Nature", human monogenic disease is not so simple But, we've known this in the field for about 20 years, but, and then you could argue, well, how far do you really want to go? It's almost self evident that, but I think these breeds of the genetic modifiers in the globin field, at least was a kind of indication to the folk working on complex disease, of some of the complexities they were going to run into. And the fascinating question for me, I think, in the complex disease is, so much of that information's going to be interesting, but not practically useful, is whether, as it seems to have happened in the cancer field, at least some of those susceptibilities may lead to different approaches to therapy. And it's, again, very early, isn't it? But it, there're just hints now from the diabetes field, for example, that, and, even from one or two of the inflammatory diseases, that that may be the case. So, I don't know, I don't think I have too many regrets that I kind of stuck at this one disease. It's been an extraordinary model for human molecular genetics in that sense really, and I remember about, it was round about three or four years ago, the "Nature" genetics crowd asked me to write on the, a kind of, one of the essays on this subject, and it was interesting because I hadn't thought about it, I mean, we were doing it, but not it, the big picture. And I suddenly realised that we didn't even have a nomenclature to start describing this phenomena, so I had to start talking, like kind of boring layers of primary and secondary and even tertiary modifiers, and that the complications of the disease undoubtedly would come under strong genetic modification in some cases, and in fact, again, the totally unexpected, the nice turnout that at least the tertiary modifier for the thalassemia is in the parts of the Indian sub-continent, that awful kind of ghastly disfiguring jaundice, something you can do about it, you know, so just occasionally, purely by chance when you're working down in the kind of bottom layers of diversity, something like that, so I'm not too pessimistic, actually, I think it probably, if I'd had my time again, I wouldn't have been stupid enough to become a Professor of Medicine, and have to look after the lives of so many people, and maybe stuck a little bit more to the science– I don't know. Perhaps the science would have been a bit better if I had.
British Scientist Sir David Weatherall (1933-2018) was a world renowned expert on blood diseases, in particular thalassaemias, and used his expertise to help control and prevent these diseases in developing countries. He founded the Institute of Molecular Medicine at Oxford in 1989 and was knighted in 1987.
Title: Reflections on my career
Listeners: Marcus Pembrey
Marcus Pembrey, now Emeritus, was Professor of Paediatric Genetics at the Institute of Child Health, University College London and consultant clinical geneticist at Great Ormond Street Hospital for Children London. He is a visiting Professor at the University of Bristol UK, where he was the Director of Genetics within the Avon Longitudinal Study of Parents and Children until 2006. A past president of the European Society of Human Genetics, he is also the founding Chairman of the Progress Educational Trust.
Duration: 7 minutes, 29 seconds
Date story recorded: July 2007
Date story went live: 02 June 2008