NEXT STORY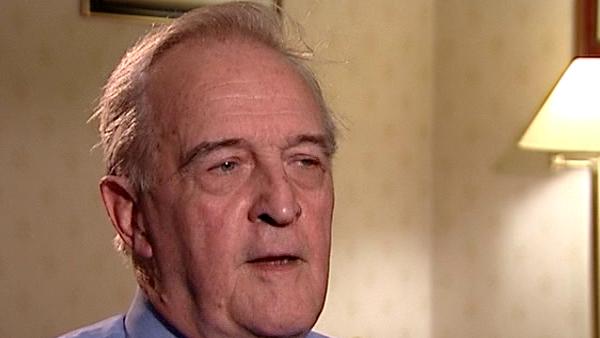 Medical school (Part 3)
David Weatherall
Scientist
1
2
3
4
So the, the the medical school was not, there wasn't a great kind of academic atmosphere about the place, but there were one or two memorable teachers. The physiologist, Rod Gregory was quite outstanding, he was the man who discovered gastrin and in fact they finally kind of purified it and got the protein sequence, but he used to come out of his lab to teach, in a filthy old white coat and even to somebody as kind of, stupid as myself, it was clear that this man just wasn't teaching, he was making physiology happen as he taught it– very stimulating. And then there was a, a very young professor of, of anatomy called Harrison, who'd come from Oxford. His main interest was the effect of temperature on spermatogenesis, very exciting, and I think I upset him a bit in one of the student pantomimes by saying that his great invention was the built-in scrotal Bunsen burner. And then we had quite strong biochemistry with R.A. Morton, who was a Fellow of the Royal Society and done some of the classical work on Vitamin A and so on, so it was quite good, and a memory of going for a kind of prize viver in biochemistry, and they said, this is our external, and it was Hans Krebs, and so you know, I had to learn the Krebs Cycles, and I thought, my God, you know, this is, I know this is just totally tongue tied, he asked me, you're not, you're sure, how do you organise an experiment to measure a protein turnover in a human being? Anyway, it didn't go too well. And in the clinical years, I suppose the clinical teaching in Liverpool was quite good, and of course, wonderful clinical material, as we call it, from the city. The- we had Harry Sheehan of Sheehan Syndrome, as our Professor of Pathology, and he was very good. We used to meet him every Saturday morning for what was called the meat class, and they used to bring bits of post mortem material in and demonstrate them, and he used to constantly smoke his pipe, and the pipe drippings used to kind of drop onto the autopsy material, and it used to kind of gently sizzle, you know, it was, they were very interesting sessions.
British Scientist Sir David Weatherall (1933-2018) was a world renowned expert on blood diseases, in particular thalassaemias, and used his expertise to help control and prevent these diseases in developing countries. He founded the Institute of Molecular Medicine at Oxford in 1989 and was knighted in 1987.
Title: Medical school (Part 2)
Listeners: Marcus Pembrey
Marcus Pembrey, now Emeritus, was Professor of Paediatric Genetics at the Institute of Child Health, University College London and consultant clinical geneticist at Great Ormond Street Hospital for Children London. He is a visiting Professor at the University of Bristol UK, where he was the Director of Genetics within the Avon Longitudinal Study of Parents and Children until 2006. A past president of the European Society of Human Genetics, he is also the founding Chairman of the Progress Educational Trust.
Duration: 2 minutes, 42 seconds
Date story recorded: July 2007
Date story went live: 02 June 2008