NEXT STORY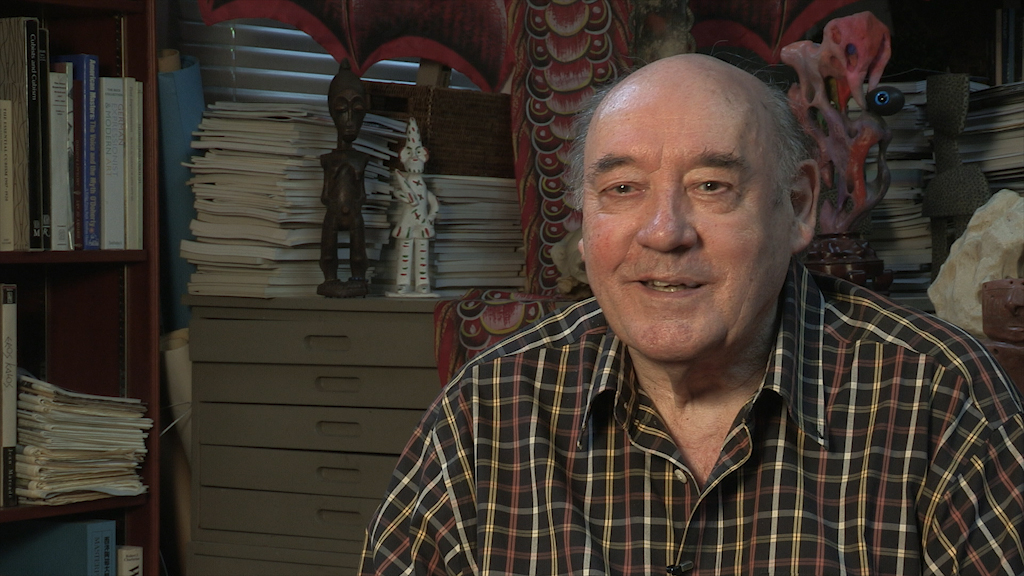 Being taken for a spy in 1960s Moscow
Genesis of The Naked Ape
1
2
3
4
I decided that, with my research group, I wanted to encourage them to communicate with a wider audience because what we were doing was interesting. It wasn't of just academic interest, it had a stronger interest. And so I managed to persuade a lot of them to appear on television programmes with me and as a result of this, they did go on... one of them went back to Holland, he was a Dutchman and he went back to Holland where he had the top rating animal programme in Holland afterwards and I was very pleased about that. He also went on to become a senior academic in the field of primate studies because he'd been... he'd been fascinated by facial expressions of primates and how facial expressions had evolved.
And what was happening during all this was that because I was making these Life programmes for BBC, some of the subjects we looked at were getting rather close to human behaviour. I hadn't intended this but it just happened that a lot of the studies with chimpanzees and primates – like the origins of facial expressions – this started me thinking about human facial expressions. And bit by bit, we... I found myself drifting towards the human species, but coming at it from an entirely different perspective. Previously, all studies of human behaviour had been done by sociologists, psychiatrists, psychoanalysts, anthropologists, and those disciplines are all busy working away in their own special way. But zoologists had never really tackled human behaviour before. So I thought, why not? I'd met this young publisher and I'd said to him, I think one day I'm going to write this book called The Naked Ape about human beings, and I'm going to write it as if I'm an alien landing on this planet and looking at this strange primate, clearly related to apes and monkeys, but it's a bit odd because it has a naked skin, it doesn't have any... it doesn't have a coat of fur and it stands on its hind legs and it talks; it's a very strange monkey, very strange ape. And if I were an alien I would say, well, I'd better give it a name – I'll call it the naked ape because it's a comparatively more-or-less naked, functionally naked – I know we've got... we have body hair but it's... functionally, we're naked.
And this young publisher, Tom Maschler, said, that's going to be a great book, you must write it. And I said, well, it's a bit challenging. I shall get into all sorts of trouble if I do that – I think I'll stick to my chimpanzees and my rodents and other things, I get into less trouble there – which is very cowardly of me, but understandable. But he kept on. I used to... about twice a year, I'd get a telegram – we had telegrams in those days – and I'd get a telegram saying, where is The Naked Ape? That's all it said, and this went on for years until eventually in 1966, I finally sat down to write it. I thought: the time has come.
Born in Wiltshire, UK in 1928, Desmond Morris had a strong interest in natural history from his boyhood. Later, as an undergraduate, he studied zoology, and after obtaining a First Class Honours Degree from the University of Birmingham, he moved to the Oxford University Zoology Department where he began his research into animal behaviour for his doctorate thesis. In 1957, having moved to London, Morris famously organised an exhibition at the ICA of art work created by Congo the chimpanzee. Morris's engagement with the visual arts remains strong and he has often exhibited many of his own paintings since 1950 when his paintings went on show alongside those of the surrealist painter, Jean Miró. 1950 was also the year when Morris began his career in TV creating and presenting Zootime and Life in the Animal World. Soon after this, he began work on a book that has proved a huge best-seller, The Naked Ape. Focusing on human behaviour, it was the first in a series of books in which the author observes humans primarily as a species of animal. Today, Desmond Morris has lost none of his inquisitiveness and continues to observe and write about what he sees in the world around him.
Title: Genesis of "The Naked Ape"
Listeners: Christopher Sykes
Christopher Sykes is an independent documentary producer who has made a number of films about science and scientists for BBC TV, Channel Four, and PBS.
Tags: The Naked Ape, Tom Maschler
Duration: 3 minutes, 39 seconds
Date story recorded: June 2014
Date story went live: 06 November 2014