NEXT STORY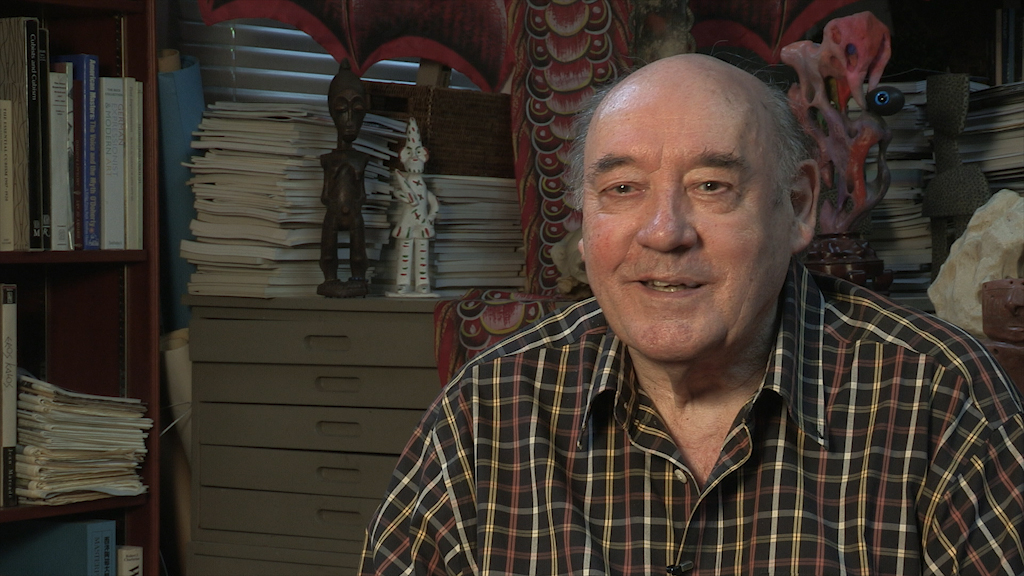 Curiosity is the key to finding solutions
1
2
3
4
This is just one example of how, having moved on from my general studies of human behaviour, I started to look at particular areas.
And then I... I got interested in Bronze Age art and wrote a book about the Ancient art of Cyprus which I'd been studying and spent several years deeply involved in the archaeological world because I was fascinated by the way in which Bronze Age people decorated their... their vessels. There was no need to put all those complicated patterns on the vessels to make them functional and... there was something more going on there. And I was able, by doing a detailed, quantitative analysis of the incision patterns, to identify individual artists who'd been working 4000 years ago. And I wrote a book about the art of Ancient Cyprus. And then I moved on to look at cats and dogs and horses and other animals we have a close relationship with to find out what it was about their behaviour that made them so attractive to us.
And I decided to study the aging process and I wrote a book called The Book of Ages in which I looked at the behaviour of people at each age and studied the behaviour of very old people because I was fascinated as to how some people survived to be 100 or more and what was the... I, you know, again I was looking at human behaviour. What was it about those people that made them different from people who died at 70 or 80? And some very interesting information came out of that because it was clear that there was a particular kind of personality. I went to the birthday party of Jeanne Calment when she was 121. And I remember I was holding her hand and wishing her a happy birthday. And it was an extraordinary thought that the hand I was holding was the hand that gave Vincent van Gogh the paints with which he painted his sunflowers because she was a young girl in Arles, living in the shop there and van Gogh came in to buy his paints from her father and she had to hand the paints over to him. And there was something very strange about holding the hand that had given Vincent his paints to paint the sunflowers. Extraordinary moment in one's life, that. And I remember saying to her... you know, I asked her what she thought of Vincent. And she said, 'Vile temper, filthy ugly and smelt of booze'. So she didn't like him at all. He was a very, very strange man but also, of course, a brilliant artist.
Born in Wiltshire, UK in 1928, Desmond Morris had a strong interest in natural history from his boyhood. Later, as an undergraduate, he studied zoology, and after obtaining a First Class Honours Degree from the University of Birmingham, he moved to the Oxford University Zoology Department where he began his research into animal behaviour for his doctorate thesis. In 1957, having moved to London, Morris famously organised an exhibition at the ICA of art work created by Congo the chimpanzee. Morris's engagement with the visual arts remains strong and he has often exhibited many of his own paintings since 1950 when his paintings went on show alongside those of the surrealist painter, Jean Miró. 1950 was also the year when Morris began his career in TV creating and presenting Zootime and Life in the Animal World. Soon after this, he began work on a book that has proved a huge best-seller, The Naked Ape. Focusing on human behaviour, it was the first in a series of books in which the author observes humans primarily as a species of animal. Today, Desmond Morris has lost none of his inquisitiveness and continues to observe and write about what he sees in the world around him.
Title: Reaching back in time
Listeners: Christopher Sykes
Christopher Sykes is an independent documentary producer who has made a number of films about science and scientists for BBC TV, Channel Four, and PBS.
Tags: Bronze Age, Cyprus, Jeanne Calment, Vincent van Gogh
Duration: 3 minutes, 2 seconds
Date story recorded: June 2014
Date story went live: 06 November 2014