NEXT STORY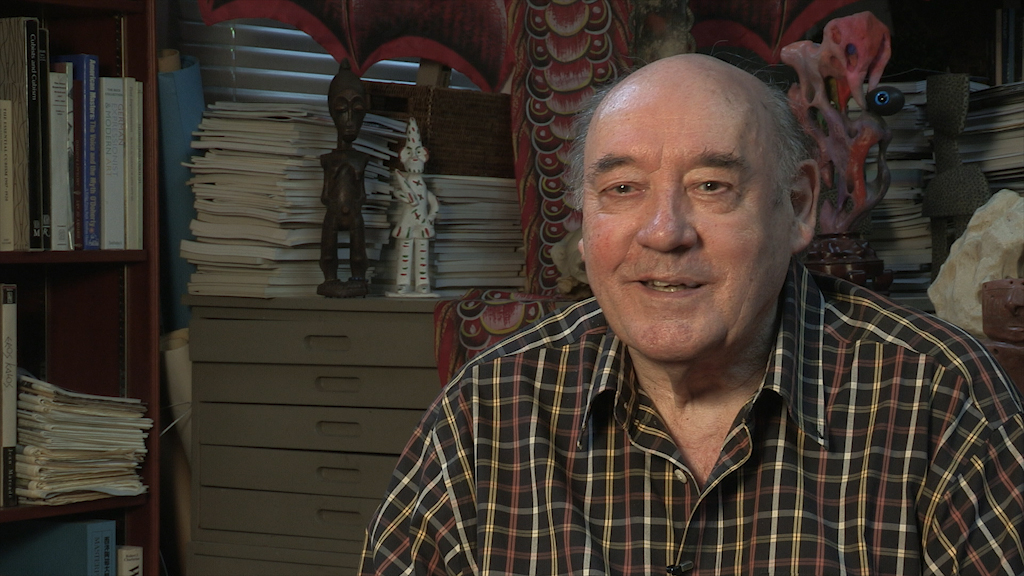 Living by my wits in the army
The lake in my grandmother's garden
1
2
3
4
My grandmother had a lake and... she was very old and she should have done something with it, but it had just got derelict and there was this wonderful old lake she had and nobody was allowed to go there. And she allowed me to go there because it was a family lake. So I had this lake all to myself. It wasn't a big lake, it was quite a small lake, but it was a lake. And it had been stocked with lots of different fish by fishermen. Now, I never wanted to catch fish on a hook because it seemed to me that it was a gross interference with the life of a fish. Because you've got to remember I was now zoomorpho... zoo... what's the word? I was... I was the... seeing life from the animals' point of view. I wasn't antropomorphic, I was theriomorphic and I was identifying with the fish so I didn't want to catch them, I wanted to watch them.
And I managed to build a raft out of logs and four oil drums and I got some removal men to take it down and float it on the lake and I used to lie on this raft. I don't know how my mother allowed me to do it because I still couldn't swim, don't forget, and I could easily have drowned. But I was very careful. And I would lie flat on this raft with my face pressed close against the surface of the water and for hours I would watch the fish, and I knew where the pike was hiding, I knew where the roach shoaled and I saw how the perch had spines in its fins to protect it from being eaten and I learnt about this underwater world. And I could also watch the sea... the water birds, the waterfowl and the birds and there were newts and toads and frogs all around this lake and it was a private world of mine in which I could disappear.
And this was happening, of course, you know, while the World War II was raging around me and bombs were dropping. And I remember we had a sort of metal cage – a reinforced metal cage – under the kitchen table, and when there was a bombing raid, my mother made me get into it so that if the house collapsed I would be safe, and I would sit in this cage under the kitchen table. The thing you learned was that when a stick of bombs was being dropped, you listened very carefully to see if each noise was slightly louder or slightly softer than the previous one, and if each 'whomp' that you heard was slightly louder than the last 'whomp', then you're in trouble. And they got pretty close to where we were.
So that World War II was... that was how I grew up. And I escaped from it with my animal studies and turned my back on the human species and wanted to do nothing but study zoology.
Born in Wiltshire, UK in 1928, Desmond Morris had a strong interest in natural history from his boyhood. Later, as an undergraduate, he studied zoology, and after obtaining a First Class Honours Degree from the University of Birmingham, he moved to the Oxford University Zoology Department where he began his research into animal behaviour for his doctorate thesis. In 1957, having moved to London, Morris famously organised an exhibition at the ICA of art work created by Congo the chimpanzee. Morris's engagement with the visual arts remains strong and he has often exhibited many of his own paintings since 1950 when his paintings went on show alongside those of the surrealist painter, Jean Miró. 1950 was also the year when Morris began his career in TV creating and presenting Zootime and Life in the Animal World. Soon after this, he began work on a book that has proved a huge best-seller, The Naked Ape. Focusing on human behaviour, it was the first in a series of books in which the author observes humans primarily as a species of animal. Today, Desmond Morris has lost none of his inquisitiveness and continues to observe and write about what he sees in the world around him.
Title: The lake in my grandmother's garden
Listeners: Christopher Sykes
Christopher Sykes is an independent documentary producer who has made a number of films about science and scientists for BBC TV, Channel Four, and PBS.
Tags: lake, fish, raft, waterfowl, bombing raid
Duration: 3 minutes, 10 seconds
Date story recorded: June 2014
Date story went live: 06 November 2014