NEXT STORY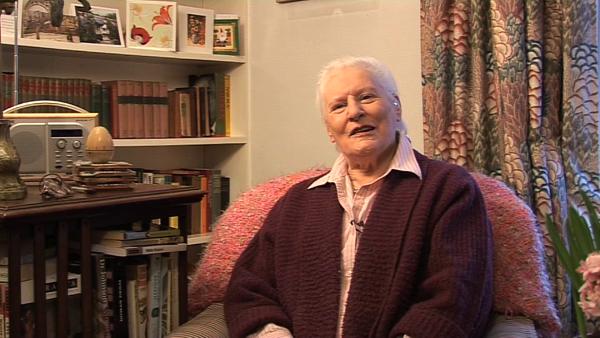 'It's not up to us to judge'
Into That Darkness by Gitta Sereny
1
2
3
4
5
...
8
There are certain kinds of book about horror which shouldn't be avoided, because they explain how and why people become evil, or they try to. And one of them, which was Gitta Sereny's book, Into That Darkness, we published because we had seen the… I think it was The Sunday Telegraph had serialised it. And André was very quick at spotting that kind of thing and saying, 'Look, there may be a book in this', and had got in touch with her and said, 'Is there a book'? And she said, well yes, and she'd come and see us about it. And she came, and she said, well, yes, she had a lot of material, and she'd like to make a book of it. And she produced the material. It was formidable. I mean, see that table behind you? It covered that. It was a vast mess of material. And Gitta had been collecting it and had reached a point of exhaustion, really. I mean, the work had been tremendously difficult and tremendously testing to her. And to put it into shape, she just did need help, she needed somebody to, sort of, do it. So I brought all that stuff home, and I had it on the table, and I remember starting to read it. And I remember walking round and round this room, and thinking, 'How am I ever going to sleep tonight?' I mean, it was the most shattering thing I'd ever read, because it was the raw material of that book, it was the interviews she'd taken. And it was quite clear that there was one thing that we would have to do, we… working on it. We had to cut out adjectives. You couldn't say things like 'horrifying', 'disastrous', because they just were useless, those words. Absolutely useless. You just had to just give the facts. But then we started sorting through it, and it took us… I don't know how many, I must ask Gitta how long it was. It was months and months. I mean, maybe it was six months, you worked. And I did quite a lot of the work at home; I stayed at home quite a lot on it. Because there would be… it was quite obvious that the interviews, the order they ought to be in, really, but then there was where she needed to put in linking passages and she wanted to fill in and say. And it was really an uncanny thing, because there were times when it seemed that there were things that, however important they were, they just couldn't be fitted into this enormous book. Where could we put that in? And I would say, 'Gitta, I don't know, I think we may have to cut it out. I don't see how we could fit it in'. And she'd say, 'Oh, we can't cut it out', and then she'd go away and we'd think. And always, in the end, there was a place where it exactly fitted in. And it turned out that she had been working much, much more methodically than she realised. She hadn't… I mean, she thought she was just sort of getting what she could get, but she had been working in such a way that, I think, nothing that she'd got didn't fit in to the pattern of this book, as to how this man had slowly become corrupted and who… I mean, there were people who she interviewed who were wonderful. There weren't very many survivors of Treblinka, but she had talked to, I think, about… I think it was six of them, and they were very, very impressive people. There were people who she interviewed who were nightmares, really, because they were the people who'd worked with him and for him. Very interesting indeed, was his wife, who had known nothing for a long time about what he was doing. He had started by being… working on the euthanasia programme, where they were forbidden to say what they were doing, but were told that it was a virtuous thing and that the Führer had decided that it was good and that, although it was very distressing to have to do this work, it was necessary. He never sent anyone to their death in that. He was looking after things like property. People who had been killed and what had to be done with their property. And what was a very remarkable moment was that he had had to go to a hospital run by nuns, about something that had been left by some unfortunate cripple, a mindless person who had been incinerated. And the holy sister said to him, 'Do you know it was so tragic, they wouldn't take that one'. And there was some poor little person lying there, a 16-year-old with a mental age of nothing, you know, lying curled up in its cradle. And the holy sister thought it was very tragic that that one hadn't been taken to be killed as well, and so did the doctor think that. And so he thought, 'Well, look, nuns and doctors all think this is right, so no doubt it is right'. But he still couldn't tell his wife what he'd been doing, because he'd been forbidden to do so.
Diana Athill (1917-2019) was a British literary editor whose publishing career began when she helped André Deutsch establish his company. She worked with many notable writers, namely Philip Roth, Simone de Beauvoir, Jean Rhys and VS Naipaul. Following the publication of her memoirs, she came to be hailed as an author in her own right.
Title: "Into That Darkness" by Gitta Sereny
Listeners: Christopher Sykes
Christopher Sykes is a London-based television producer and director who has made a number of documentary films for BBC TV, Channel 4 and PBS.
Tags: Into That Darkness, The Sunday Telegraph, Treblinka, Gitta Sereny, Franz Stangl
Duration: 6 minutes, 12 seconds
Date story recorded: January 2008
Date story went live: 23 December 2008