NEXT STORY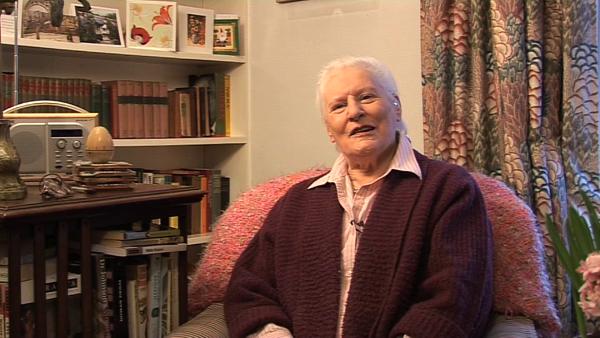 My own writing
1
2
3
4
5
...
8
Well, like books, it suddenly occurred to me… I thought, 'Now why are two of my most important books that I always come back to when I think about what I've been doing'? One is Byron's Letters [and Journals], and the other is Boswell's diaries. Not Doctor Johnson, but his own journals. And then it occurred to me that really what it is, what I like about books, why books are so important to me, it's voices. It's people. It's the people, it's not stories that interest me, although of course I have enjoyed novels. But it's the personality that one's listening to, that they're still alive. That's just magic of the word on paper. That I know Boswell better than anyone who actually met him. And he really might have been… I think he would have been a pain if one had actually met him, really, dear thing, excepting, of course, Doctor Johnson did love him, so he was loveable. But he was so interesting. Year after year, he was wanting to be good, trying so hard to be good, never managed it. Never stopping having to drink too much, never stopping being as randy as an old goat, however hard he tried. I love him.
And then I thought pretty well everybody who I really love as a writer, is because they and their personality are there. I mean, it's true of Chekhov. It's true of Jane Austen. It's true of my latest… the only person recently I really am very impressed by is WG Sebald, where he writes really, really about himself although it's fiction. And it's the voices. It's the fact that you are communicating, or being communicated with, from the past by real people. That's why I think books are so important to me. It's like meeting very, very interesting people. And that, I suddenly thought, was really actually at the bottom of my endless reading.
[Q] But they must be real, must they? I mean, because…
You see, the more real it is, the better. And fantasy doesn't do for me at all. I'm just bored by it. And even people like Nabokov, who are…it's… his exuberant use of language and his imagination, I don't love him as much as I do Chekhov, you know, who's writing about real things that happened in his life.
[Q] So Humbert Humbert… I can't…
Yes, I meant Lolita is the best of his books, because that is really very interesting indeed. But I was looking… I looked at one of them, Ada, the one… it's absolute nonsense to me.
[Q] So you're not a great admirer of pyrotechnics and style?
No. I mean I do understand that charm to other people, but that's not what works with me. I like language to be very clear and very accurate.
[Q] That's how you write, isn't it?
That's the way I… well, that's the way I try to write.
Diana Athill (1917-2019) was a British literary editor whose publishing career began when she helped André Deutsch establish his company. She worked with many notable writers, namely Philip Roth, Simone de Beauvoir, Jean Rhys and VS Naipaul. Following the publication of her memoirs, she came to be hailed as an author in her own right.
Title: What I like to read
Listeners: Christopher Sykes
Christopher Sykes is a London-based television producer and director who has made a number of documentary films for BBC TV, Channel 4 and PBS.
Tags: Life of Samuel Johnson, Lolita, Robert A Baron, James Boswell, Anton Chekhov, Jane Austen, WG Sebald, Vladimir Nabokov
Duration: 3 minutes, 14 seconds
Date story recorded: January 2008
Date story went live: 23 December 2008