NEXT STORY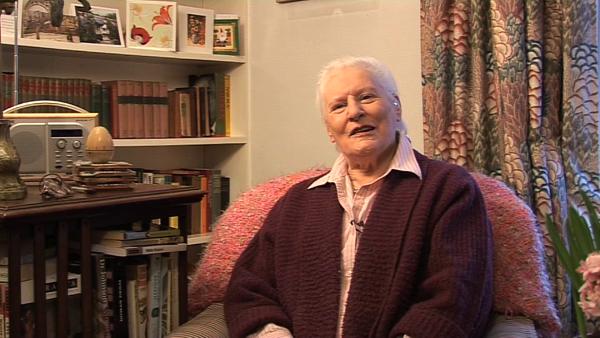 A broken engagement
A disappointing first kiss
1
2
3
4
5
6
...
8
We had a lovely time. He used to do… he knew more about birds than anybody else I knew. He knew more about everything, really, and to begin with, it was just that he was… oh, I just loved him from a distance. And he was extremely kind. He used to give one lovely presents. And he gave me books that were interesting to me. And the first time that I think we went… I went to a dance. We used to go to dances in those days. Lots of dances. In the winter, there was always someone giving a dance. And I went with my cousins when I went. By that time, two years on, I was 17. And Tony was there. He'd come along with somebody else. And he peeled off from his party and danced with me.
And he took me out to the carpark and told me a long story, during which he put his arm around me. Heaven. And then he obviously sort of gave me a look and thought, 'Oh, she's growing up'. And he said, 'I'll drive you home'.
I said to Joyce, my elder cousin, 'I'm going home with Tony', and sort of disappeared. She was very agitated, and when they got home, her lot, she rang up Mum, and said, 'Look, Di said Tony's giving her a lift home'. And meanwhile, he was. He was driving me home, and we stopped at a level crossing at which the gates were shut, at a place called Halesworth. And at that point, he kissed me. That was the first time I had properly been kissed. And it was sort of disappointing, because he'd been driving with the window down, and his mouth was cold. And it was sticky. Not really very nice, I didn't feel. But on the other hand, I had fortunately read something quite recently which said, 'First kisses were always disappointing'. So I said to myself, 'Well, first kisses are always disappointing, so it doesn't matter'.
We got to the level crossing and he kissed, that's right, and it was a little bit disappointing, but I knew it was going to be disappointing. So that was all right. It was the most exciting thing that had ever happened to me in my life. Because after all, I was in love with him. It was thrilling.
And when I got home, my mother was sitting up in bed, tense with worry, and called out. And I said, 'Yes, I'm back'. And I couldn't resist telling her. I was so glad. I said, 'Tony kissed me'. And said, in a voice, 'Did he mess you about'? And I was so angry I flung out of the room and banged the door. I thought, 'How could she say anything so horrible'? And after that, I felt very sorry for her, really, because mothers have a hard time.
[Q] Did you know what she meant?
Yes, I knew what she meant.
[Q] How?
But I did… by that time, I knew the facts of life. I mean, I had read my Marie Stopes. I knew quite well what she meant. But I thought that, you know, saying that in a nasty, sort of, dirty-minded way… and there was I, in a state of complete glow of happiness.
[Q] So you were really in love?
Oh, completely. And actually, not wrongly, because he was an extraordinarily attractive personality. I don't know what would have happened if I had married him, whether… well, he wouldn't have been faithful to me, I know that. But I don't think I would have minded very much about that. But I suppose I never would have written a book, but I'd have probably had a large family, because he was very keen on our family. We got engaged fairly soon after that, and he used to love talking about when we have children, what we're going to call them and everything, and I used to sort of play along with that. It meant nothing to me, really, that. I didn't want to have children particularly. But oh yes, I was absolutely sure that that was going to be my future.
Diana Athill (1917-2019) was a British literary editor whose publishing career began when she helped André Deutsch establish his company. She worked with many notable writers, namely Philip Roth, Simone de Beauvoir, Jean Rhys and VS Naipaul. Following the publication of her memoirs, she came to be hailed as an author in her own right.
Title: A disappointing first kiss
Listeners: Christopher Sykes
Christopher Sykes is a London-based television producer and director who has made a number of documentary films for BBC TV, Channel 4 and PBS.
Tags: Halesworth, Marie Stopes
Duration: 4 minutes, 54 seconds
Date story recorded: January 2008
Date story went live: 23 December 2008