NEXT STORY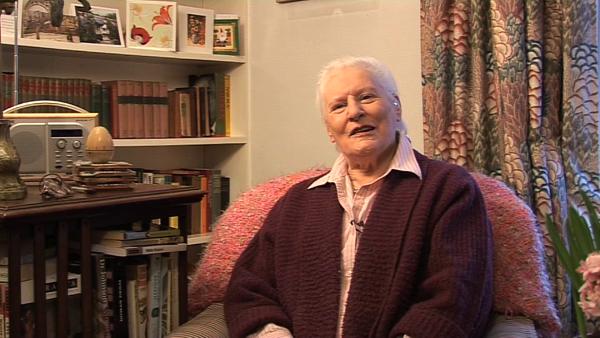 The fuss over Norman Mailer'sThe Naked and the Dead
Not being paid what I was worth
1
...
3
4
5
6
7
8
And then I thought, well, if it wasn't for him, I would not be in this very interesting job. I am in this interesting job, I like this job. He can't help being what he is. I was expecting from him something that he can't give me. Stop expecting it, lump him for what he is, and that'll be that. And it was. I mean, after that, I never did a thing for him that I didn't want to do. I mean, if he'd be… he had this habit of he'd be… if he had something arranged, interesting, for the evening, and he was let down at the last minute by someone, he would say, 'Oh, so-and-so can't come to the theatre with me with this evening. Will you come?' And I would say, 'No, I won't. I can't come.' And he say, 'Oh.' At one time, I would have said yes to it, but if I didn't want to go to that particular thing, I would say no. And once I'd reached that stage, I could work with him still quite well. And in certain ways, he was a good colleague, because if you were ill or anything… if he had… if he could do something practical for you, you know, if he could bring round a meal or whatever, he would do it. But he couldn't possibly put himself in anybody else's shoes. He couldn't understand what other people were feeling, at all.
[Q] What did he want out of it?
I think he was… he was just… I've never quite understood, but I couldn't imagine him being anything else but a publisher. He… he did read all his books. No, he didn't read all his books. He read quite a lot of his books. He liked the non-fiction side of it better than the fiction side. He loved things like meeting [John] Kenneth Galbraith or people like that, you know? It interested him a lot. He liked the actual process of producing a book: costing it, promoting it. He enjoyed it very much. And he loved… pouncing on interesting things, when you still could, when people were… when firms of our size still had a chance. Pouncing in and under other people's noses and getting something interesting.
[Q] What about money? I mean, you say you weren't very good at money and maybe still aren't, but did you make any money out of all of that?
Oh, he made… we made a good… I mean, the firm was profitable until André left it. Then after he left it… and he was extremely… but it was profitable really by good housekeeping. He was very, very frugal. He was… I always remember we were having supper one day, and… in his little house. This is early in our acquaintance. And were making an omelette and I broke the omelette and I threw away the shells. He was horrified. He said, 'No, when you break an egg, you must do this, get the last bit of white out'. That's what his mother always did. Well, he was that sort of frugal, and really, when we were very poor, to begin with, we had to reuse envelopes. If he saw someone going out of a room and not turning out the light… and he… he was as frugal as that. And with a small firm, like we were, we could not have got by without that. He then became… eventually, he was famous for being mean. And he was as mean as you possibly could be to his authors and everybody else, to a fault. Occasionally he made the mistake of going too far in that way. But on the other hand, we were in profit, even to the end of his days, before he sold the firm. He sold the firm when it was beginning to be almost impossible for a firm that… of our size and kind to survive, but we still could, but it was getting very difficult. But the minute he went, it wasn't in profit anymore, quite quickly. But you see, he would never… for instance, we had a book and it was going to be illustrated. If it was André running it, you gave it six illustrations if you were lucky.
[Q] And what about you? Did you make any money out of it?
No, never. And I mean to get a rise out of André was almost impossible. I lived. I mean, I had… I could pay my rent, I could have holidays, but I never made… I never saved a penny while I was working there.
[Q] Did you mind that?
No, I didn't. I ought to have. I was… it was my mistake. I should have been much tougher about it. I should have insisted on being paid what I was worth. But I was lazy, really, and I didn't want to make an issue of it, and as long… I was very idle about money. As long as I had just enough money for living how I liked, which is a very simple way, really… I blame myself for that, often. I've never owned, you see, I've never owned a house in my life.
[Q] Really?
Never owned anything. I mean, this flat is… I now live in this flat for free, because I couldn't live it any other how. My cousin is… you know, we're like sisters, in fact, and she's… when I could no longer afford to pay rent for it, which I can't do now, she said, 'Oh never mind, you go on living here'. I'm living on charity.
[Q] Do you mind that?
I do mind that. I mean, I wish I wasn't living on charity. I kick myself for not having made an issue of it. I could have said to André at any time, I suppose, 'Look, I'm going to leave and go somewhere else and be paid what I'm worth'. But I never did, because I enjoyed… you know, I liked our firm. So I don't… I mean, I blame him a bit, but I blame myself just as much, really.
Diana Athill (1917-2019) was a British literary editor whose publishing career began when she helped André Deutsch establish his company. She worked with many notable writers, namely Philip Roth, Simone de Beauvoir, Jean Rhys and VS Naipaul. Following the publication of her memoirs, she came to be hailed as an author in her own right.
Title: Not being paid what I was worth
Listeners: Christopher Sykes
Christopher Sykes is a London-based television producer and director who has made a number of documentary films for BBC TV, Channel 4 and PBS.
Tags: André Deutsch
Duration: 6 minutes, 47 seconds
Date story recorded: January 2008
Date story went live: 23 December 2008