NEXT STORY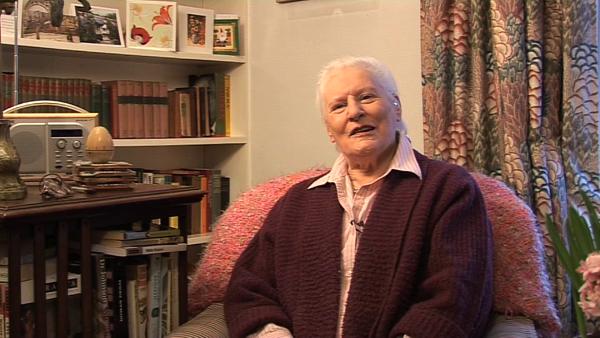 Desert Island Discs
1
...
4
5
6
7
8
It seemed like ancient history, but I can remember, for instance, on the road, driving between Norfolk and London, just as you approach Ball Dock, there were five separate, smallish white houses, exactly like each other, each of which had a sign in front of them saying 'Eggs'. Eggs, eggs, eggs, eggs, eggs. And they had been sort of set up for ex-officers who were meant to be making themselves little… their living by selling eggs, and we used to always marvel as we went past, 'Why, five next so close to each other, how could they possibly all make living selling eggs?'
Still, as I went down that road. I mean, now one bypasses it, but only very recently has there been a bypass. I still thought of those cottages as: 'eggs, eggs, eggs, eggs, eggs', and one knew that that was for ex-service officers. And I… but on the whole, one didn't really hear about it very much. You see, my father never mentioned the war. He'd been in it, but he never mentioned it. Never mentioned it.
[Q] Do you know anything about what he did during the war?
No, I think… I know he was invalided out, I don't think from a wound. He wasn't on the front for long, and then he was in the War Office most of the war. I think he was… I think he probably didn't mention it because he was… not so much because of how traumatic it had been, because he was rather ashamed of himself having had an easy war, I think, very likely. But quite a lot of people who'd had a terrible war, never mentioned it because it was too terrible.
[Q] Yeah, that's right.
But we had very, very few records in my grandfathers… grandmother's house. There was an old gramophone in the corner of the morning room, and there was a little collection of records. And I was very thrilled when I was about seven or eight. I found a record which was a sort of take-off of Who Killed Cock Robin? And it was Who Killed Bill Kaiser? And it was… then I said, 'Whatever', you know, there were all the names of the politicians and people. And I thought this was his… a matter… almost as thought I'd found a great archaeological discovery. And I rushed to my mother, saying, 'I've found this wonderful about the First World War'. And she said, 'Oh, is that old thing still there?' And of course, to her, it was just that boring old record that they'd bought four or five… six years ago, or something. To me, so much was the gap that it really seemed quite an extraordinary thing that it was still there.
Diana Athill (1917-2019) was a British literary editor whose publishing career began when she helped André Deutsch establish his company. She worked with many notable writers, namely Philip Roth, Simone de Beauvoir, Jean Rhys and VS Naipaul. Following the publication of her memoirs, she came to be hailed as an author in her own right.
Title: Five houses selling eggs
Listeners: Christopher Sykes
Christopher Sykes is a London-based television producer and director who has made a number of documentary films for BBC TV, Channel 4 and PBS.
Tags: Norfolk, London, Baldock, Who Killed Cock Robin?, Who Killed Bill Kaiser?
Duration: 3 minutes, 4 seconds
Date story recorded: January 2008
Date story went live: 23 December 2008