NEXT STORY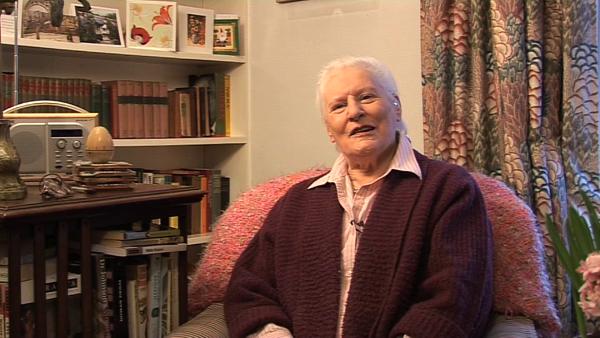 Getting older
1
...
4
5
6
7
8
[Q] Do you have a view, actually, on moral responsibility for actions? In other words, do you think we can… do you think we really do decide to do the right thing, or are we just manoeuvred by chemicals and hormones and genes into doing things, and…?
I think up to a point, we are manoeuvred. Up to a point, it's… but there are places at which one can stop and think and say, 'No', because you have been taught when you're young, that is good and that is bad, and at a certain point, you must stop.
I once came up against this problem with one of my nephews. He was having great fun. He was working, you know, earning his living by washing up, sort of thing, in London. And he was working for a time for a firm which did lovely wallpapers and things. And all the young people working there were walking off with rolls of paper under their arms.
And I was wanting to decorate something, and he said, 'Oh, I can easily get you enough paper to do that with. What colour do you want?' And I thought about this, and I thought, 'Now am I being po-faced or am I not?' And in the end, I thought, no, I'm going to say it. And I dropped him a postcard and I said, 'No darling, thank you very much for the offer, but I'm not going to accept it. It's a foolish thing to steal, because you might get into great trouble and wreck your life. And apart from that, it is wrong'. Silence for quite a long time, and then I had a lovely postcard, saying, 'First of all, rage, then shame. Now, thank you. Love from…'
And I was so pleased, because he'd thought it out and he'd thought, yes, she's right. And I think if you… I think that a lot depends on what people around you say and do, so that you are shaped by other things, but that you can at certain points, stop and say, 'I'm not going to do that, because I think it's wrong'.
Diana Athill (1917-2019) was a British literary editor whose publishing career began when she helped André Deutsch establish his company. She worked with many notable writers, namely Philip Roth, Simone de Beauvoir, Jean Rhys and VS Naipaul. Following the publication of her memoirs, she came to be hailed as an author in her own right.
Title: Moral responsibility
Listeners: Christopher Sykes
Christopher Sykes is a London-based television producer and director who has made a number of documentary films for BBC TV, Channel 4 and PBS.
Tags: moral responsibility, nephew, wallpaper, theft
Duration: 2 minutes, 26 seconds
Date story recorded: January 2008
Date story went live: 23 December 2008