NEXT STORY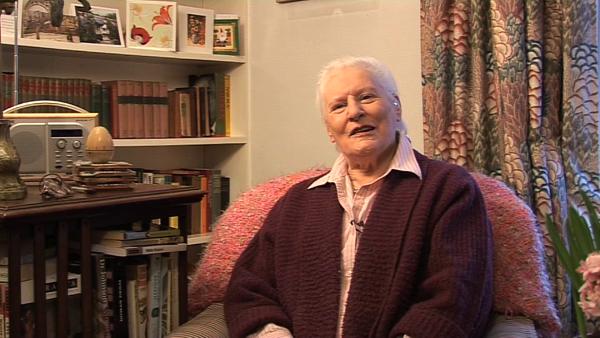 Getting into Oxford
Home schooling in the 1920s
1
2
3
4
5
...
8
There was a system. It was called PNEU [Parents' National Educational Union], and I don't know what that stood for, but it was about education at home. And they supplied programmes and lists of books, and they had a theory that no lesson ought to go on for very long, because it would tire young minds. So all the lessons were rather short. And at the end of it, were these exams, which were sent to the PNEU, and you were supposed to have marks. I don't think our governesses, or my mother, ever bothered with that bit, but we used to have all the PNEU books and suggestions. And I remember very well there was one called Citizenship, which we never did, because it was a very, very boring, dark blue book, and the subject was very boring. And our governesses thought it was as boring as we did, so we never did Citizenship. But there was a very nice one about art, where you got not very good reproductions of paintings. Usually paintings by the Pre-Raphaelites, as I remember it. And you used to study them and write descriptions of them, and I loved that. One of the reasons why I still love lilies is because there were always lilies in those pictures.
[Q] And did you enjoy this? I mean, lots of children their early schooling. How did you feel about it?
Well it… it depended on your governess. We had 14 governesses, I think we got through, but we laid them low if we didn't like them, my cousins and I, very quickly. And… but if you liked the governess. We ended up with Ursy, who we… Ursy, who I was very fond of, who was lovely and stayed with us for quite a long time. And she made the lessons fun, you see? And they only went on in the morning, because it was generally felt, in my family, that fresh air was more important than anything else, so we ought to be out of doors. So after lunch, no lessons. I mean, after lunch you were riding and doing so lessons weren't exactly burdensome. And when I got to school, my headmistress said she'd never met a girl so badly grounded, in fact. But um…
[Q] Were you very bright?
I think I was quite bright, because I think they always said that I… they always sort of knew that I was going to be the one that would go to Oxford, probably. Me and my cousin Anne, on the other side, were both sort of fingered as being the ones likely to go to Oxford.
[Q] And were you conscious of that?
No, what I was conscious of was being fairly articulate, being quite good at essays and things when other people weren't.
[Q] And just to go back to the governesses, can you tell me a bit about how you laid them low if you didn't like them?
I think we were just very naughty. Well, we were terrible for our French governess, when we were very young, we were awful. We used to run away, vanish in the garden, and she would be left, poor woman, wailing, unable… I mean, this is when we were at my grandmother's house. Very big garden. Huge, so you could easily vanish. And I remember being told that we'd been cruel to her by my mother which was very sobering because I hadn't realised. I'd realised that grown-ups might be cruel to children, but I hadn't realised that children could be cruel to grown-ups. Then we suddenly got… course, we were terribly cruel to her, poor woman, she was just miserable. Horrible place, where all the food was disgusting, where none of the grown-ups wanted to see anything of her. It must have been absolutely deathly. And it was very cold, that house, too. And we didn't… that was considered unhealthy, to have anything hot in your bedroom, the windows always had to be open. This poor Frenchwoman must have been suffering the tortures of the damned.
But when we had a nice governess, and usually what would happen, if she was pretty and young and charming, is almost always she would then get married and go away. So that the nice ones left because of that and the nasty ones left… one of them, the nasty ones, left because… I can't now remember any details, but she was cruel. And we were frightened of her. This was a very early one, and my mother twigged that quite soon. What I can remember was the immense relief when I was told she wasn't going to be coming back. So she must have been somehow horrid to us. But I don't remember, sort of, having to go and say anything about it. I think we must have looked downtrodden or something. But she was made very short shrift of, I think she was about one term.
Diana Athill (1917-2019) was a British literary editor whose publishing career began when she helped André Deutsch establish his company. She worked with many notable writers, namely Philip Roth, Simone de Beauvoir, Jean Rhys and VS Naipaul. Following the publication of her memoirs, she came to be hailed as an author in her own right.
Title: Home schooling in the 1920s
Listeners: Christopher Sykes
Christopher Sykes is a London-based television producer and director who has made a number of documentary films for BBC TV, Channel 4 and PBS.
Tags: PNEU, Citizenship, Oxford University
Duration: 4 minutes, 55 seconds
Date story recorded: January 2008
Date story went live: 23 December 2008