NEXT STORY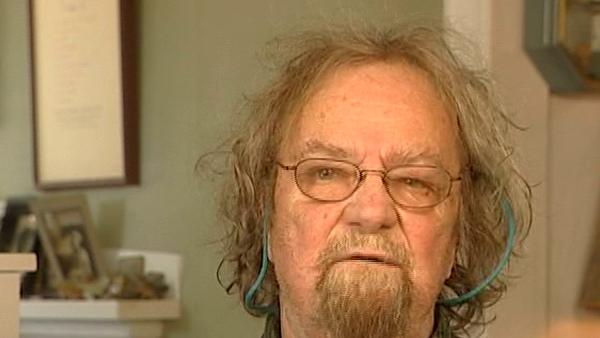 Poetry readings: Gold
Poetry readings: Names of Horses
1
...
8
9
10
11
12
When we moved back to New Hampshire to live in this old farmhouse, we were the first people ever to live here to have an automobile. My grandparents had had a horse and buggy. No one... people visiting brought automobiles, but we lived here day and night with an old Plymouth Six, and of course I thought about the old horses that I had known here as a kid, and I missed them, but it wasn't only the horses that I was missing.
Names of Horses
All winter your brute shoulders strained against collars, padding
and steerhide over the ash hames, to haul
sledges of cordwood for drying through spring and summer,
for the Glenwood stove next winter, and for the simmering range.
In April you pulled cartloads of manure to spread on the fields,
dark manure of Holsteins, and knobs of your own clustered with oats.
All summer you mowed the grass in meadow and hayfield, the mowing
machine
clacketing beside you, while the sun walked high in the morning;
and after noon's heat, you pulled a clawed rake through the same acres,
gathering stacks, and dragged the wagon from stack to stack,
and the built hayrack back, up hill to the chaffy barn,
three loads of hay a day, hanging wide from the hayrack.
Sundays you trotted the two miles to church with the light load
of a leather quartertop buggy, and grazed in the sound of hymns.
Generation on generation, your neck rubbed the window sill
of the stall, smoothing the wood as the sea smooths glass.
When you were old and lame, when your shoulders hurt bending to graze,
one October the man who fed you and kept you, and harnessed you every
morning,
led you through corn stubble to sandy ground above Eagle Pond,
and dug a hole beside you where you stood shuddering in your skin,
and lay the shotgun's muzzle in the boneless hollow behind your ear,
and fired the slug into your brain, and felled you into your grave,
shoveling sand to cover you, setting goldenrod upright above you,
where by next summer a dent in the ground made your monument.
For a hundred and fifty years, in the pasture of dead horses,
roots of pine trees pushed through the pale curves of your ribs,
yellow blossoms flourished above you in autumn, and in winter
frost heaved your bones in the ground – old toilers, soil makers:
O Roger, Mackerel, Riley, Ned, Nellie, Chester, Lady Ghost.
The 14th US Poet Laureate Donald Hall (1928-2018) was educated at Phillips Exeter Academy, then earned a bachelor's degree from Harvard in 1951 and a BLitt, from Oxford in 1953. He published many essays and anthologies of both poetry and prose including String too Short to be Saved: Recollections of Summers on a New England Farm, White Apples and the Taste of Stone, Without: Poems, and Ox-Cart Man, a children's book which won the Caldecott Medal. Hall was editor of the magazine Oxford Poetry, literary editor of Isis, editor of New Poems, and poetry editor of The Paris Review. He won many awards, including two Guggenheim Fellowships and a Robert Frost Medal. At the end of his first Oxford year, he also won the university's Newdigate Prize, awarded for his poem Exile.
Title: Poetry readings: "Names of Horses"
Listeners: Kendel Currier
Kendel Currier started working for Donald Hall in August of 1994 as his correspondence typist. Later she took on his manuscript typing as well, and in October of 1998 moved 100 meters down the road from Donald and became his personal assistant, adding many various new tasks to her work. As well as working for Donald for the last 10 and-a-half years, Donald Hall and Kendel Currier share a set of great (or for Kendel great-great) grandparents, making them distant cousins and part of a similar New Hampshire heritage.
Tags: New Hampshire, Plymouth Six, Glenwood, church, Eagle Pond, Names of Horses
Duration: 3 minutes, 9 seconds
Date story recorded: January 2005
Date story went live: 24 January 2008