NEXT STORY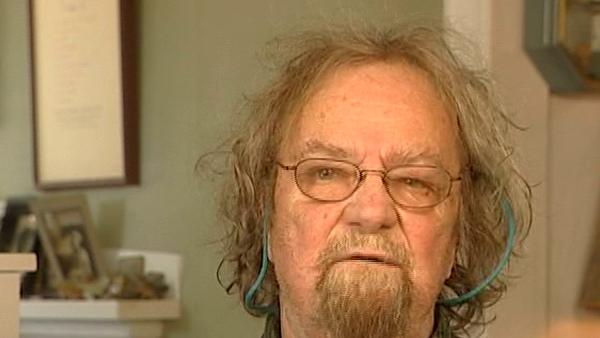 My father's experience of prep school
High school, ambition and rewriting
1
2
3
4
5
...
12
I went to high school for two years - it was a great big public high school - Hamden High. It was during the war and the teaching was probably exceptionally bad. The young teachers were off in the war or in war work, and I remember the algebra teacher who was a defeated, cynical man. He never graded our papers. He had us grade each others papers, and I always got A's, because the other students... we all gave each other A's, I suppose. And my mathematics, or arithmetic and so on, has always been abominable. I... in Latin 1 and Latin 2... it was a time when everybody took Latin who intended on going to college... you had to... but Latin 1 was 45 students chanting aloud Amo, Amas, Amat and so on, and I took... Mind you I took my two years of Latin and I took my English, but I remember in English class, I was writing all the time at home, and in one English class the teacher was a librarian, very shy, frightened of people, and was pressed into service in the absence of anybody else and she had us, I think she was perpetually fatigued. There were40 odd in that class. She had us write two paragraphs the entire year - unbelievable. I was writing all the time. One thing's strange about... I see in retrospect, strange, about the poetry writing I was doing, was that when I had written some long poem about the night wanderer or whatever, I would immediately go back and start writing it over again, revising it. I say it seems strange in retrospect because the beginning poet... a poet at 14, or a poet at 18 or 19 is often satisfied with the first draft or even thinks well, it is what I said, it must be sincere - anything else would be hypocritical. Which is a totally narcissistic attitude toward writing. But I started revising right away, and I revised poems. I have no idea how many times, now it takes me forever, I mean it's probably 60 to a 100 mostly, drafts of a poem, but I began right away, and I always continued to do it. It was at that time in Hamden High School... 14, 15, when I decided that this is what I wanted to do the whole rest of my life... I was going to be a poet. And at first I thought I would support it by writing fiction and it wasn't quite as crazy then as it is now because there were so many magazines with so many short stories but it was naive of course, totally. I did want from an early age to support myself by writing, by freelancing, and ironically, I mean it was very unrealistic but ironically I've been doing it for 30 years now. It just took me a long time to get there. I was 46 before I quit teaching.
The 14th US Poet Laureate Donald Hall (1928-2018) was educated at Phillips Exeter Academy, then earned a bachelor's degree from Harvard in 1951 and a BLitt, from Oxford in 1953. He published many essays and anthologies of both poetry and prose including String too Short to be Saved: Recollections of Summers on a New England Farm, White Apples and the Taste of Stone, Without: Poems, and Ox-Cart Man, a children's book which won the Caldecott Medal. Hall was editor of the magazine Oxford Poetry, literary editor of Isis, editor of New Poems, and poetry editor of The Paris Review. He won many awards, including two Guggenheim Fellowships and a Robert Frost Medal. At the end of his first Oxford year, he also won the university's Newdigate Prize, awarded for his poem Exile.
Title: High school, ambition and rewriting
Listeners: Kendel Currier
Kendel Currier started working for Donald Hall in August of 1994 as his correspondence typist. Later she took on his manuscript typing as well, and in October of 1998 moved 100 meters down the road from Donald and became his personal assistant, adding many various new tasks to her work. As well as working for Donald for the last 10 and-a-half years, Donald Hall and Kendel Currier share a set of great (or for Kendel great-great) grandparents, making them distant cousins and part of a similar New Hampshire heritage.
Tags: Hamden High, WWII
Duration: 3 minutes, 25 seconds
Date story recorded: January 2005
Date story went live: 24 January 2008